Christmas with Kaye: Book and Ruler Give-Away
If I could only take ten tools to a sewing retreat, at least two of them would be my Nifty Notions Cut for the Cure Rulers. The 4″ x 14″ or 7″ x 14″ rectangle, plus either the 11″ or 14″ square. (The others would be a rotary cutter, mat, my favorite serrated blade shears, brass stiletto, seam ripper, magnetic wool pin cushion with a few pins and needles in it, and a small pair of sharp scissors for trimming.) If it were a quilting retreat, I'd have to also sneak in the quarter square, half square, half rectangle, and bias triangle rulers. (They're not very big; maybe no one would notice I'd gone over my 10-item limit?)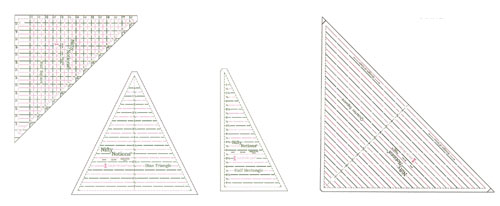 Kaye England designed these rulers to eliminate the math involved in adding seam allowances to finished blocks. It's easy to add seam allowances to squares and rectangles, but once you start cutting triangles… I think I feel a migraine coming on. And I LIKE math! With Kaye's rulers there's nothing to calculate; you just decide on the finished size of your block and follow the corresponding lines on the rulers. Easy peasy! I'm also a big fan of the dashed pink and green markings; it's easy to see exactly where the middle of the line is, no matter what color fabric I'm using. It's an added bonus knowing that a portion of the proceeds from the sale of each ruler goes to the Susan G. Komen Breast Cancer Foundation.
I've taken classes with Kaye in the past, so I wasn't surprised when she came out with a book called Spikes and Peaks. She introduced "Peaky" and "Spike" in class, so I knew these two rectangles – a half square rectangle and bias triangle – could be combined in myriad ways to create quilt designs. I knew there must be a story about them, so I asked Kaye about them. (If you ever have a chance to see Kaye, go – and be prepared to laugh while you learn!) 
I have always loved this unit and had been working with loads of designs so it was a given. Doreen Speckman a quilting friend who has passed away, was the queen of "Peaky & Spike," as she called the unit, so it was a bit of a tribute to her as well as showcasing the quilts.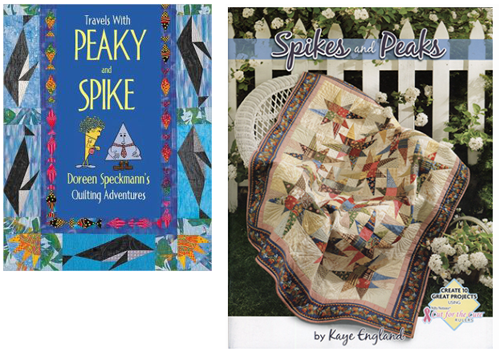 Two of the most exciting rulers to play with are the half rectangle and bias triangle. With these two rulers and a few other units you can create all 10 quilts in Spikes and Peaks. The most exciting element of this is that you really only have a FEW specific units to learn then all the quilts can be executed. "Magic Lanterns" uses the simple unit but it is the cutting and re-sewing that makes this quilt such a stunner. (see page 4 of the book) The cover quilt "Points & Peaks" uses the half rectangle ruler paired with half squares and a special cut unit to create this really complex star. As you move through the projects you can see how much fun it is to create with ease. As you work with the rulers, I recommend you don't press these units until they are in the block to avoid any stretching of the bias. It does seem difficult at first but the results are really great. 
Kaye's newest book, Christmas with Kaye, uses the same rulers for three quilts and three table runners. Make them in holiday colors or choose your own color scheme (just be sure to keep contrast between darks, mediums, and lights).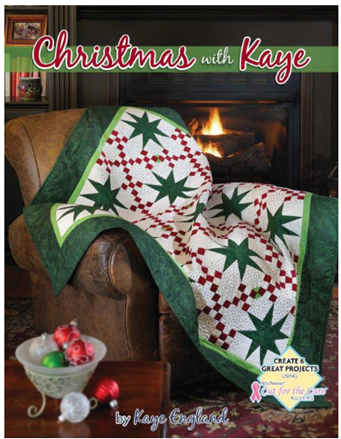 You can find both of Kaye's books at your local independent quilt shop. And we have a surprise for our readers: We're giving away a copy of Christmas with Kaye PLUS all of the Cut for the Cure Rulers used to make the quilts in the book! The four shown above – Quarter Square, Half Square, Half Rectangle, and Bias Triangle – plus the Side Set Triangle Ruler and 7″ x 14″ Rectangle (one of my favorites!).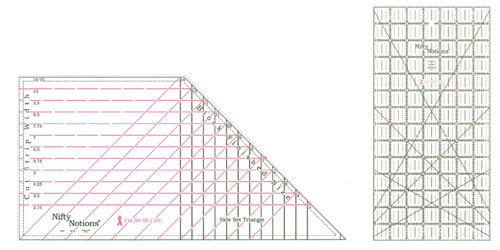 To enter, leave a comment describing your favorite homemade holiday memory. Tell us about a gift, ornament, decoration, dress, pajamas made by or for someone special. We'll select a winner by random Wednesday night, October 30, 11:59 p.m. Central Time. I'm looking forward to reading your stories! Jo
Techniques

patchwork, quilting
What you might also like
26 comments on "Christmas with Kaye: Book and Ruler Give-Away"