Quilt Police, Take That!
A note from Melanie Testa, artist, author, teacher, agent provocateur, firebrand, and BERNINA National Artisan:
I began my quilting journey in the 1980's. This is when fabrics just started to get snappy, and quilters were moving away from using lots of white in their quilt tops. I learned traditional quilting techniques in courses I took at my local art center. My teacher was adamant that quilts were to be made with cotton fabrics, using cotton threads, and hand quilting was considered better than machine quilting. Quilts were made, and whether we realized it or not, they might become heirlooms to be treasured amongst family members for years to come. I tell you this story because these suggestions somehow got handed over to my local (internal) Quilt Police and the suggestions became enforceable rules. The Quilt Police took up residence and I started shying away from Traditional Quilting.
Years passed.
I was surfing the web recently when I came across the concept of Jelly Roll Racing and Jelly Roll quilts. This was all new territory to me. I did, really, shy away from traditional quilting all those years ago. I didn't stop quilting, I just got into Art Quilting, where I could make my own rules and stay away from the shadows those supposed Quilt Police cast. But we all know that apples can't fall far from the tree; making a utilitarian project is balm for the soul and the home.
And those Quilt Police? I showed my husband what I was making and he suggested I use a bit of Metallic Thread in my machine quilting. So, Quilt Police, take that! I think it is high-time I let go of ideas and notions that do not work for me, my life and craft! It is just time to have fun!
The suspects?
Benartex "Habitat" fabric collection
Check out my books! Dreaming from the Journal Page, Transforming the Sketchbook into Art and Inspired to Quilt, Creative Experiments in Art Quilt Imagery and my art! melanietesta.com
Follow my blog! melanietesta.com/blog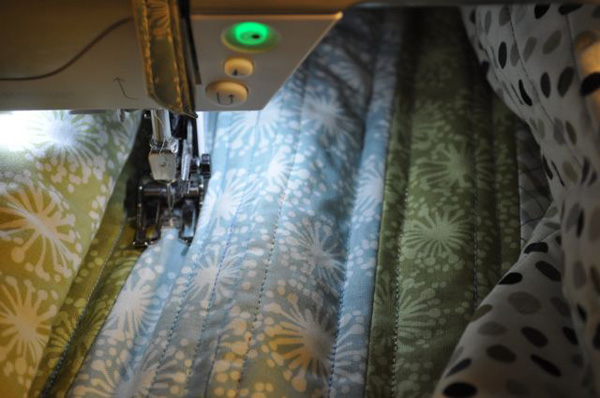 Techniques

quilting
What you might also like
One comment on "Quilt Police, Take That!"