The Nona Quilt Along, Week Three: Cutting the Fabric
Hi, Friends!  Welcome back!  Jessica Dayon here and today we are starting week three of The Nona Quilt Along.
If you missed the first two parts of The Nona Quilt Along, you can read all about it here: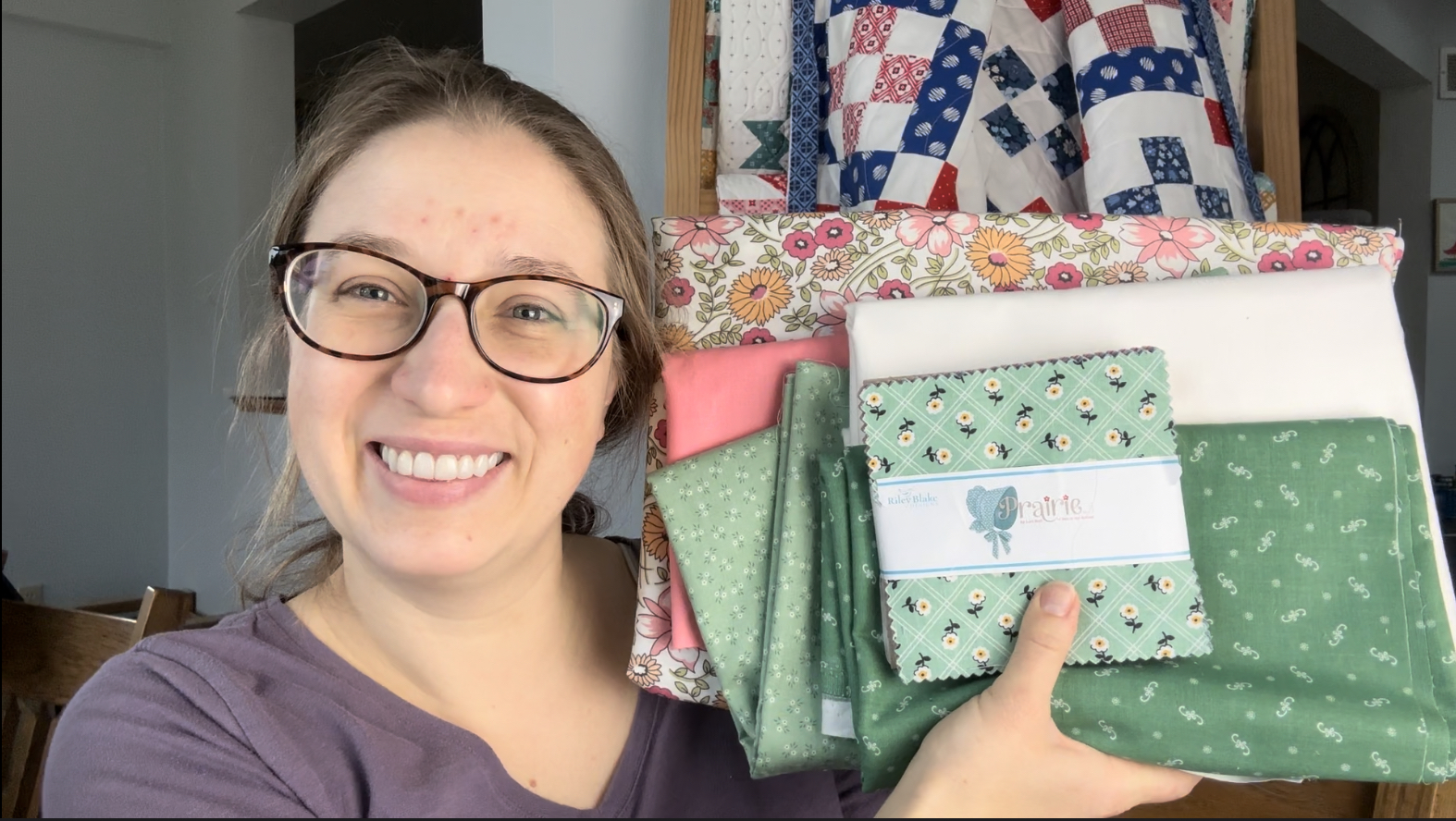 In week three, we are cutting the fabric for our Nona Quilt.  This is the first step in actually making a quilt. Let's do it together!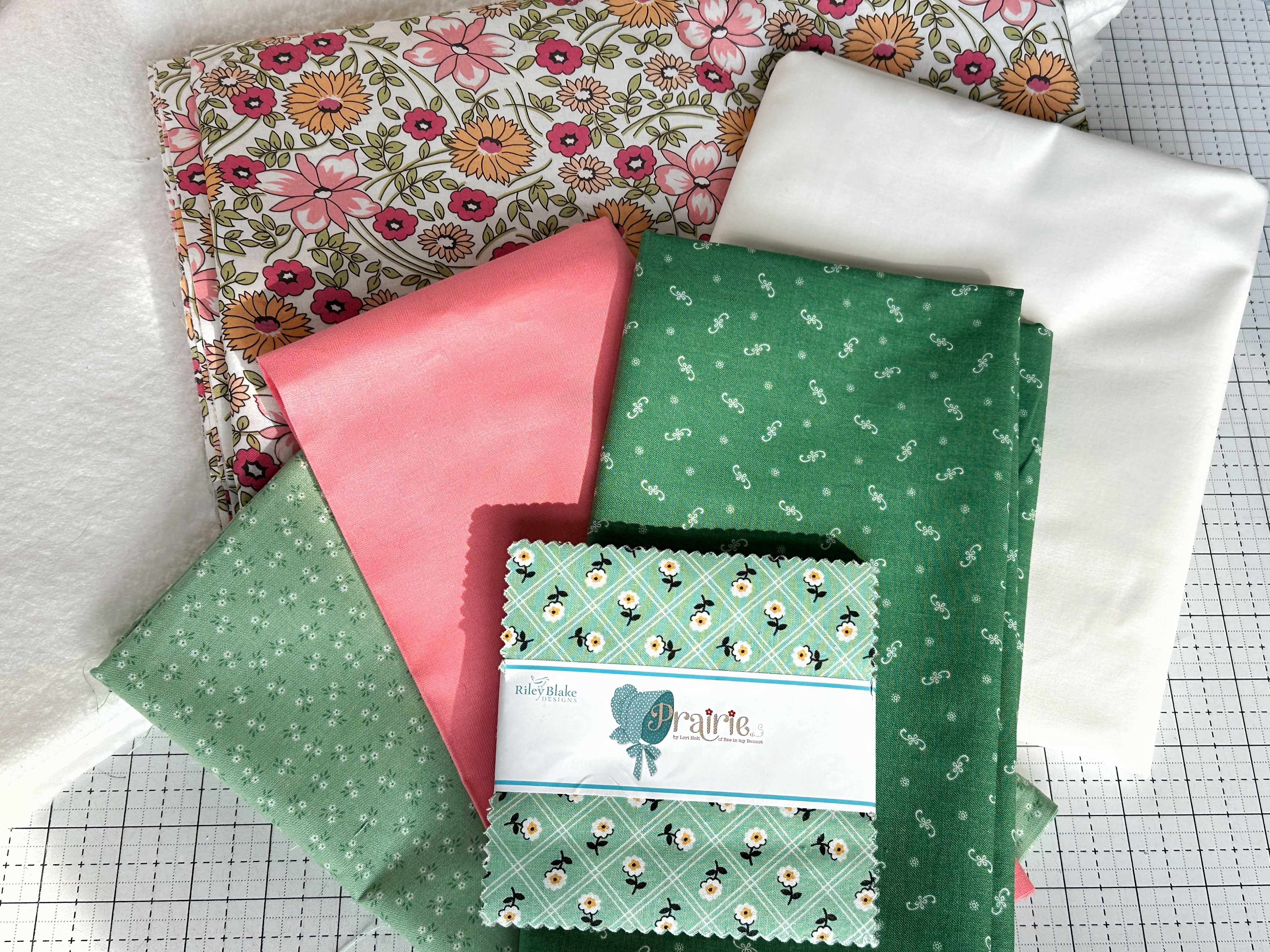 Cutting Tips
Notes on Cutting Instructions
Cutting the fabric is a very important step.  If you cut accurately, you can piece your quilt accurately, and therefore, your quilt will be easier to put together and will look nice at the end.  However, if the cutting is inaccurate, you will have trouble getting the pieces to go together correctly and the quilt-making process will be a struggle.  For those reasons, we are going to cut slowly and accurately.  If we cut a piece incorrectly, we will cut a new piece to use for the quilt.
Keep a Record of Where Fabric was Bought
Every quilt pattern will contain a section of fabric requirements.  These requirements take into account the fabric you need to make the quilt.  However, they don't take into account any mistakes you might make in cutting or piecing.  So, I like to keep a list of the fabric I use in each quilt and where I got it from and that way if I make a mistake and need to buy more, I know exactly what I need and where to get it.
To Stack or Not to Stack?
When you have a fresh rotary blade on your cutter, it can easily go through multiple layers of fabric at once.  This saves time and helps you cut your fabric faster.  However, if you are struggling with getting the fabric cut accurately, I'd recommend cutting one piece at a time until you consistently get accurate cuts and then you can try stacking and cutting.
Cutting Instructions
First, make sure you have your Nona pattern in front of you, which can be downloaded below.  We are working in the section titled 'Cutting'.

Cutting the 5″ Squares
We will start with the package of 5″ squares.  We need 30- 5″ squares.
Narrowing Down the 5″ squares
A standard package of 5″ squares comes with 42 squares.  So, the first thing to do is choose 30 from the 42.  When doing this, I like to start by laying out all of the squares in the package in color groups.  Once I see how many squares I have in each color group, I select the squares that I will use in the quilt, trying to keep the number of squares I use from each color group roughly even.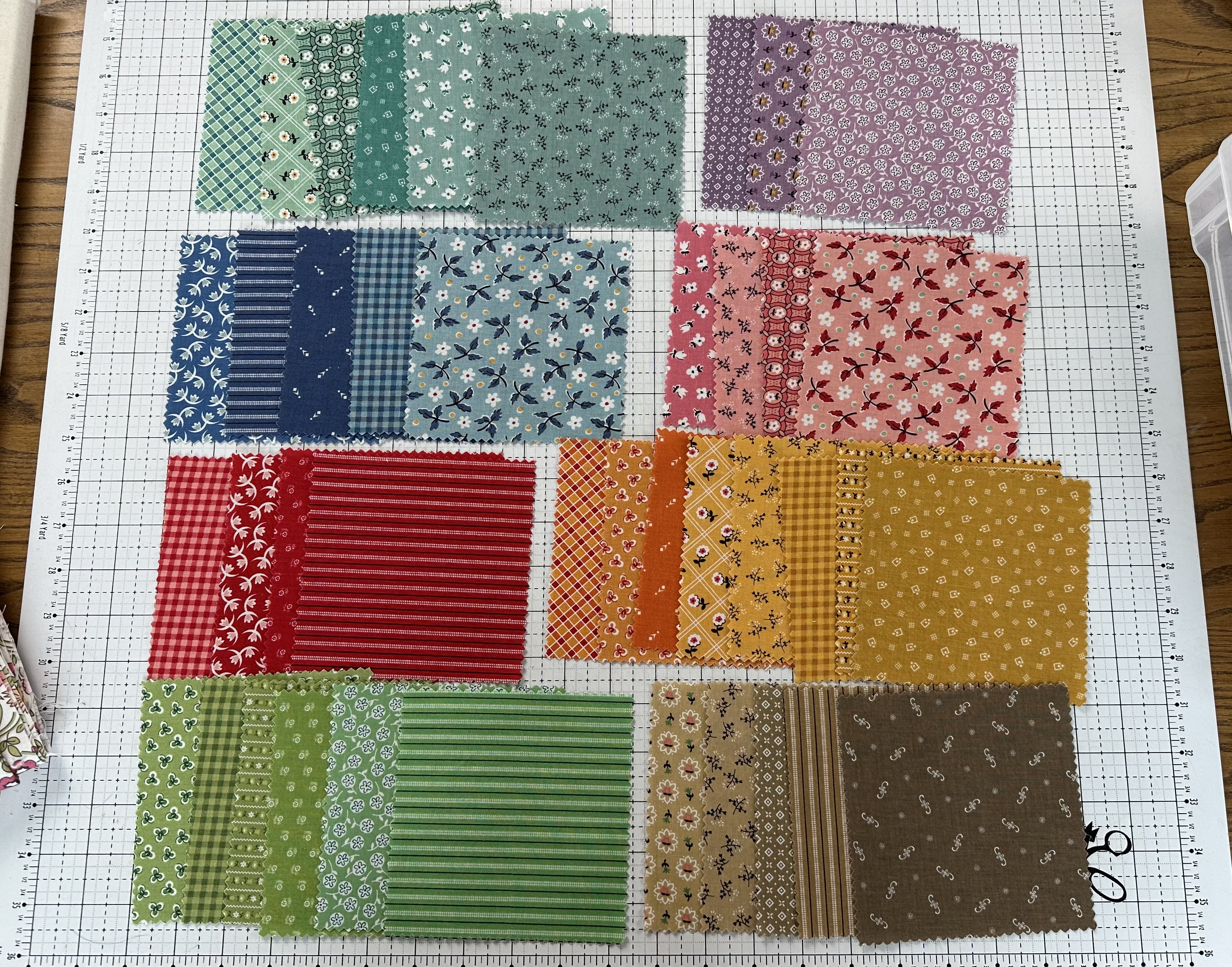 After you choose your 30 squares, take 1-4 squares, depending on how many you want to cut at one time, and lay them in a 5″ x 5″ spot on your cutting mat.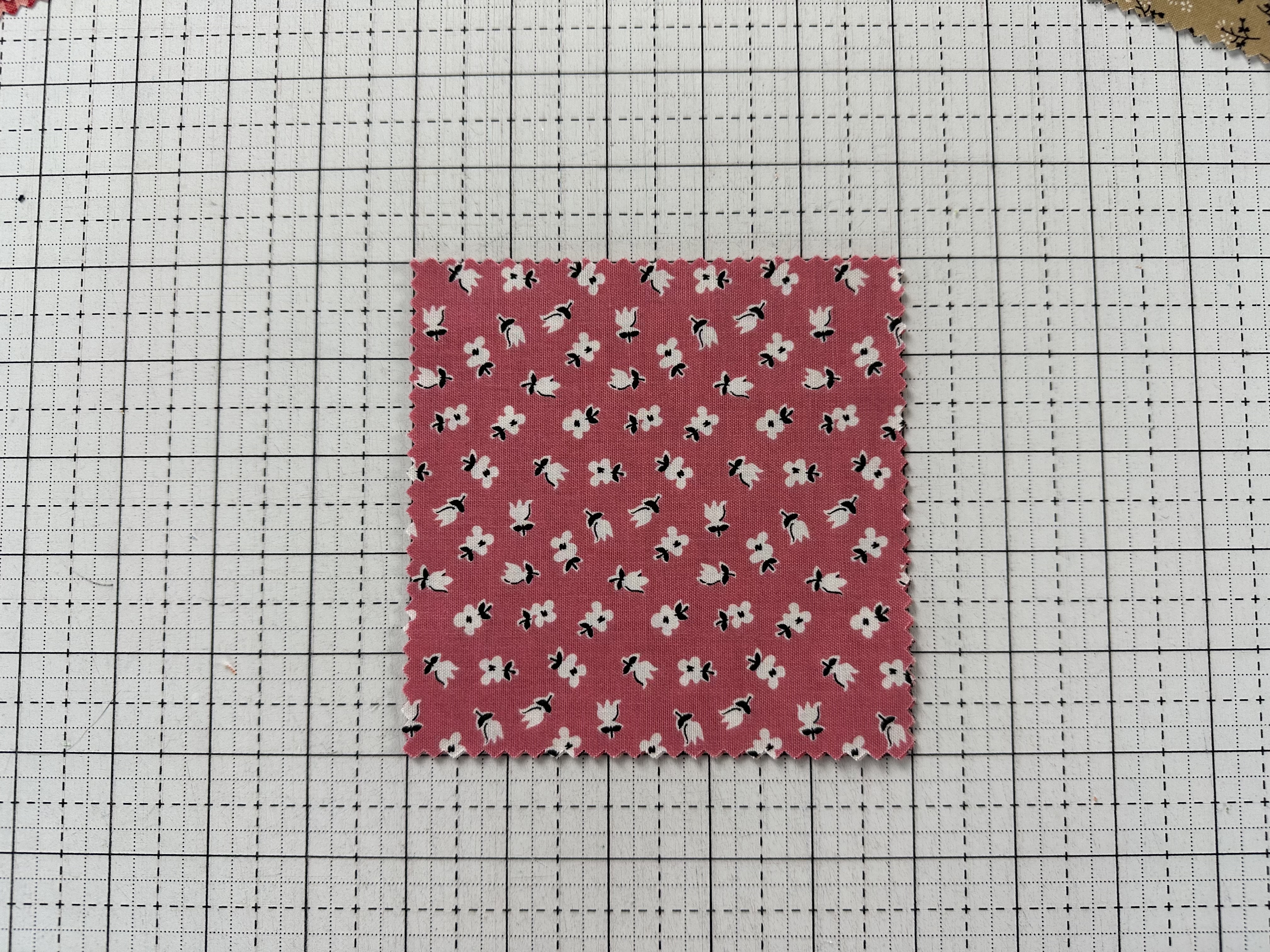 Using the 6 1/2″ square ruler, cut the square(s) 2.5″ in from the left edge vertically.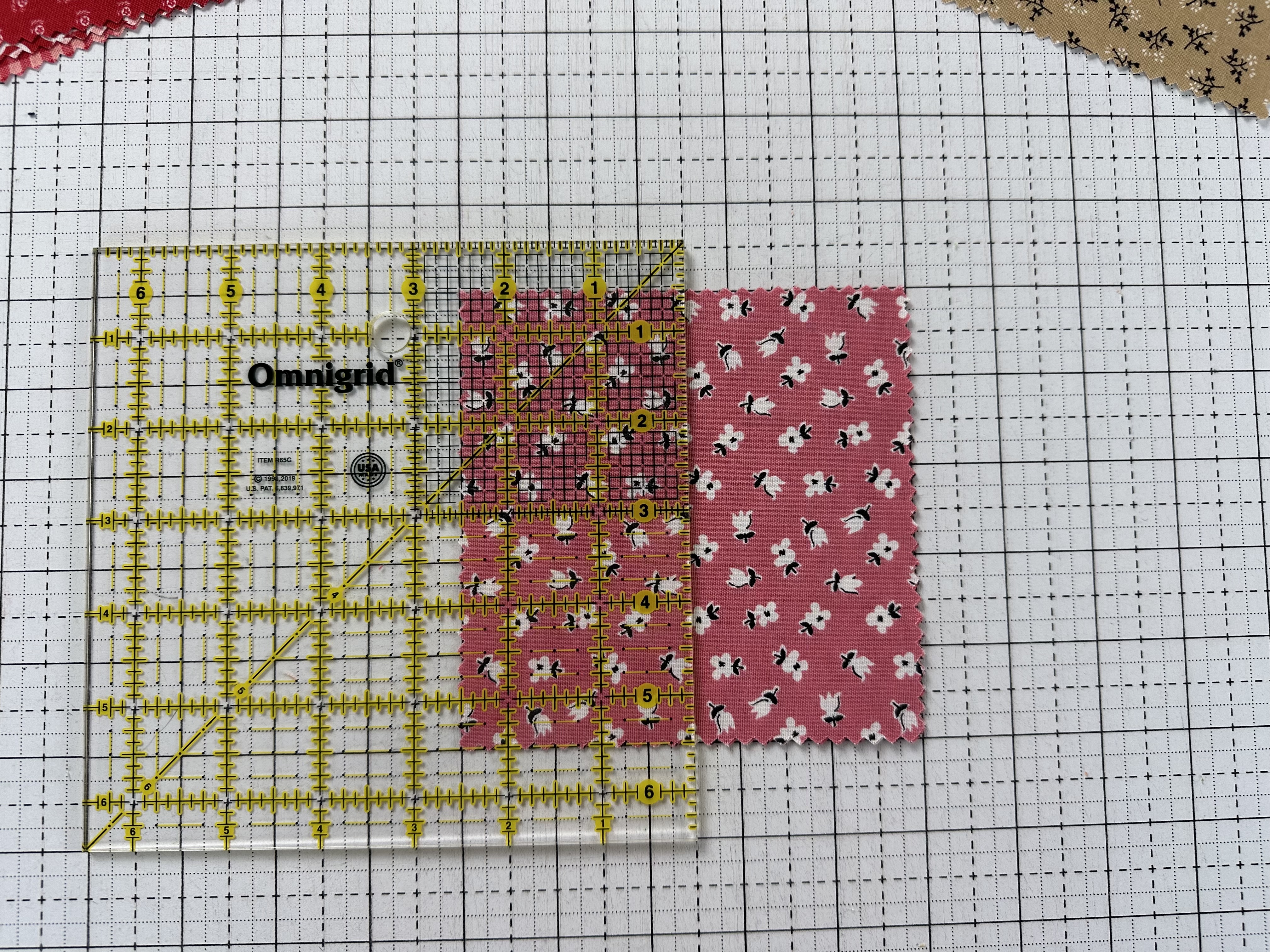 Then, cut the square (s) 2.5″ in from the bottom edge horizontally.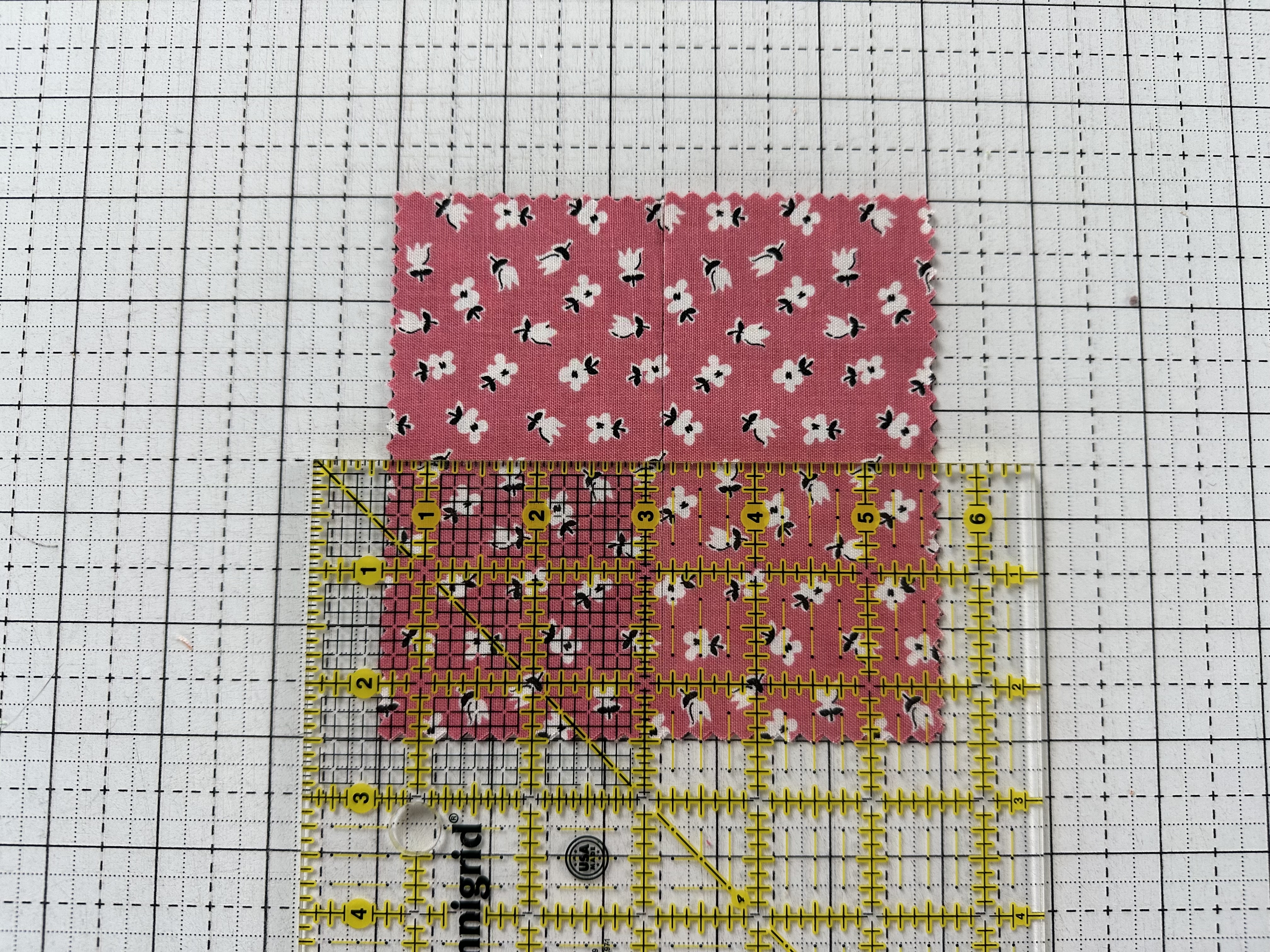 You will be left with 4- 2 1/2″ squares.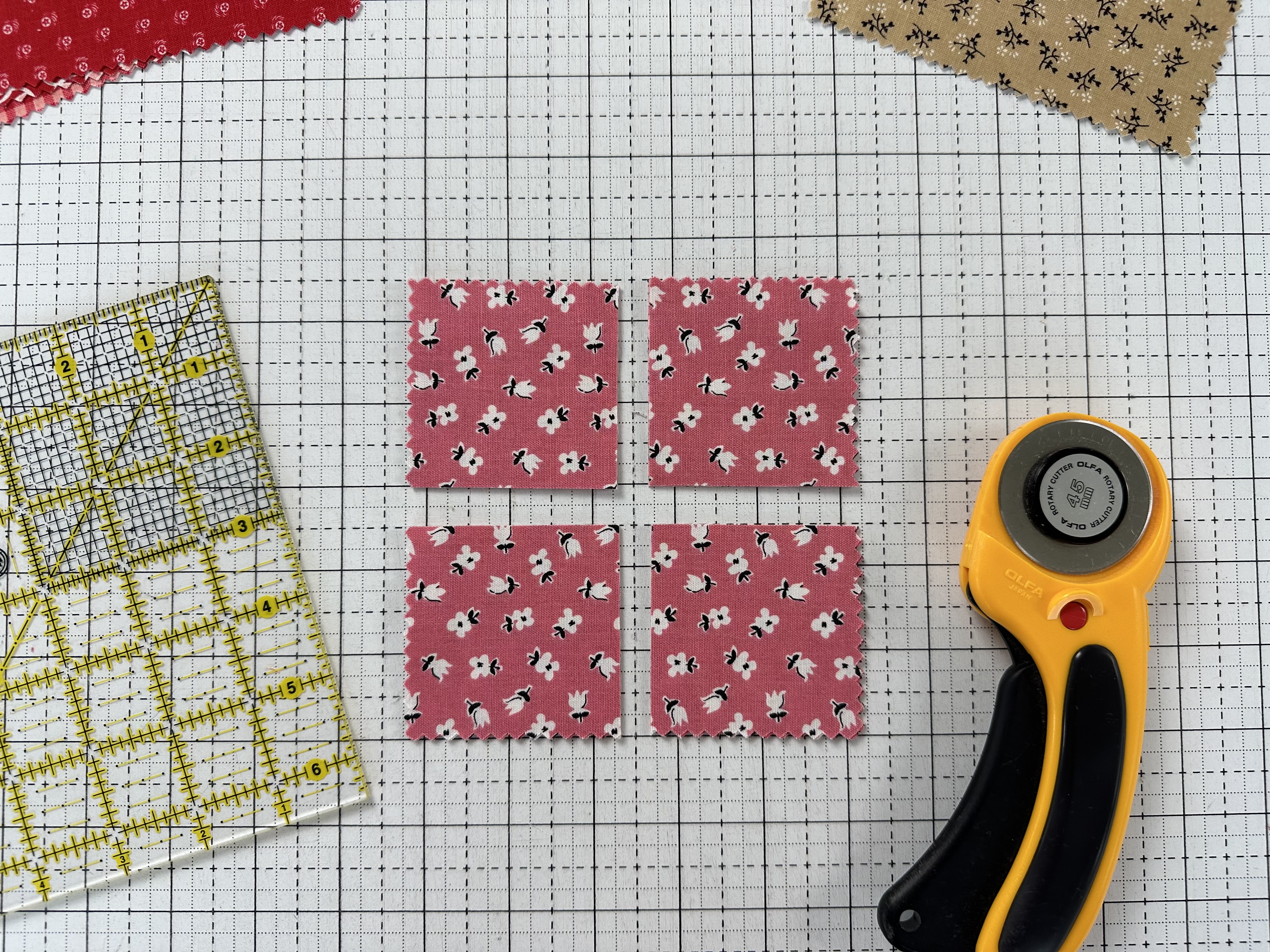 If you stacked a few 5″ squares before you cut, you'll have multiple 2 1/2″ squares in each pile.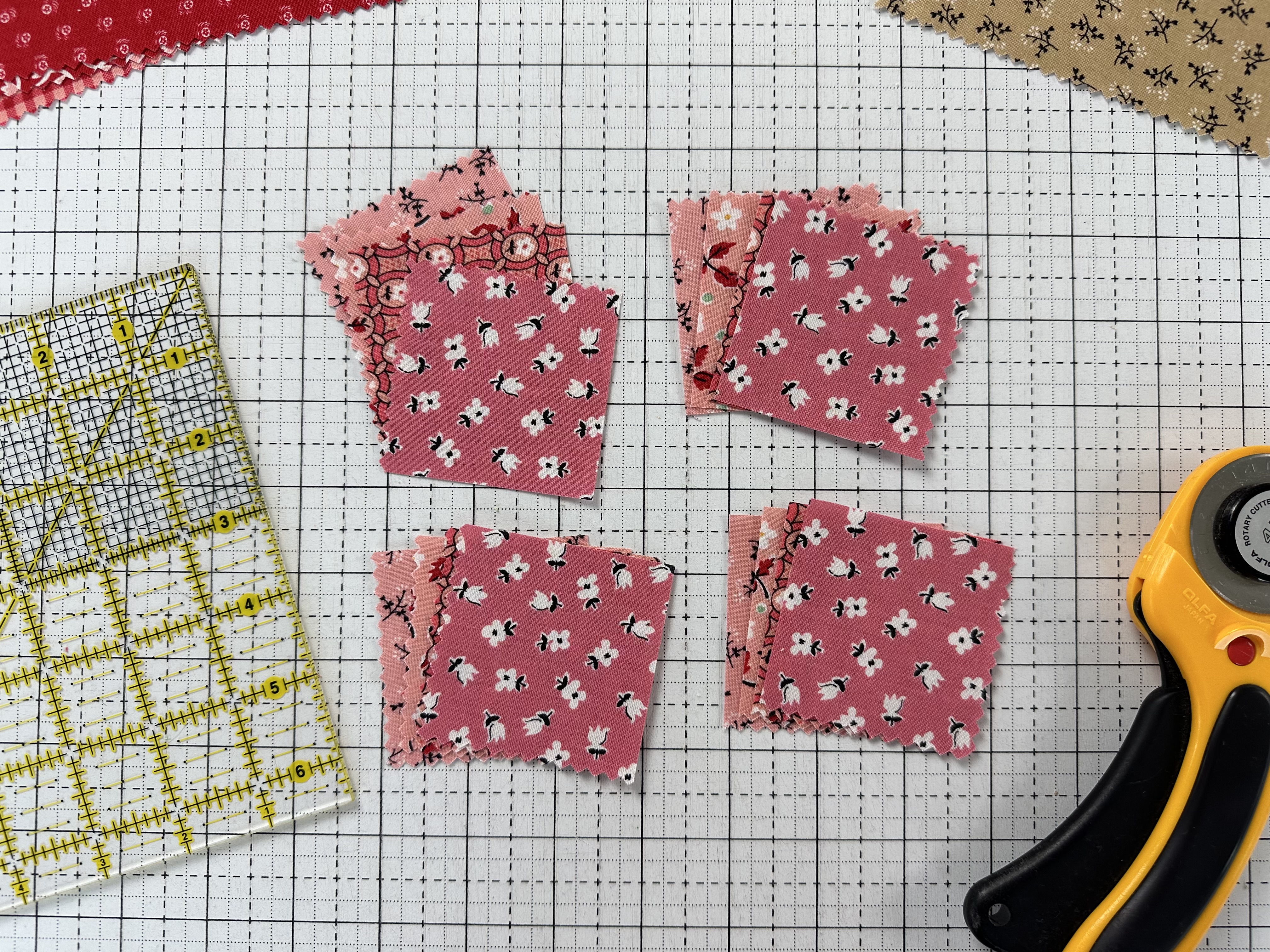 Repeat these steps for all 30- 5" squares.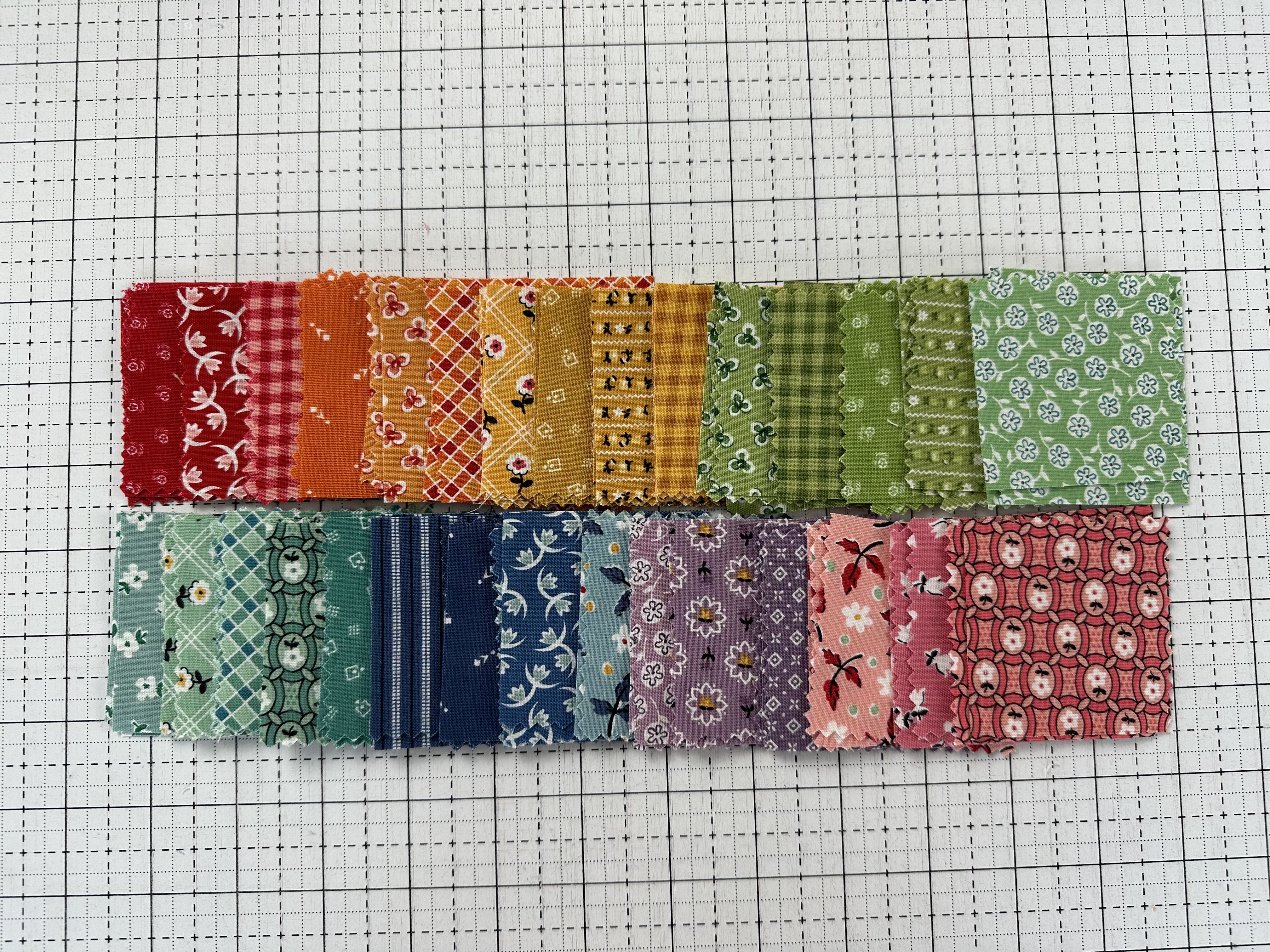 Cutting the Yardage
We have 4 different colors of yardage that we need to cut.
Cutting the Alpine Yardage
The first piece of yardage we will cut is the alpine fabric.  We need 4 strips each measuring 6 1/2" x 42".  Then we cut those strips into 60- 2 1/2" x 6 1/2" pieces.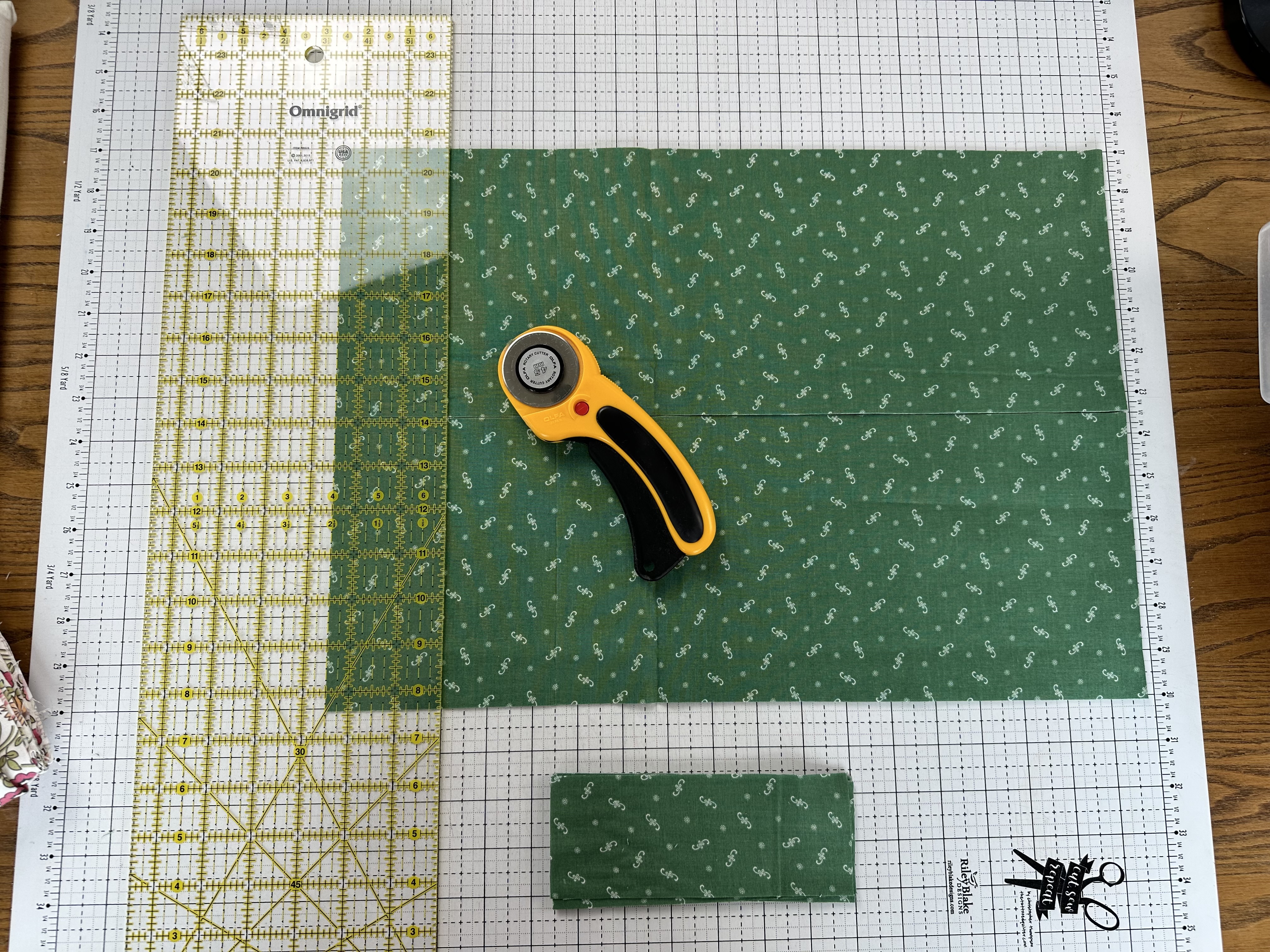 Note: Patterns often say 42" as the width of fabric even though it is 43/44".  Patterns that refer to 42" are actually referring to the usable space.  The fabric might measure 43/44" from selvage edge to selvage edge but you can't actually use the selvage edge in your projects.
Here we don't actually need to cut the fabric to 42" (by 6 1/2") because we are further cutting the strips down.  If we were not cutting the strips down and we needed a 42" strip in our quilt, we would need to cut the piece to measure exactly 42".
Cutting the Pink Yardage
Next, we will cut the pink squares from yardage. We need 4 strips each measuring 2 1/2" x 42".  Then we cut those strips into 60- 2 1/2" x 2 1/2" squares.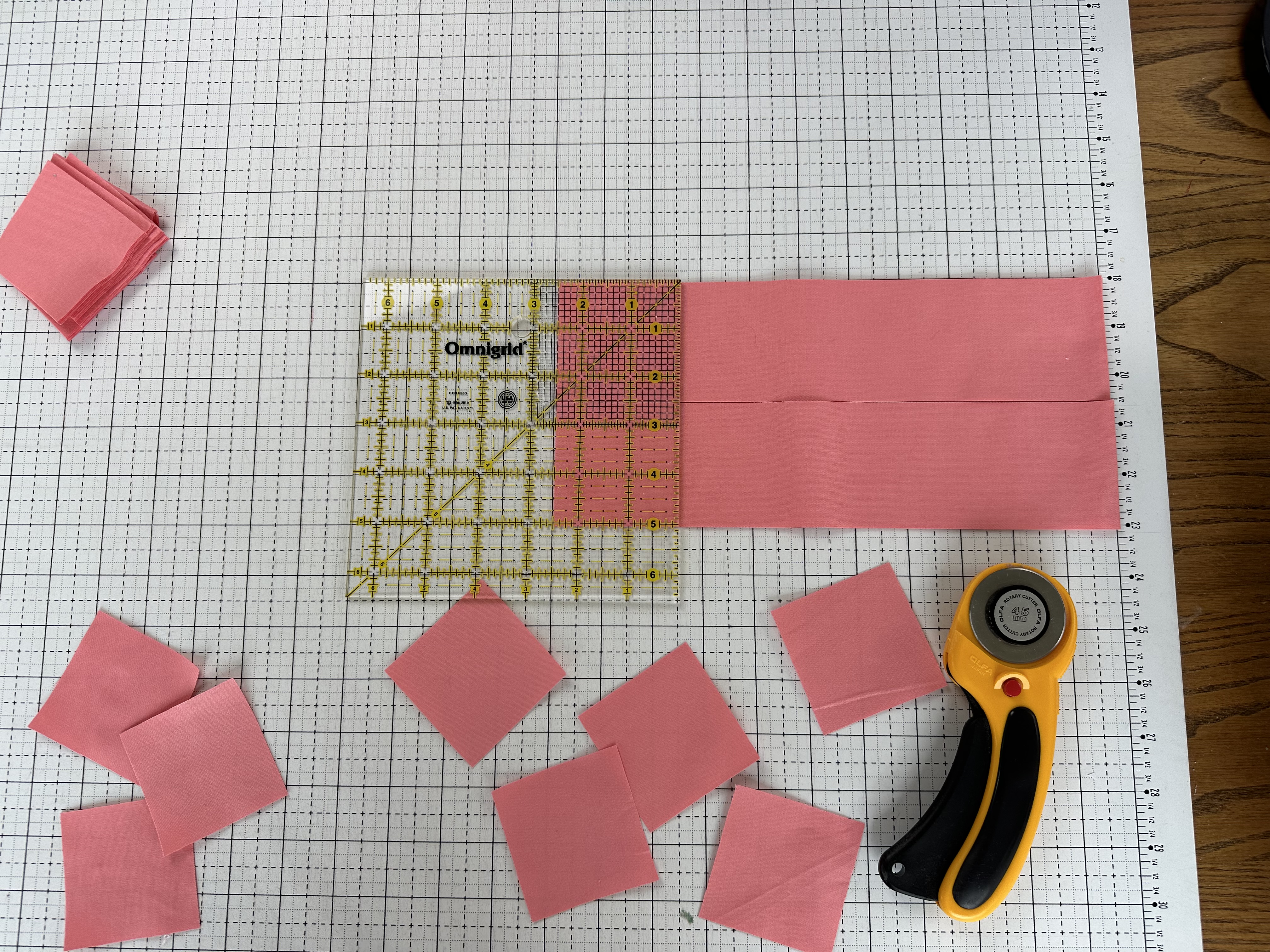 Cutting the Background Yardage
After the pink, we will cut the background yardage.  We have two different sizes that we need to cut out of the background fabric.
Cut 4 strips each measuring 6 1/2" x 42".  Then we cut those strips into 60- 2 1/2" x 6 1/2" pieces.
Cut 14 strips each measuring 2 1/2" x 42".  Then we cut those strips into 210- 2 1/2" x 2 1/2" squares.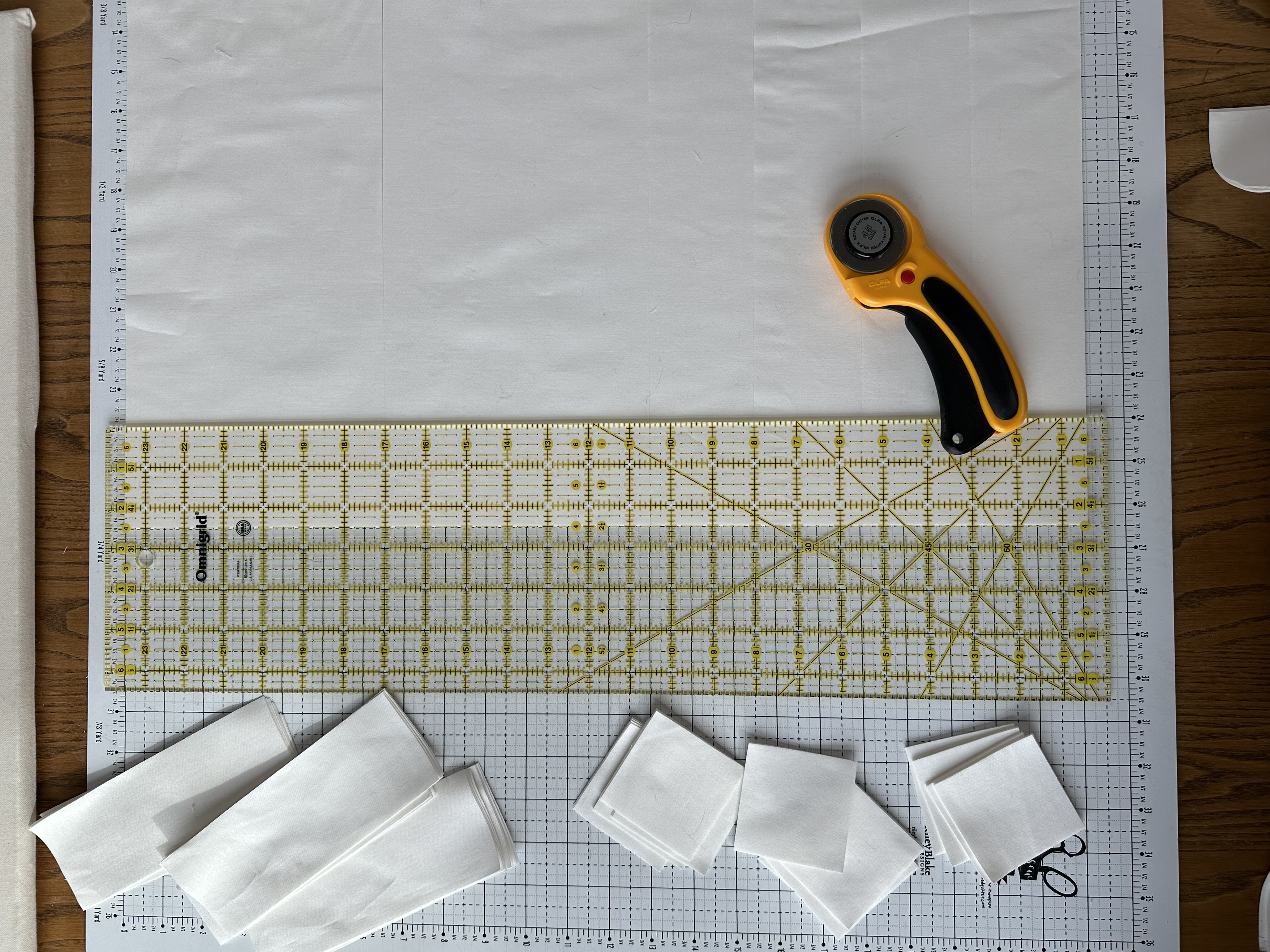 Cutting the Binding Yardage
The final fabric we need to cut is the binding fabric.  This fabric will finish the edges of the quilt so that all the raw edges of the fabric are enclosed. We need 6 strips each measuring 2 1/2" x 42".  It is not necessary to trim the fabric strips down from 43/44″ to 42″.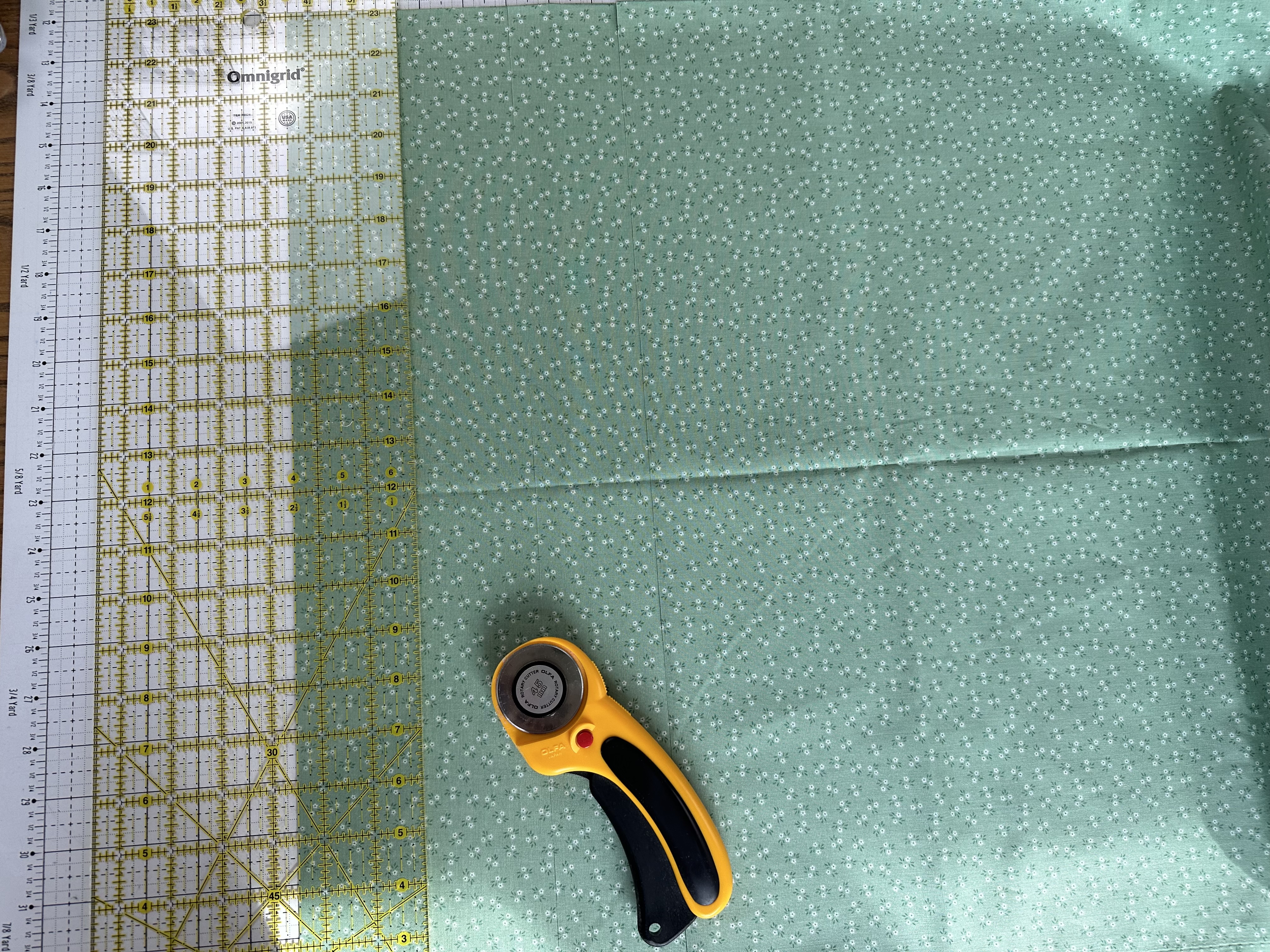 Once you have all of these fabrics cut, you are finished for this week!  I like to store my cut fabric for a project in a 12″ scrapbooking container.  These containers are a great way to store your fabric while it isn't in use.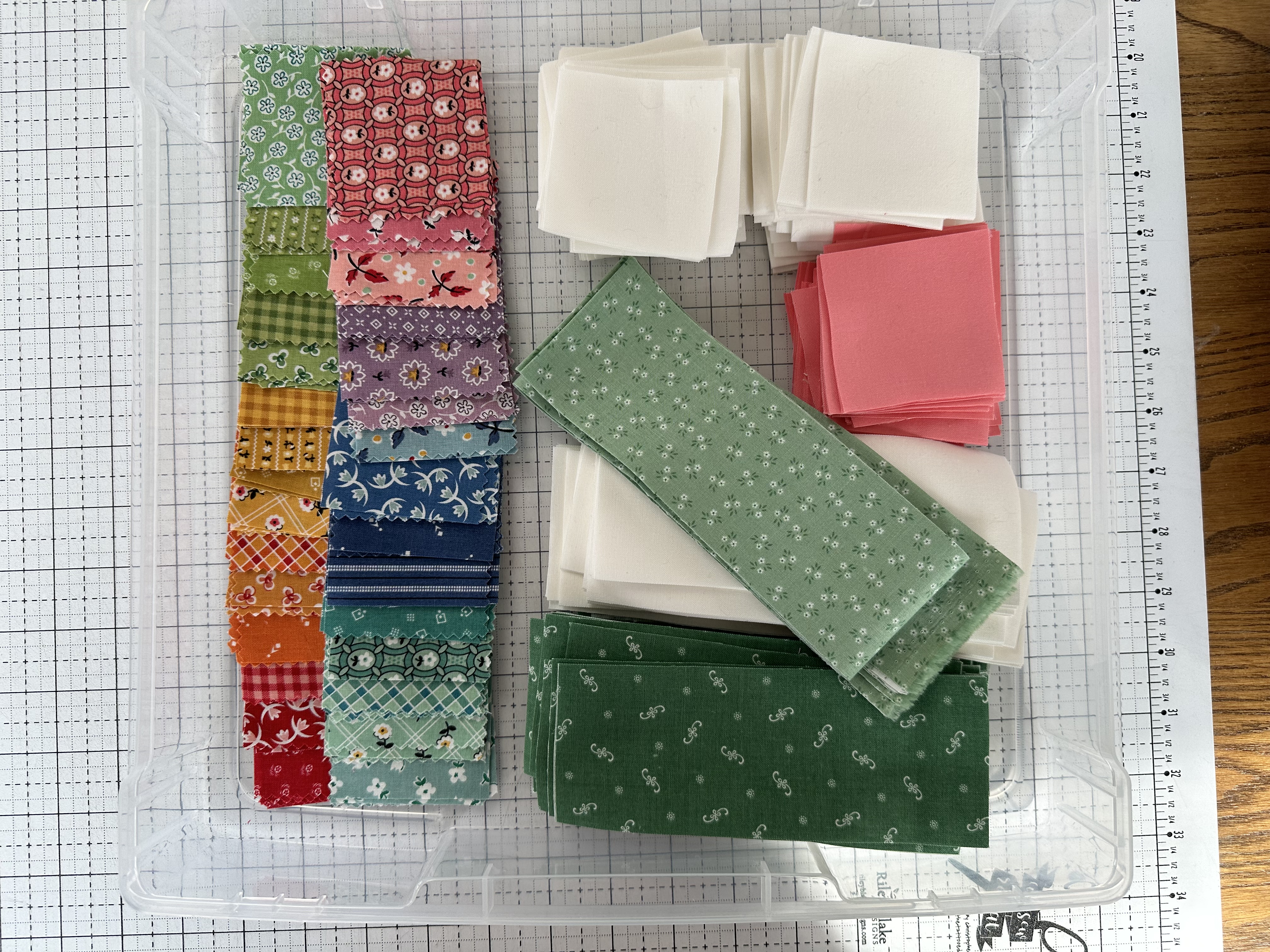 Remember to watch the Week 3 YouTube video on my channel.  This video coordinates with this post and I show how to cut all the fabric for the Nona Quilt in real-time.
Thank you for following along and I'll see you next week!
– Jessica
Difficulty level

Beginner

Time to Complete

1 hour

Used Material

cotton fabric, cutting mat, iron, ironing board, quilting ruler, rotary cutter

Projects

quilt

Seasons

all seasons

Techniques

quilting
Used Products
What you might also like