Must-Have Tools for Quilters
Greeting from Faith from at Fresh Lemons Quilts! When I first started quilting, I was a bit overwhelmed by all the tools out there. What did I absolutely need to get started, and what could I put on my wish list for later? There are certain tools that I think are "must haves" for beginning quilters. Sure, you could exclusively use scissors, a needle and thread. But some tools have been designed to make your life easier! Today I'm happy to share my favorite quilting tools with you.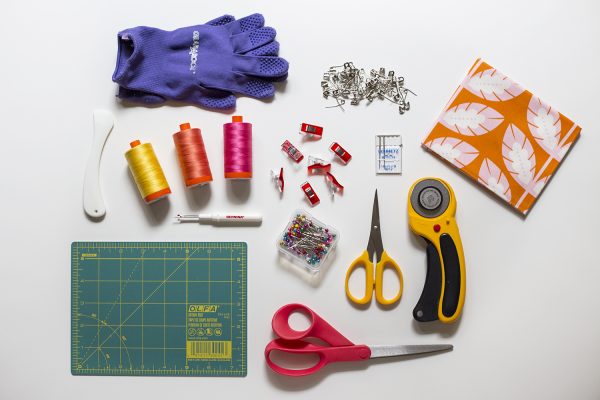 All the supplies listed below can be found at your local quilt shop, BERNINA store, local craft store, or favorite online retailer.
Project Materials
Fabric
Selecting fabric is my favorite part of any sewing project! Whether you buy your fabric specifically for a pattern or to build your stash, this is your chance to be creative and express yourself. For quilting, I generally use 100% cotton fabric from my local quilt shop or online small business.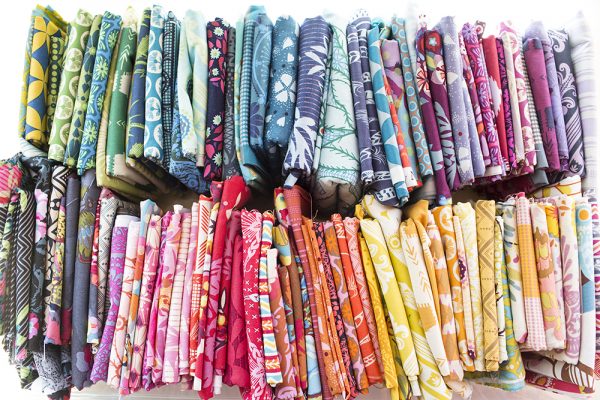 Batting
There are many varieties of batting, from thin to thick, cotton to wool to polyester, white to beige to black. My favorite batting is Quilter's Dream cotton batting in Request Loft (which is the thinnest loft offered).  They also have swatch cards for helping pick the right batting for your project. You can find it at your local quilt shop.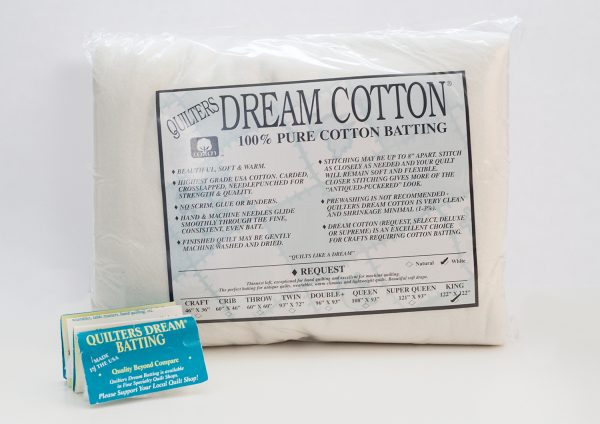 Thread
Just like batting, there are many varieties of thread. Selecting the right thread for your project and machine is important. I steer clear of bargain threads and look for higher quality products with less lint. When purchasing thread, the lower the weight number, the thicker the thread. The higher the weight number, the thinner the thread. My favorite thread for piecing and quilting is Aurifil 50 wt cotton (on the orange spool). When I want my quilting stitches to stand out a bit more, I use Aurifil 40 wt cotton (on the green spool).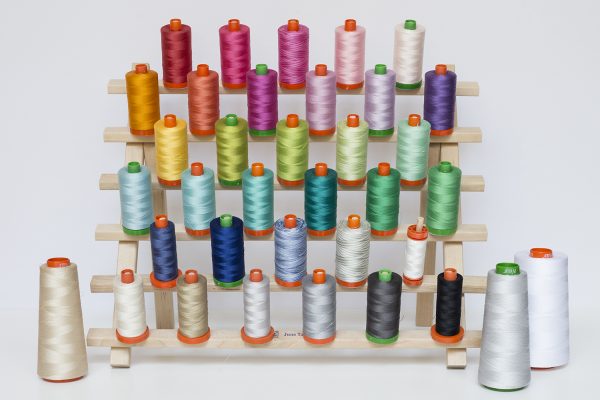 Cutting Tools
Rotary Cutter and Scissors
I have tried several brands and styles of rotary cutter, and I always come back to my trusty ergonomic 45mm Olfa rotary cutter. I love how it feels in my hand. The blade can switch sides for right or left handed cutting.
After a lot of use, you will wear out the blade on any brand cutter. You can buy replacement blades to have on hand. Ask any quilter, there is nothing better than a fresh blade.
Something fun! A couple years ago, I was lucky enough to see the FIRST Olfa rotary cutter.
Dedicated fabric scissors are also important for any sewing project. These are only for cutting fabric—no paper. Paper will dull the blades. I like a larger pair of scissors and a smaller pair of scissors. My absolute favorite are the 5″ Olfa Precision Applique Scissors.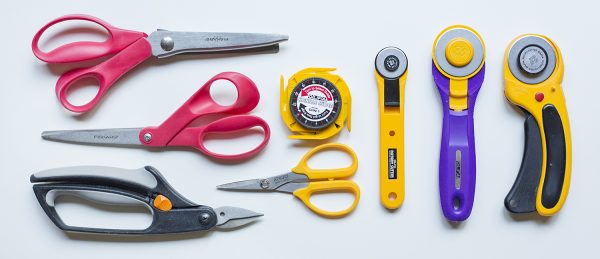 Quilting Ruler
Quilting rulers come in all shapes and sizes. For getting started, I recommend a small square (such as 5-1/2" or 6-1/2") and a long rectangle (such as 6" x 24"). Other favorites of mine include a 12-1/2" square, 8-1/2" square, a 2-1/2" x 12-1/2" rectangle, and various triangles. I am partial to Dritz rulers.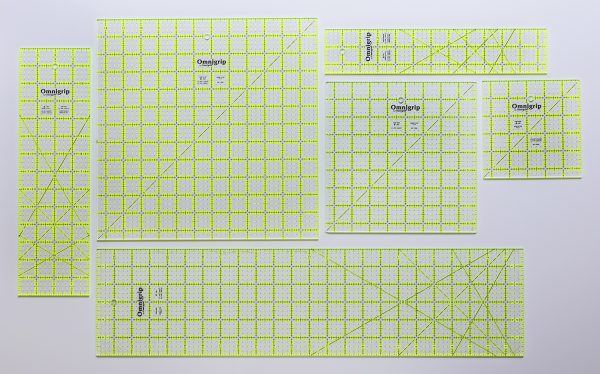 Cutting Mat
Self healing mats work with your rotary cutter and quilting ruler for cutting your fabrics. They come in all sizes, from practically pocket sized to table sized. Some spin and rotate, some fold in half for easy storage and travel. I like keeping a 18" x 24" mat by my sewing machine, and a 24" x 36" mat on my cutting table.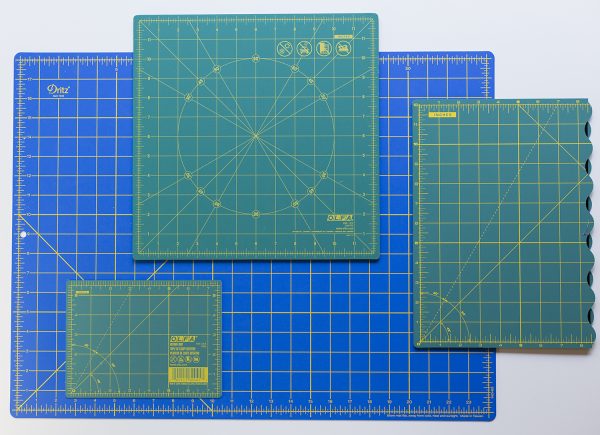 Sewing Tools
Pins and Clips
I like brightly colored round headed pins, mostly so I don't lose them when they fall on the floor. Which happens more than I care to admit! These flat headed pins are also great for laying a ruler over. I also love Wonder Clips for holding my binding in place as I hand stitch it to the quilt.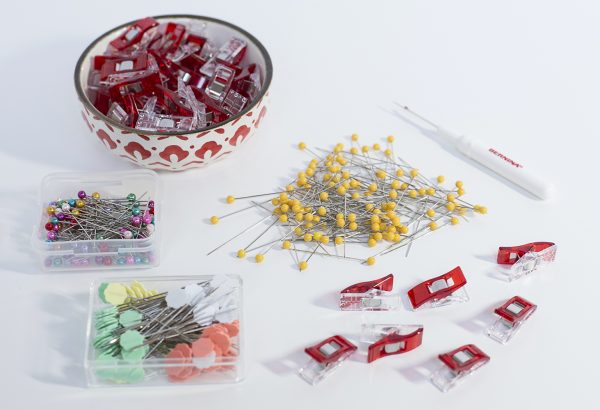 Seam Ripper
Everyone makes mistakes. When you do, your seam ripper can be your best friend. They are available as basic or handcrafted (check Etsy)!
Needle (Sewing machine and hand stitching)
Choosing the right needle for your project is really important. There are different needles for piecing, quilting, working with knits, leather, jeans, vinyl, etc. I use Microtex Sharp needles for machine piecing. Check out Groz-Beckert and Schmetz needles. I keep an assortment of needle sizes in my sewing space for hand stitching.

Sewing Machine
Nothing will make your sewing experience better than a quality sewing machine. The number one reason I love BERNINA so much, is that when I sit down at my machine, I know I will get the best quality stitch the first time. My first BERNINA was a BERNINA 440 QE. I'm not exaggerating when I say it changed my life. The experience was so successful and enjoyable, I found myself sitting at it every single day. As a BERNINA Ambassador, I spent the last two years sewing on a BERNINA 750 QE. I am now sewing on a BERNINA 770 QE. I love the wide feed dogs for decorative stitching, the automatic features such as the needle threader and cutter, and the quilting tools like the BERNINA Stitch Regulator (BSR) and the Walking Foot. Visit your local sewing machine dealer and test drive machines to find the right fit for you.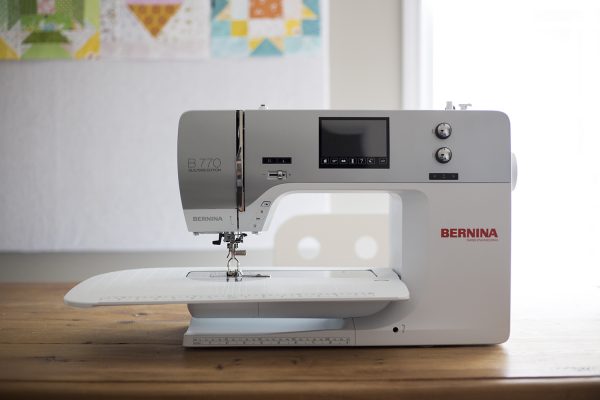 Oil and Brush
Your sewing machine is just that, a machine. It requires cleaning and oiling.  Refer to your manual for specific maintenance information. I also take my machine for an annual "check up" and cleaning at my local BERNINA dealer.

Marking Tools
You will undoubtedly come across occasions when you need to mark your fabric. I keep a few different tools on hand: a water soluble marker, a chalk marking tool, and a Clover Hera marking tool.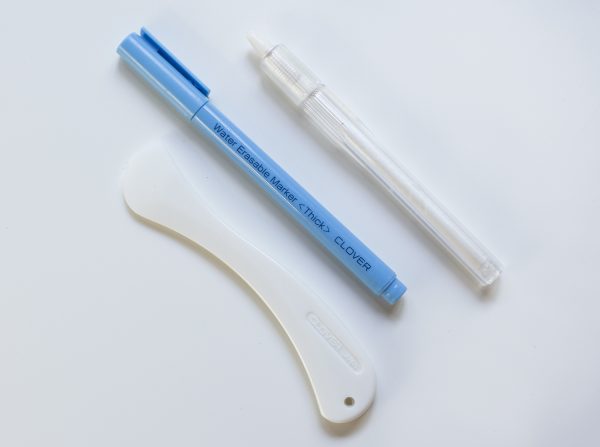 Assembly Tools
Basting Pins or Spray
Basting is the process of layering your quilt back, batting, and quilt top before quilting. You can see my tutorial here. I like to use curved basting pins for this process, but for smaller projects (like pillows), I sometimes use 505 Spray and Fix basting spray.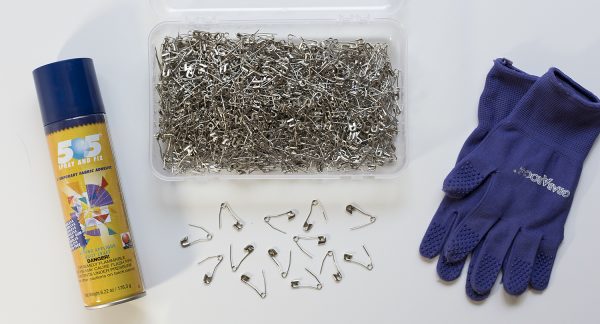 Quilting Gloves
About five years ago, I received Grabaroo quilting gloves in a sewing retreat goodie bag. I had never used quilting gloves before and wasn't sure what all the fuss was about. Now I cannot quilt without them! They help you really grip your quilt and move it around easily. I actually find I'm less sore after quilting when I use them. I have tried other brands, but always come back to Grabaroos.
Iron
The more you sew, the more you will find yourself at the iron.  I am a pretty heavy user and go through about an iron every two years.  My favorites have been Oliso and Rowenta irons.
Starch
When I'm working with lightweight or stretchy fabrics, I find that using a bit of starch helps keep my fabric from wrinkling and stretching.
Fancy Extras
Now that we've gone over the basics, I thought I'd share some other items that are fun to have in your sewing space. You don't need these to get started, but they sure are handy!
Pin Cushion
Make your own, buy one gorgeously handcrafted or check out the cool magnetic options like the Grabbit or Zirkel!
Ruler Grip or Holder
Using a rotary cutter can be dangerous. Some people like to use a tool such as the Omnigrid Ruler Grip so that their fingers are safely elevated while cutting fabric. The Ever Sewn Ruler Grip helps lift rulers without damaging fingernails.
Specialty Quilting Rulers
Although I mostly use my square and rectangular rulers, specialty rulers make cutting more complex shapes and patterns easier. From dresdens to triangles, drunkards path to double wedding rings, hexagons to Add a Quarter rulers, these just make life easier.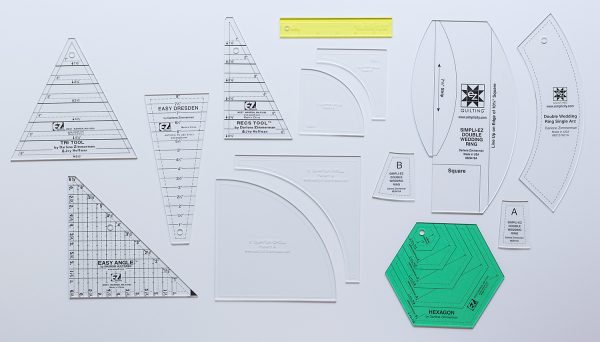 Extra Feet
Your sewing machine comes with the basic feet you need to get started. For quilting, I like to have Patchwork Foot #37 or 1/4″ foot, a walking foot, and a Darning Foot. For general sewing, I enjoy using my Zipper Foot and Buttonhole Foot.  Fun extras include an invisible zipper foot, a ruffler, and a double-cord foot.
Light Box
I splurged a couple years ago and bought an Artograph 12 inch by 9 inch Light Pad Light Box. It makes tracing designs really easy (as well as other general craft projects around the house.)
Lamp
I prefer using OttLite lamps in my sewing space. We have pretty grey and cloudy winters here in Chicago, and they really do help me see the fabric colors and project details accurately.
Color Cards
For online shoppers, solid fabric and thread color cards are invaluable. I use them to find coordinating solids to pair with the fabric in my stash.

Design Wall
If you have a dedicated sewing space, a design wall is a nice thing to have. It can be as simple as a piece of batting tacked to the wall. I love having my projects off the floor. I built my design wall 2-1/2 years ago using a tutorial from Elizabeth Hartman of Oh Fransson. It is made by wrapping cotton batting around insulation board purchased from my local home improvement store.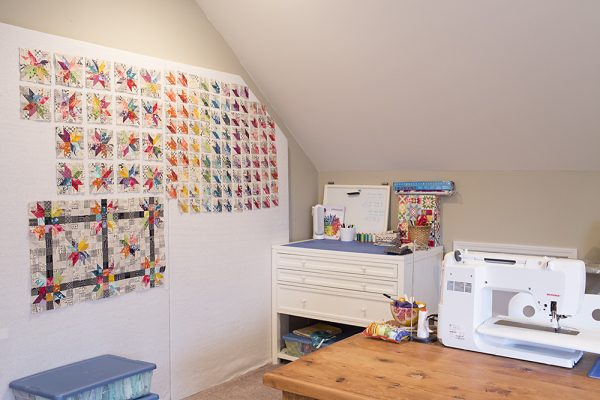 Sewing Machine Cover
Keep the dust off your machine with a sewing machine cover. Some machines come with a cover. If yours didn't, you can buy one at your local craft shop, or make your own using a pattern or tutorial online.
Sewing Machine Travel Case
If you plan on traveling with your machine, consider getting a travel case to protect your investment.
Die Cutter
For those that want to cut complex shapes accurately and quickly, die cutters are a great option. Sizzix and AccuQuilt both offer quilting dies.
I hope you enjoyed reading through my list of supplies, from the basic to the elaborate.  I'd love to hear about your favorite quilting tools in the comments!
Difficulty level

Beginner

Techniques

quilting
What you might also like
6 comments on "Must-Have Tools for Quilters"