Diamonds Quilt Along Part 1: Piecing
Hello again BERNINA quilting enthusiasts! Are you ready to start piecing your Diamonds Quilt? It was was developed to showcase the awesome features of the new BERNINA Q16, but you can quilt along on a domestic machine as well! Kits using my Cotton Shot fabrics for Benartex are now making their way to local BERNINA dealers. If you preordered, you probably have either received yours or will shortly receive it.  (More of the fabrics for the alternative color stories are on their way from the manufacturer right now, but if you don't yet have your materials, don't worry!  These posts and videos will remain up so you can jump in any time!)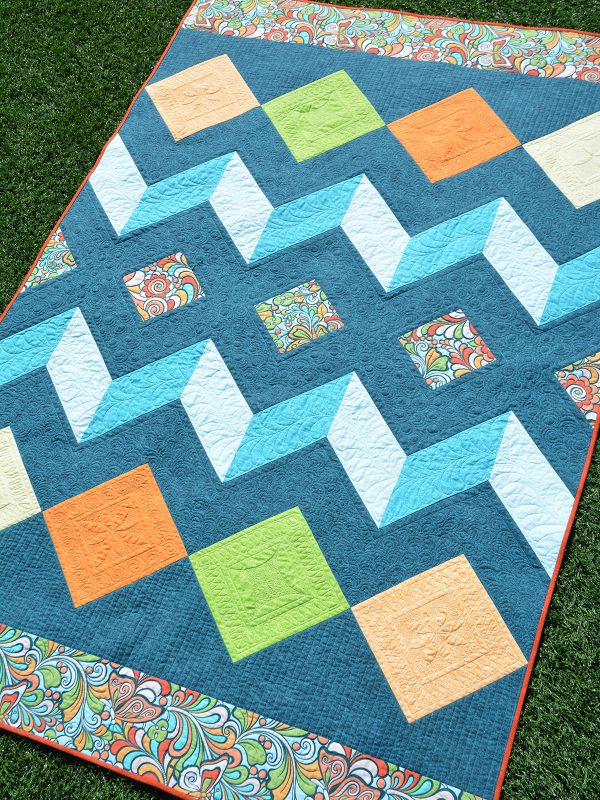 The Diamonds Quilt in the Harvest color story. Fabric charts for three additional color stories were shared in this post.
This month I'll be showing you how to piece the sampler.  Since the focus of the Diamonds Quilt is really on the quilting, the piecing is pretty simple.
Download the piecing instructions here.
I've also made the following videos to walk you through the process.
Note that there are a lot of relatively large "stitch-and-flip" triangles in this piece.  You can save these pieces and either sew them into half-square triangles to put on the back of your quilt OR you can set them aside because I'll have a surprise quilting project that incorporates these pieces that I'll be sharing once we are done with the sampler!
Piecing Thread
I would recommend using a thread from your stash that roughly matches your background to piece the Diamonds Quilt. I used a blue/grey Aurifil 50 wt. thread that I had leftover from another project. You might remember Aurifil was gracious enough to develop two thread packs for this piece and they are also on their way to participating dealers.  Both of the thread packs are for the quilting. The large thread kit has three large spools for the background, zigzag rows, and the borders.  he small thread kit has a small spool for each diamond plus a small spool for the binding. You won't use these threads until November, but in case you are piecing another color story of Diamonds I made the following a chart of suggested thread colors.
Download the Thread Chart here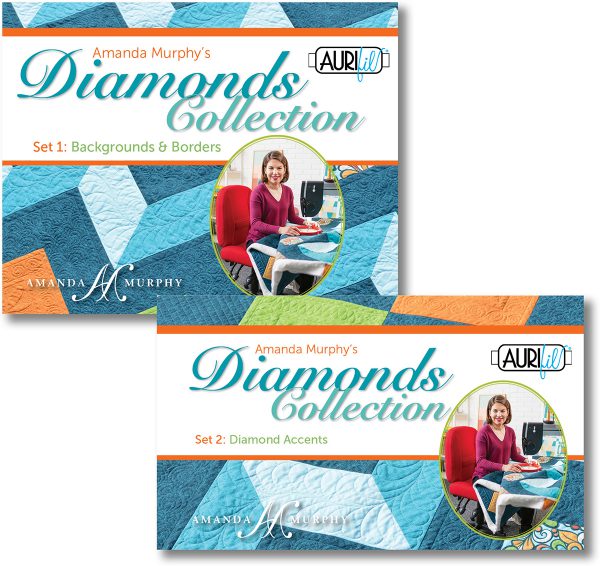 Aurifil Diamonds thread packs – your local shop can order them through Brewer Sewing.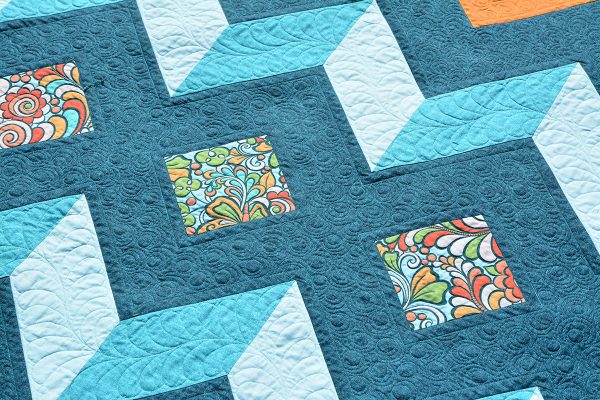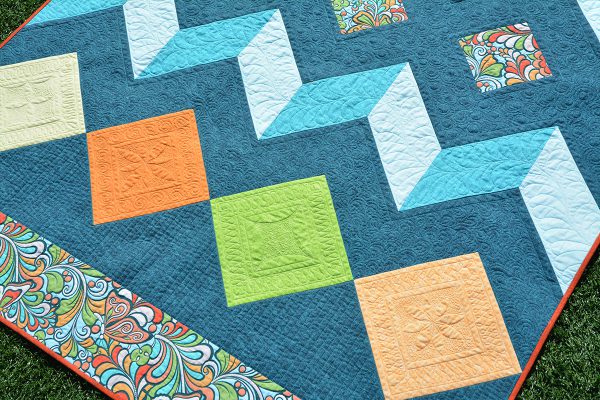 Some of you have asked about rulers.  I used my Every Angle ruler for the first month of quilting, adding in the 8" circle curve from my Every Curve set the second month, and my 4" and 6" circle curves from my Every Circle set for the final month. If you have other rulers you want to use please feel free to experiment, but your curves will likely be a little different than mine if you are quilting with different sizes of plastic.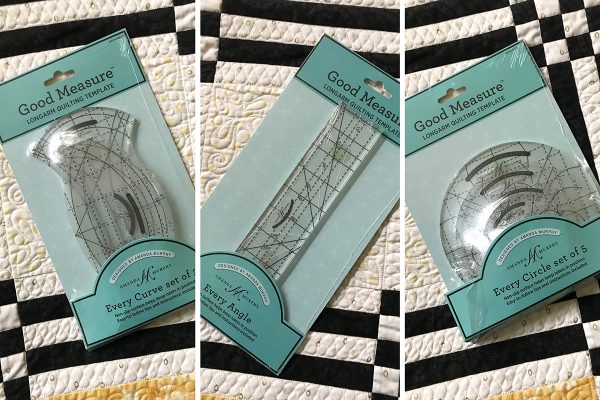 The Good Measure rulers I used for the Diamonds Quilt
While we are on the subject of rulers, have you seen my new Mini Lollipop, Every Ribbon Candy 2 and Every Star rulers? They are available through your local BERNINA dealer!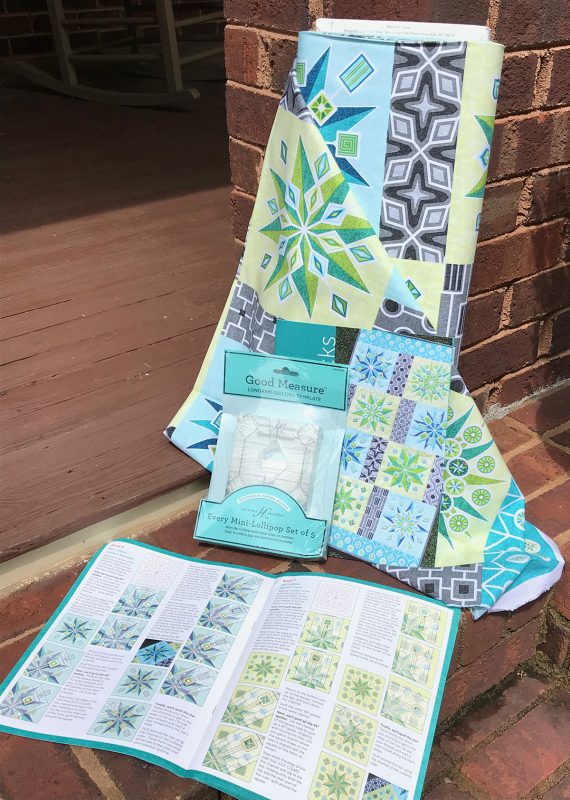 Caption: Mini Lollipop Rulers with the coordinating Lollipop Block fabric for Contempo of Benartex and the guide to bring it all together.
Diamonds Quilt Along Schedule
Diamonds Quilt Along, Part 1: Piecing
November 11, 2020 – Quilting Post 1
December 9, 2020 – Quilting Post 2
January 13, 2021 – Quilting Post 3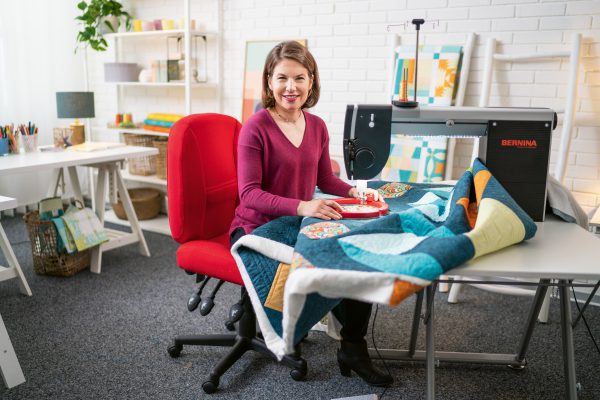 This is me with the Q16 quilting the first Diamonds Quilt at BERNINA headquarters in Switzerland before the world turned upside down. How fortunate was I? I can't believe this was just seven months ago. I can't wait until we can all quilt together again!
I miss teaching and seeing all of you at local dealerships. While we are all navigating this crazy world you can join me on my Facebook Page and Group, Quilting with Amanda Murphy, every Thursday at 11 am Eastern for quilting tips and tricks. I'll be demoing on the fabulous Q16 and as well as my other BERNINAs!
Happy piecing and see you back here in November!
Amanda
Diamonds Quilt Along with Amanda Murphy
Used Material

basic sewing supplies, cotton batting, cotton quilting fabric, quilt backing

Projects

home décor, quilt

Seasons

all seasons

Techniques

quilt piecing, quilting
Used Products
What you might also like
14 comments on "Diamonds Quilt Along Part 1: Piecing"