Freearm Embroidery Made Easy
I love adding embroidery, appliqué and embellishments to inexpensive ready-made t-shirts for my daughters. However, small garments can be challenging unless you have a built-in freearm or a Freearm Embroidery Attachment.
If you have a BERNINA 830, simply slide the tray table away from the sewing machine to create an instant freearm embroidery space. If you don't have an 830, no worries, BERNINA has a new Freearm Embroidery Attachment that will work with the medium and large oval hoops on other BERNINA embroidery machine models.
I like to use two layers of OESD Polymesh Cut-Away Stabilizer in the hoop, apply a light layer of 505 Temporary Spray Adhesive, place the t-shirt with the template, and then cover with OESD AquaFilm Wash-Away Topping, which prevents the stitches from sinking down into the knit fabric. The AquaFilm washes away when the item is laundered. To keep scratchy stitching away from tender skin, try OESD Gentle Touch Embroidery Cover Up, which is ironed onto the back of the embroidery.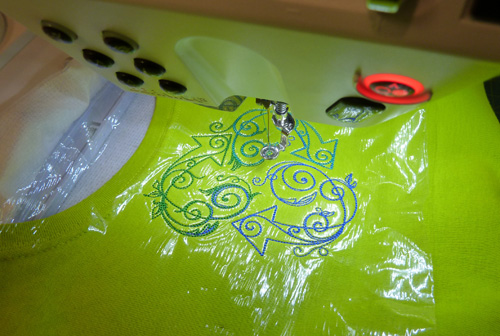 Techniques

embroidery
What you might also like
3 comments on "Freearm Embroidery Made Easy"