"God Save the Queen" – How to Stitch Dozens of Buttons by Machine
"Initial This" was the Western North Carolina Quilt Guild National Quilt Day challenge presented in a day exhibit at our city mall. (We also had to use the same yellow fabric in all our wall hangings.) Since I am a true Anglophile with a large collections of white buttons, my design was a natural. "God Save the Queen" developed from a study of the queen's crowns inspired by the Pearly King and Queen web sites.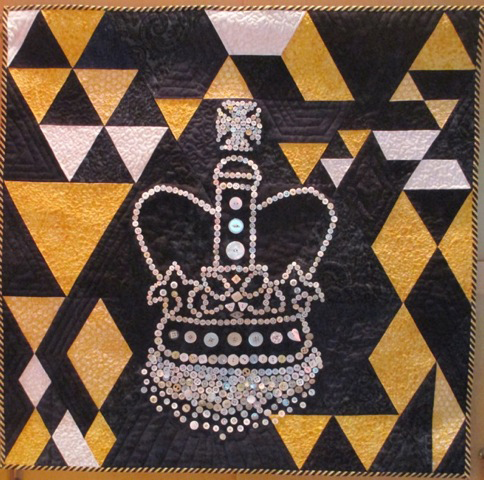 Yes, I was off to demonstrate in the mall with my BERNINA sewing machine, a collection of buttons, and my new Button Sew-On Foot #18. People were fascinated how easy it was to sew on a button and the fact that all openings for either two or four holes are all regulated. Since my piece was in the show I demonstrated on a vest, adding another row of buttons around the outside edges.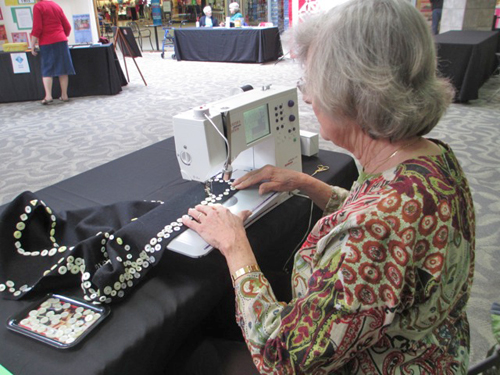 First, I used my new equilateral Grid Grip to draw out a diamond background. After coding each section it was pieced together using 1/4″ Patchwork Foot #37, balancing the black and yellows.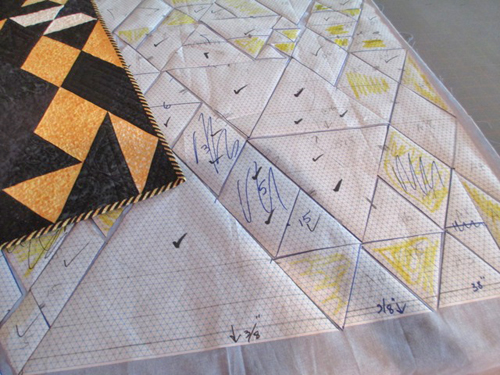 Second, with my crown design scaled to size, I traced sections onto the top. A lightweight stabilizer on the back side added strength for the button sew-on stitches.  Buttons were first secured with a tab of glue stick, then stitched in place. Using the Button Sew-On Foot was possible until the buttons became more concentrated and overlapped each other; then hand stitching was required.
Third, I did a combination of "Dogs Up and Dogs Down." With my feed dogs up I used Walking Foot #50 and echoed the diamond shapes with black thread. Now I can do that with m new BERNINA 750 QE using the BERNINA Dual Feed feature. Every day I discover something fun and new about this machine! I can even slip the seam bar guides onto the back of the all-purpose foot, Reverse Motion Foot #1D.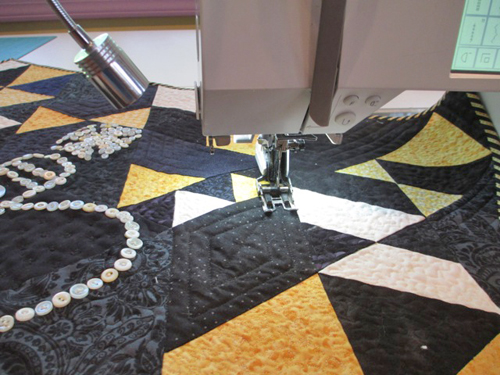 Then, with feed dogs down, I used the amazing magnifying lens for a better view while I applied minimal stippling. There are three magnifier strengths so you have a choice. You will amazed at how tiny machine quilting can happen with the Dogs Down!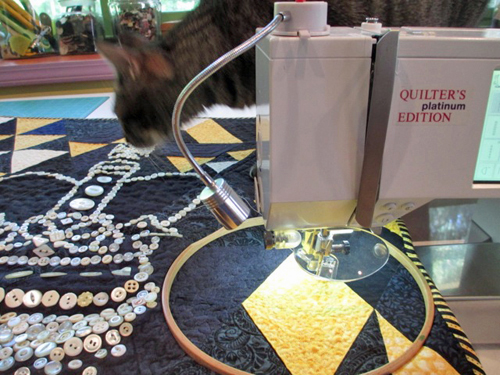 Finally, back home again and double duty in my studio with my new BERNINA 750 QE and my trusty artista 170. I can have a project going on two machines at the same time!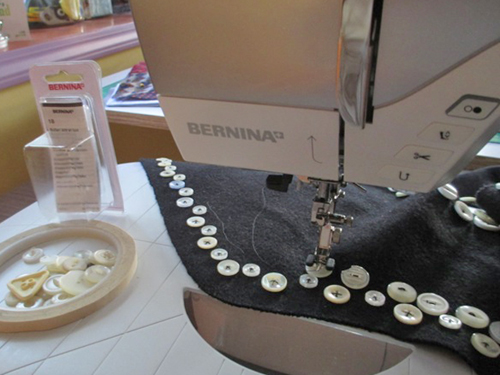 What you might also like