How to Personalize Coats and Jackets with Embroidery
I am a big collector of vintage coats. One of the things I love most about them is when you find one that has been personalized with embroidery on the inside. Sometimes you'll find someone's name and other times you'll find initials. Sometimes you'll even find multiple personalized touches from different owners. This embroidery gives these jackets and coats a personality. I love imagining who the person was that used to wear this garment and love that I'm giving it another life.
These vintage coats inspired me to start to personalizing my handmade coats and jackets with machine embroidery. I like to add my initials as well as the date on which I made the garment. It's a great way to give that extra special touch to a project that you spend a lot of time making. Below, I added personalization to the front-facing of a wool coat. In this tutorial, I'll show you how to add this personalization to your own handmade coats and jackets.
Materials Needed for Embroidery
Coat or jacket pattern piece to be embroidered (I like to use the front-facing or a pocket bag)
Stabilizer(s) appropriate for coat or jacket fabric
Machine embroidery module
Thread for machine embroidery
Hooping the Pattern Piece
The first step to adding embroidery to your coat or jacket is to hoop the pattern piece with some stabilizer. Here, I'm using the pocket bag pattern piece for my jacket, which is cut from a linen/cotton blend. This piece isn't interfaced, but when a piece should be interfaced, I apply that interfacing prior to adding embroidery. I used OESD Ultra Clean & Tear on the back of the pattern piece. There are many stabilizers to choose from, so you'll want to pick one that matches the type of fabric you're using. If you are embroidering wool or something with a nap or texture, you may also want to also add a topper of a water-soluble stabilizer. When in doubt, test your embroidery on a scrap of the same fabric to make sure you like the way it looks. Add your pattern piece and stabilizer to a machine embroidery hoop. I used the Medium Embroidery Hoop for this project.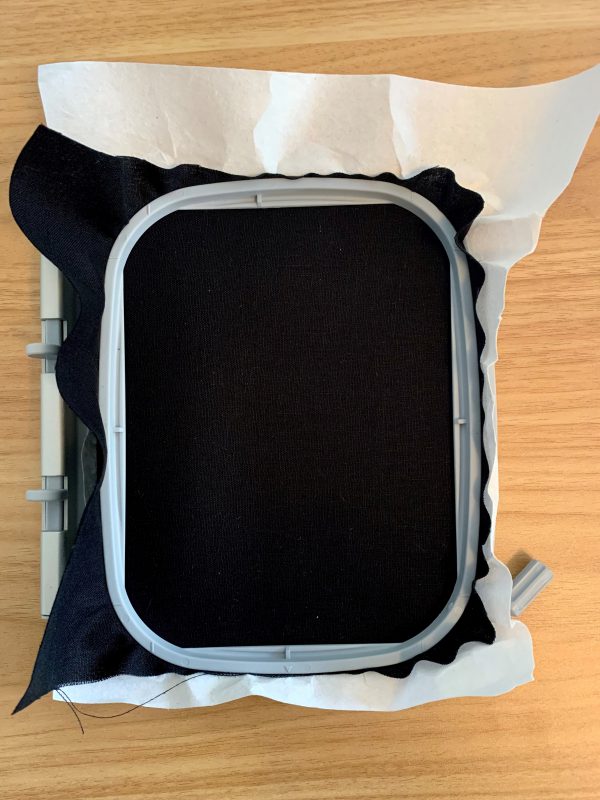 Creating the Embroidery Design
Choose your favorite font.
Type in your name or initials.
Rotate if necessary to ensure the embroidery is facing the right direction on your pattern piece. You can also move the font up or down to make room for another line of text.
Add another layer to add the date.
Type in the date or year.

Rotate the text in this layer if necessary and adjust the position. I also like to decrease the size of the year so that it is slightly smaller than my initials.
Use Pin Point Placement to ensure the embroidery is in the right position on your pattern piece. I wanted mine to be close to the bottom of my pocket bag.
Stitch your design.
Remove the stabilizer and continue sewing your coat or jacket.
I add my initials and the year to all my handmade coats and jackets. You could also spell out your name, add the full date, or include a hidden message. I love the idea of adding this personalization now for someone to find in the future. Will a stranger someday wear one of my coats and wonder who SLJ was like I do with my vintage treasures?
Difficulty level

Confident Beginner

Time to Complete

Evening

Used Material

coat pattern piece, embroidery thread, OESD Ultra Clean and Tear Stabilizer, stabilizer

Projects

Embroidery, jacket

Seasons

all seasons

Techniques

embroidery, garment sewing
What you might also like
2 comments on "How to Personalize Coats and Jackets with Embroidery"