A Guide to Using Monofilament Thread
Also called invisible and nylon, monofilament thread is exactly that—one long filament, rather than small pieces twisted together. Even though it is often called nylon thread, it can also be made of 100% polyester. Monofilament thread is used in places where you want the thread to be invisible or as inconspicuous as possible. In general, it's for any project where you want the thread to disappear. I quilted the fabric below stitching randomly placed lines of overlapping serpentine stitches (#1398 on most current BERNINA models).  When using monofilament thread, the emphasis is on the texture created by the indentations of the stitches, rather than the thread.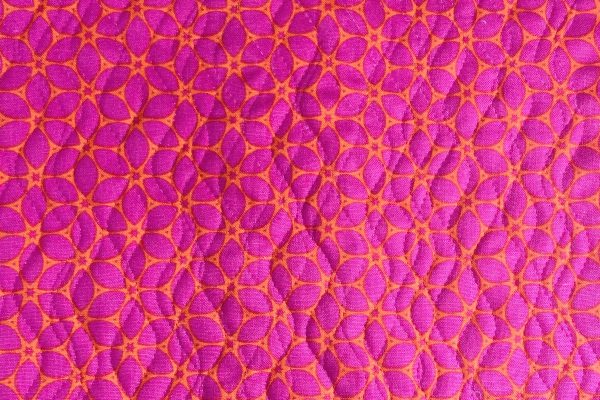 Where to Stitch with Monofilament Thread
Monofilament thread is great for stitch-in-the-ditch quilting so if you accidentally miss the ditch, your stitching will not show. It's also good for free-motion stitching where you want the stitched texture, and not the thread, to show on your project. If you are quilting a multi-colored quilt, the monofilament is perfect because it blends with everything. Invisible applique is also a technique for using this thread, as it truly does make it invisible.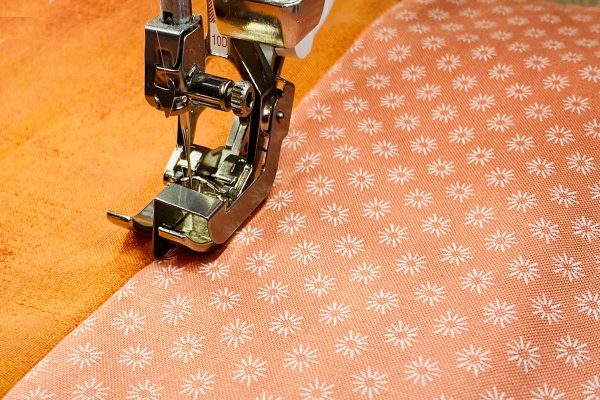 How to Select Your Thread
Historically, monofilament thread has presented challenges and frustration when using it for sewing machine stitching. It was thick and resembled a fishing line, creating stitching problems for most sewing machines. However, today's monofilament threads are very fine (size .004 or less), soft and pliable. Even though it is strong when stitched into the fabric, this thread should be easy to break as you pull it from the spool. Monofilament thread comes in two colors, clear for most fabrics and smoke, for darker fabrics. You have several choices, including brands such as Wonder Invisible by YLI, Transfil by Mettler, MonoPoly by Superior, and Sulky Invisible. You definitely want to use a brand-name monofilament thread and not something you pick up at a discount or variety store, even if it says it can be used for sewing machines.
How to Use Monofilament Thread
When sewing with monofilament thread, use a 60-70 weight needle because of the fineness of the thread. You'll want the needle to have a sharp point, such as a Microtex needle. The bobbin thread can be almost anything from lightweight bobbin thread to a 50-wt. cotton thread. You may even use monofilament thread in the bobbin. If you do, wind the bobbin at a slow speed to keep it from stretching.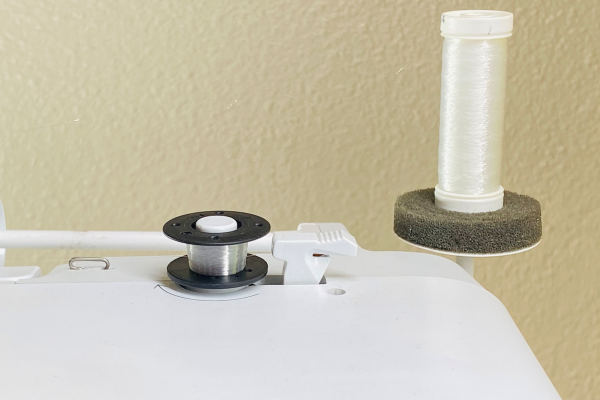 How to Adjust Tension for Monofilament Thread
If using monofilament thread in both the needle and the bobbin, there should be very few tension issues. When using cotton or polyester thread in the bobbin, you may need to loosen the needle tension slightly for quality stitching. Loosen the needle tension in small increments and test the stitch to see if it is what you want. Keep adjusting and testing until the stitch has the correct tension.
How to Thread Your Machine
Most monofilament threads are wound on the spool in a stacked formation. This means the thread should be set on the vertical spool pin with the foam pad under it so it can spin, feeding the thread without twisting. If it is a cross-wound cone, use a thread stand behind your machine and the thread will feed up without twisting. If the thread is pooling at the bottom of the spool, cover it with a thread net and pull the thread up and out of the net.  Once you have the spool in place, you can thread the machine as usual except for the needle. Because of the fineness of the thread, it is usually easier to thread the eye of the needle manually, rather than use the needle threader.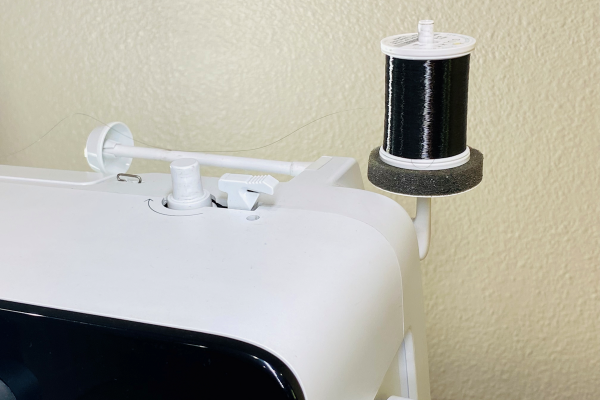 Recommended BERNINA Presser Feet
Typically, monofilament thread is used with a straight stitch. There are several presser feet that work well with this thread. An all-purpose foot, such as Reverse Pattern Foot #1/1C/1D is a good choice.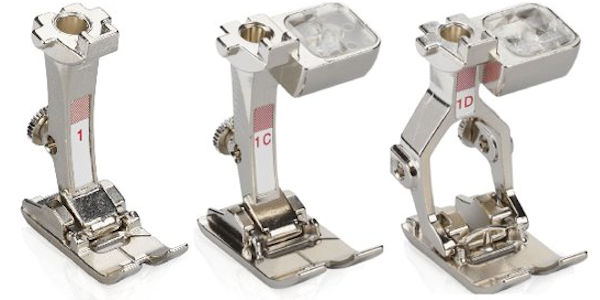 Another option is Reverse Pattern Foot with Clear Sole #34/34C/34D. This presser foot is a variation of Foot #1 with a clear sole that lets you see the fabric and stitching are under the foot.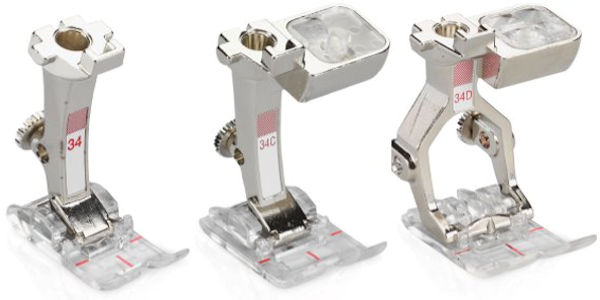 You can also use monofilament thread for free-motion stitching. Quilters often use it when they want to show texture, rather than stitches on the quilt. Any of the BERNINA free-motion presser feet such as Free-motion Embroidery Foot #24, Quilting Foot #29 and Echo Quilting Foot #44C can be used when stitching with monofilament thread.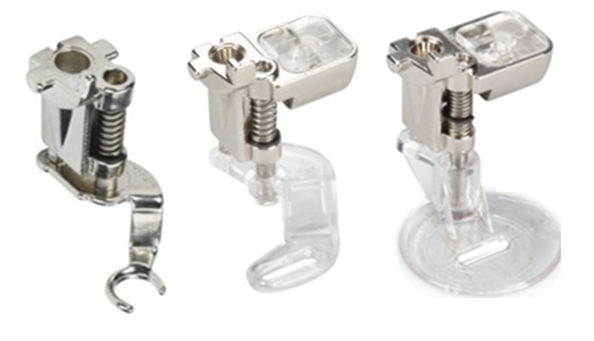 If you are sewing with monofilament thread on a BERNINA 8 Series machine, you will not thread your machine in the usual way. Check out a few tips for threading your BERNINA 8 Series machine with monofilament thread on WeAllSew.
Seasons

all seasons

Techniques

sewing
What you might also like
6 comments on "A Guide to Using Monofilament Thread"