Jane Sassaman: Illinois Album Quilt
Jane Sassaman – contemporary quilt artist, fabric designer, author, teacher, and BERNINA National Artisan – is one of my favorite fabric designers and quilt-makers. Check out her new book, Patchwork Sassaman Style, published by Dragon Threads, for ideas on creating your own magical quilts using bold, graphic prints and minimal piecing. Here she shares some thoughts on a recently completed work:
My Illinois Album quilt is finally finished! After so many years as a quilt artist I have to learned to listen to each quilt and follow its dictates… even if it means a lot more time than originally planned. On this quilt, which is 60″ x 70″, it was the quilting that demanded the extra attention. I always begin by stitching in the ditch with topstitching thread (12 wt) around all my shapes. This helps to define them, but also secures the layers for the rest of the quilting. When this is done, I begin to add more detailed quilting inside each character. Sometimes this means using decorative stitches as well as straight ones.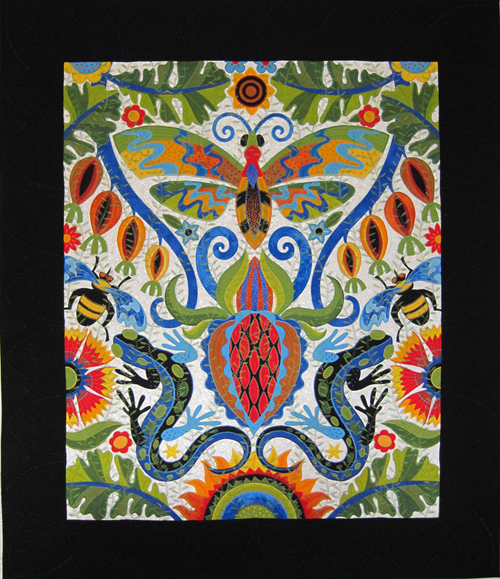 Your decorative stitches need to be chosen specifically for each project. My BERNINA sewing machine has hundreds of stitches, but which ones will help get my idea expressed? Which stitches speak my language? Most of my quilts are nature inspired so I want to pick stitches with an organic, rather than a mechanical, look. I also like to add texture by using single units of a sequential stitch as quilting tacks.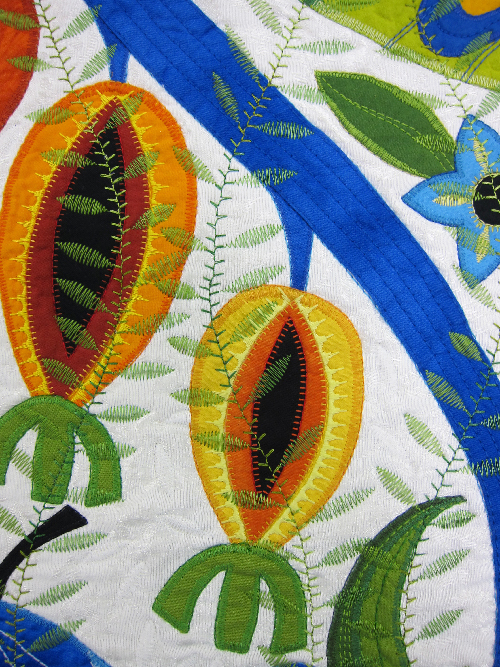 The next section to tackle was the wide black border. Oh, it would be so temping to quilt it with simple echoing straight or wavy lines. But no! The quilt wanted big black leaves stitched all the way around. All of you sewers know how tricky it is to see black thread on black fabric, so this was a challenge. However, it was a wonderful lesson in the infinite varieties of the color black. Each brand of black thread was slightly different. But I think the changes in the blacks have actually added interest to the quilt.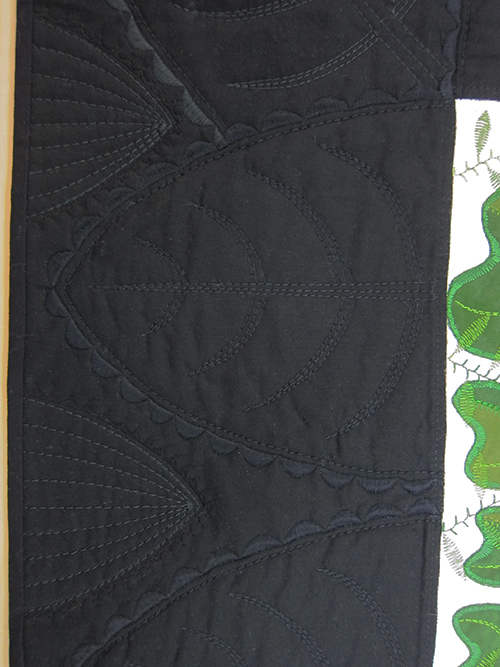 After the border was finished, I thought I would be finished, too. But no, again! The quilt was demanding more. I then had to add the extra rows of leafy vines. I used a feather stitch for the stem and added individual leaves along both sides, a rather intense and time-consuming project. But by the time the vines were completed the quilt was happy. "Just bind me", she said. So I did.
Techniques

quilting, sewing
What you might also like