What can you do with a Magical Paradox Zentangle? Make a personalized bag!
In addition to working on WeAllSew.com, I also edit Through the Needle, BERNINA of America's online magazine.  Jane Crowley's "Magical Paradox" article in Issue #15 (pages 4-7) was my introduction to Zentangle™ designs, and I've been drawing them ever since. They're addicting! And have been an easy and relaxing way to work on my sadly-neglected drawing skills. (Thank-you, Jane and Delia, for getting me started!)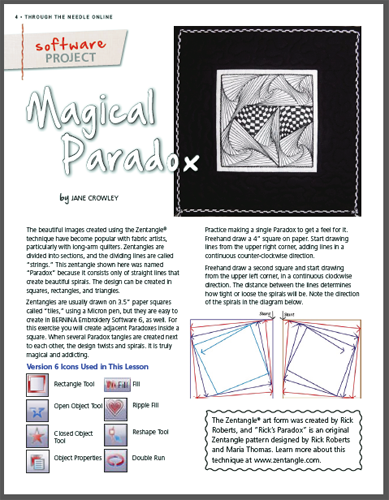 Jane based her digitized design on the "Rick's Paradox"  Zentangle™ design by Rick Roberts and Maria Thomas. You can learn more about this technique at www.zentangle.com. I'm not the only one fascinated by this technique; here's a lovely note from reader Reikje van Schie:
I am one of the many thousands that read all the articles etc on the BERNINA USA website and watch all the webinars. You are all doing a sterling job.
I got inspired by the digitized Magical Paradox design by Jane Crowley and decided to make use of this project by making the squares into a handbag. The handbag was a class that we had at our local BERNINA store in Boksburg, South Africa.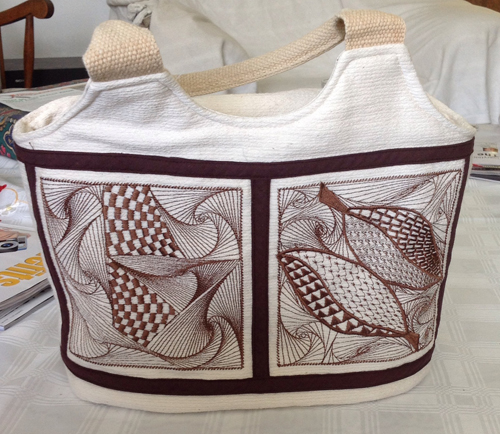 If you are wondering about the handles, those were taken from a worn-out hessian [burlap] Tesco shopping bag that I bought while visiting my daughter in the UK a couple of years ago.
Thank you for inspiring us all over the world.
Love
Riekje van Schie
Proud owner of a BERNINA 200 and BERNINA 830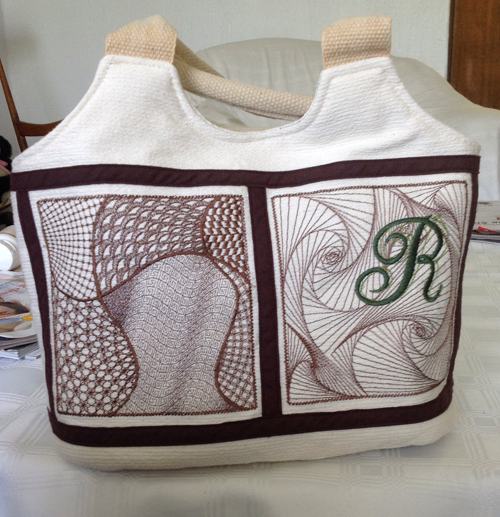 Techniques

embroidery
What you might also like
2 comments on "What can you do with a Magical Paradox Zentangle? Make a personalized bag!"