The BERNINA WeAllSew Challenge is Open for Submissions
Today marks the official first day of the WeAllSew Challenge!
Remember, it is easy to enter:
Upload a photo of your finished project along with a brief description to our Facebook fan page (www.facebook.com/berninausa) starting today through March 19.
Whether you are a beginner sewer or a master seamstress, starting a project from scratch can be daunting. For your inspiration, check out the before and after pics of the upcycled wedding dress. A special thank you to Amy Alan, the creator of the wedding gown featured in this WeAllSew Challenge. Thank you Amy for bringing this dress to life and showing us the way with your style and skill! You'll find many more of Amy's projects in design and cuisine at www.reallyhandmade.com.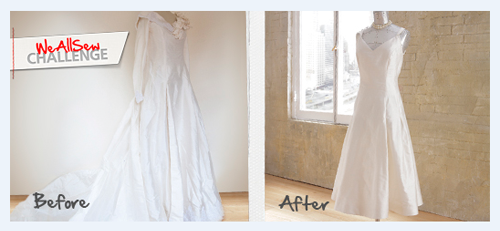 Before wedding dress picture courtesy of Ravyn Stadick of Ravin Stadick Photography.
Happy creating! We are looking forward to all the great ideas in this first WeAllSew Challenge.
Techniques

sewing
What you might also like
8 comments on "The BERNINA WeAllSew Challenge is Open for Submissions"