Writing Designs from Software to Machine or USB Stick
Many readers have asked for instructions on writing designs from BERNINA Embroidery Software to their embroidery system or USB storage device. The instructions below are written for the BERNINA 830, but the steps are the same for other systems except that a different device will be selected. Be sure you have the latest software updates; earlier version (that were released before the BERNINA 830) will not have the 830 as a device option.
The process for transferring designs with any of the above software products is the same:
Open the design in the software
Make desired changes using the available tools.
TIP: Before sending the design to the machine, save it as an ART file so it will be available if you want to modify it in the software again later.
Touch the Write to Machine icon and press OK, or select File > Write to Machine and press OK.
Select the BERNINA 830 or USB Stick for the BERNINA 830. (For other embroidery systems, select the appropriate device.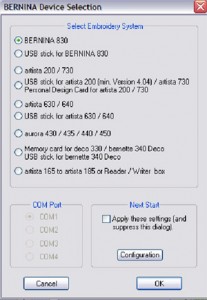 If using a USB stick:
Select the blue arrow icon to send the design to the USB Stick.
Wait for the "Design Successfully Sent to the Embroidery System" message.
Take the USB stick to the BERNINA 830 and embroider the design.
If using a cable connected directly to the BERNINA 830:
Select the blue arrow icon or the needle icon to send the file directly to the BERNINA 830.
The arrow saves the design to the 830 memory; the needle sends the design to the screen, and the design will not be saved to the machine.
Embroider the design.
What you might also like
13 comments on "Writing Designs from Software to Machine or USB Stick"