Selecting a Quilting Thread
Here's a note from Gyleen Fitzgerald, Colourful Stitches, quiltmaker, educator, author, and BERNINA National Artisan:
There has been a lot of recent chatter about how to select the quilting thread color for scrap quilts or high contrast quilts or quilts with clear light, medium and dark fabric. This is my take on the topic, but first let me just say, I like to see the thread! As a slow hand quilter, I want to SEE every stitch that I put into a quilt top. I consider how the quilt is quilted to be the last level of a quilt's design. And I need to say, I send all my quilts over 50″ out to be long-armed. Okay, so now knowing that, this is what I think:
Selecting a thread color that is in the middle of the quilt's tone spectrum is like standing in the middle of the road… it gets you killed! I think hue (color) should rule first and not tone (light, medium, dark). Picking a hue that has chameleon ability seems to work best for scrappy quilts or quilts with clear light, medium and dark fabric. I like rust, off reds, warm browns, mustard, smoke gray and taupe best. From my experience, these thread colors change as they pass over the quilt to blend rather than distract.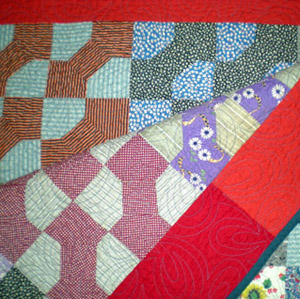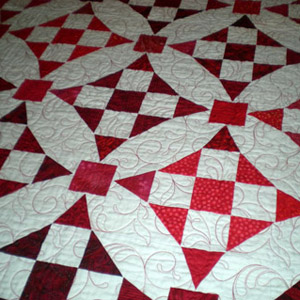 For high contrast quilts, it's a matter of what would be more distracting and where do I want to see the quilting design. My red and white quilt is a perfect example. Picking white thread really breaks up the circle effect that the red fabric makes in the piecing. The white thread would not add much (meaning you won't notice it was there) to the white fabric either. Going to the middle tone of pink-ish would have been distracting to both white and red fabric. All you would see is the thread which is great if this was a whole cloth quilt but it isn't. Now look what happened when the pick was the bold red… it disappears on all the shades of red fabric and paints the white fabric with wonderful light feathered swirls. It finishes the quilt by joining the choir instead of thinking it was a soloist.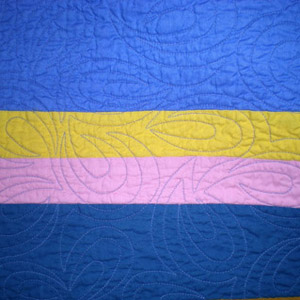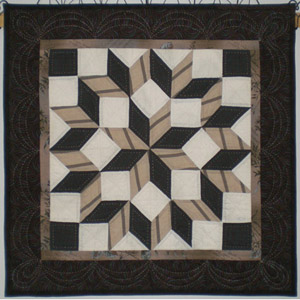 Things to remember:
Machine quilting will read boldly as one continuous line. Hand quilting will read as a softer dot – dash. You can get away with a starker contrast in thread with hand quilting because of the dot – dash; it's more forgiving. And for sure proves that quilting thread selection rules should be different.
Where on the quilt can you really show off your machine or hand quilting skills? Make sure in that area you can see your thread as an elegant addition or as the WOW factor.
And last, remember color is relative to what it's on or next to. Audition a long piece of thread on your quilt and scrutinize how it looks as it passes over various fabrics. Take a photo to make sure you like what you see.
So to answer the question — "How important is your thread choice for quillting?" — It means EVERYTHING! It can make or break your quilt.
Techniques

quilting
What you might also like
2 comments on "Selecting a Quilting Thread"