Selecting a Needle for Machine Embroidery
Whenever I go into stores to present events, the question of what needle to use for embroidery invariable comes up.  My recommendation:  Organ Embroidery Needles. I have used these needles for years and they are my favorite for embroidery. And I do a LOT of embroidery!  I have several BERNINA machines and these needles work with all of them.  Just a note here though – although BERNINA recommends these needles for machine embroidery because they have been proven to do the best job for embroidery, they also recommend that you switch back to the regular 130/705H for "regular" sewing when you are using the decorative stitches on your machine.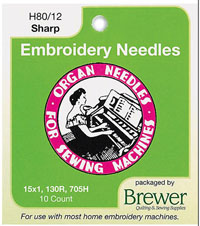 The eye of the embroidery needle is one size larger than the shaft size. For example, a size 80/12 needle has an eye that is the size of a 90/14 needle.  This small shaft keeps the needle hole small, but the larger eye accommodates the larger size of the embroidery thread and keeps the thread from shredding.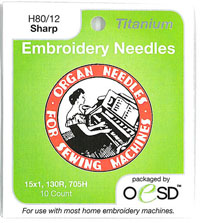 Organ Titanium Needles are the same embroidery needles, but they have a coating that serves to strengthen the shaft and tip of the needle.  Although Titanium Needles are more costly, they will last an average of 5 times longer than regular Organ needles. The Titanium Needles are ideal when embroidering on denim, twill, or other heavy fabrics because their strength helps to penetrate the fibers easily without bending the needle.
Pick the size of the needle according to the type of fabric you will be embroidering on.  Use a heavy needle (up to a size 90) for embroidering on denim, and use a smaller needle (perhaps a 65 or 70) for lighter weight fabrics.  If you will be embroidering on a knit fabric, then an Organ Ballpoint Embroidery Needle is your best bet.
What you might also like
4 comments on "Selecting a Needle for Machine Embroidery"