Celebrate National Button Week with WeAllSew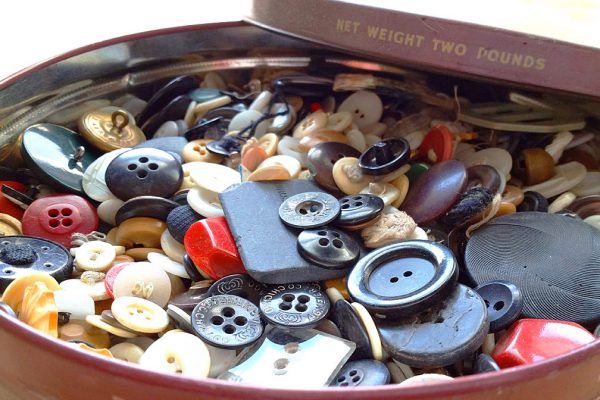 If you (or someone in your family) have been sewing for a long time, chances are you've got a button collection of spare or special buttons floating around in your sewing box! Buttons are not only invaluable fasteners for our clothing, but can be fun to collect. In celebration of National Button Week, let's have some fun looking through our button collections, learning more about special techniques for sewing buttons and buttonholes with your sewing machine, and as a bonus scroll to the bottom of the post to enter our fun Button Week giveaway!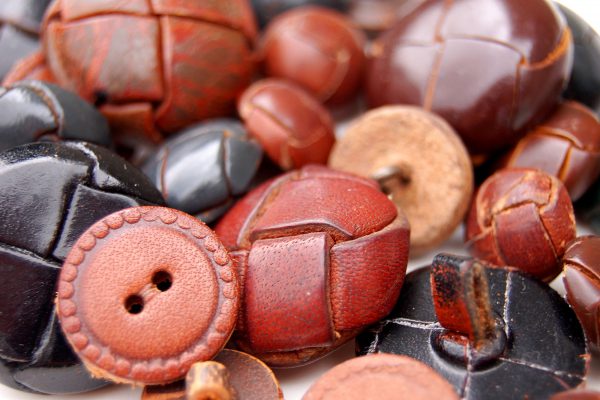 The first buttons used by humans were made of natural materials, wood, bone, and shells. Modern buttons are made of all kinds of materials from plastic to enamel, cardboard, porcelain, metal, glass, cloth, wood, horn, bone, leather, shells, or mother-of-pearl. Button styles can range from plain and utilitarian to highly decorative. There are two main types of buttons used today for garment sewing.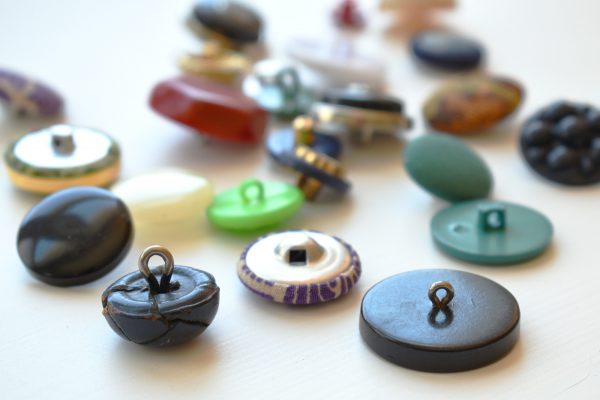 Shank Buttons
A shank style button is solid on the top and has a stem underneath with a hole to connect the button to the fabric with thread. This raised stem, called the shank, allows enough space for the buttonhole to lie flat and tight against the button shank after passing through the buttonhole.

Flat Buttons
A flat button is shaped like a disk and has two or four holes to connect the button to the fabric with thread. Flat buttons can be almost any shape, from circles to squares, triangles, flowers, animals, you name it. When sewing a flat button to fabric, you must create a shank with the thread to allow enough space for the button to pass through the buttonhole and sit on top of the fabric. If a flat button is stitched tight on top of fabric without a shank, the fabric with the buttonhole does not have space to sit comfortably underneath the button.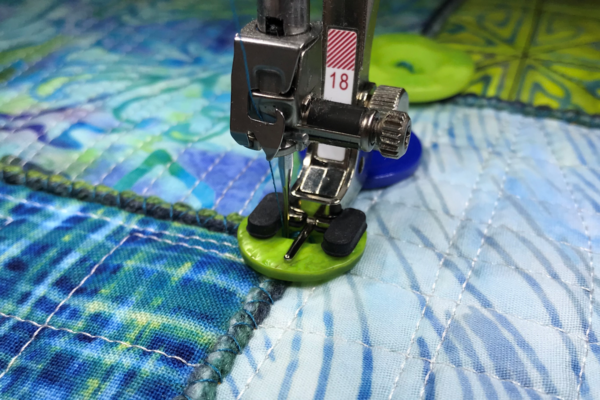 Sew a Button with Your Sewing Machine
Most shank style buttons need to be stitched on by hand because the shape does not allow for stitching by machine. Flat buttons on the other hand, can be stitched by machine, even including creating the thread shank!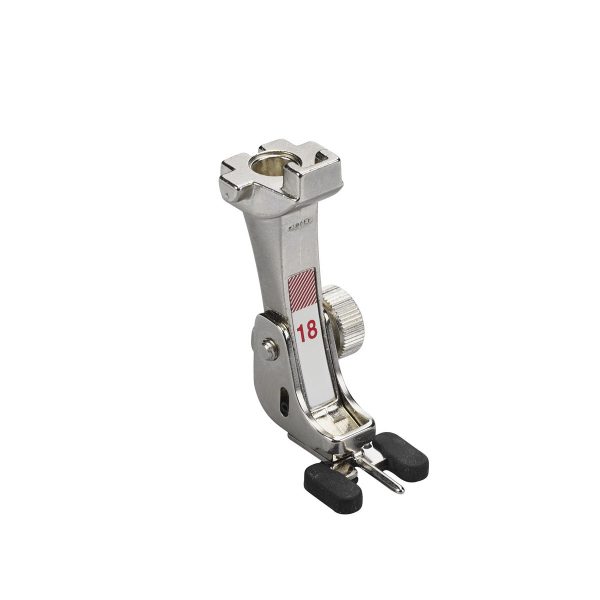 You can use the BERNINA Button sew on foot #18 to quickly attach buttons, snap fasteners and eyelets to your project. This handy foot features an adjustable middle toe that creates the button shank for you, and a non-slip sole to hold buttons in place securely.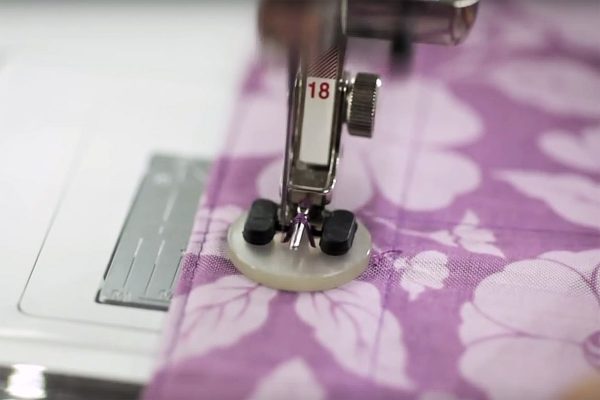 Sewing buttons on by machine is faster and more secure than hand sewing, and almost all sewing machines can do it! Click here to learn how.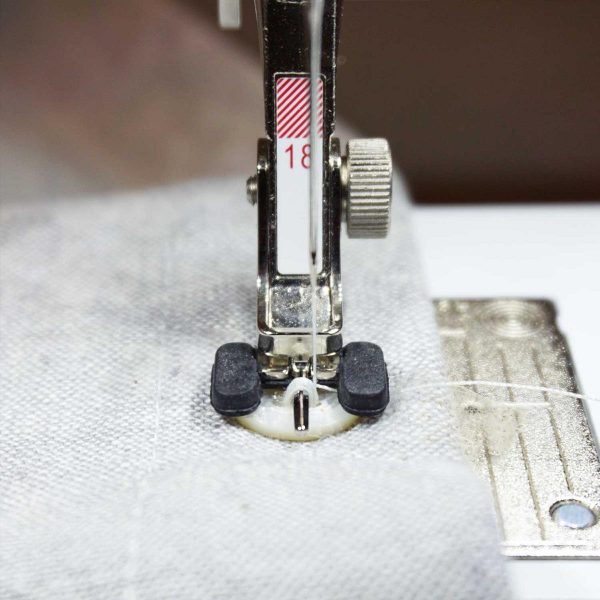 Sewing on buttons by hand can be terribly tedious, it's so much faster than hand sewing! Find tips and tricks for sewing buttons by machine here.
How to Sew Buttonholes
Buttonholes are usually the last step in finishing a garment. You want them to be perfect and precise! BERNINA has tools to help, from specialty feet to accessories. Check out these buttonhole how-to's, tips, and techniques.
Making buttonholes on a BERNINA sewing machine is truly a breeze! The sturdy presser feet and on-screen navigation make this an easy operation for beginners and experienced sewists alike. Find out how to create buttonholes with three different techniques in this details tutorial.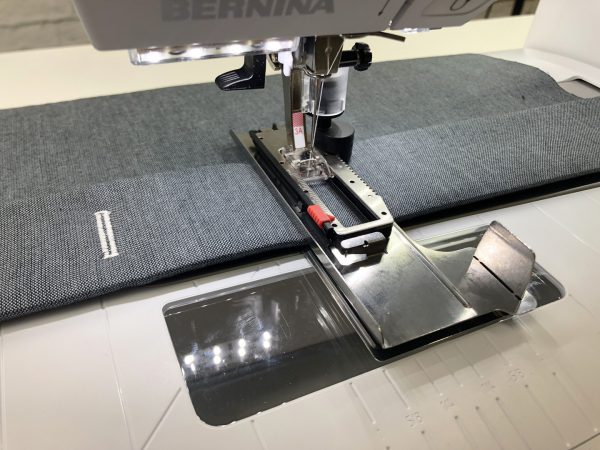 When you have special situations that make creating buttonholes challenging, BERNINA has a few accessories to help!
Not only do BERNINA buttonholes stitch beautifully, but they're also so versatile and customizable! You have the ability to make your buttonhole suit your fabric, project, and button perfectly. Let's look at all the ways we can design buttonholes in this post.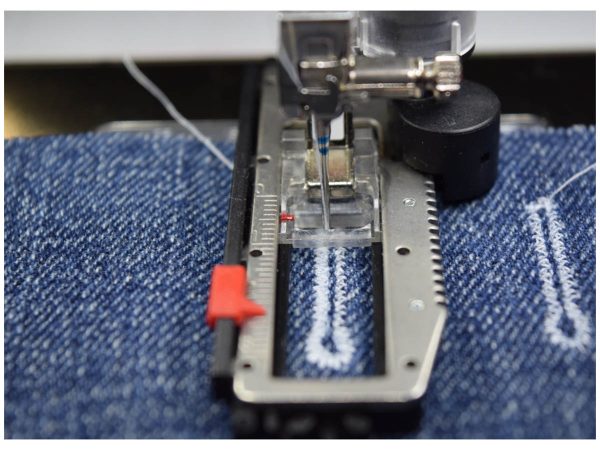 Here are 4 helpful tips for creating better buttonholes on any fabrics, from woolens and corduroy to fleece.
Sewing a buttonhole in the waistband of jeans can be difficult because of the thickness of the fabric, and the location of the buttonhole close to the edge of the waistband. To remedy this dilemma, read about two methods to create a buttonhole with success.
National Button Week Giveaway!
One lucky WeAllSew reader will win this fun package featuring one Bits and Bobs Buttons mixed button collection, one BERNINA precision seam ripper, and one Metrosene Plus Thread Set of 28 assorted spools!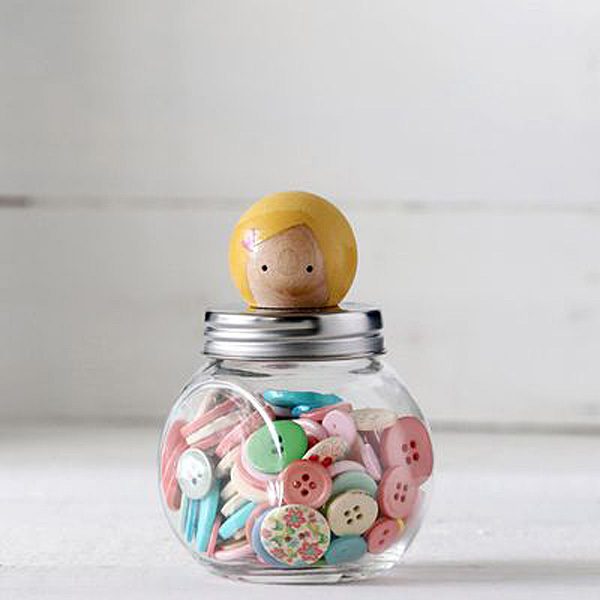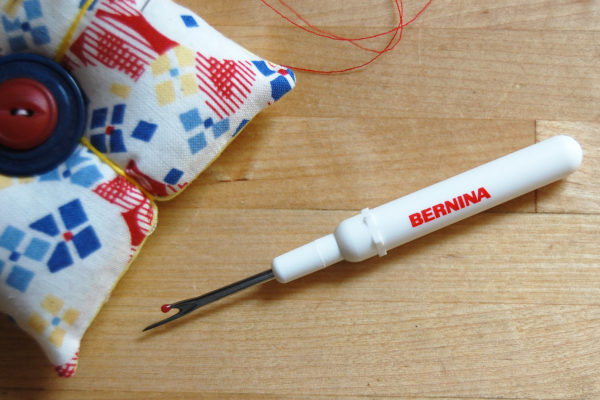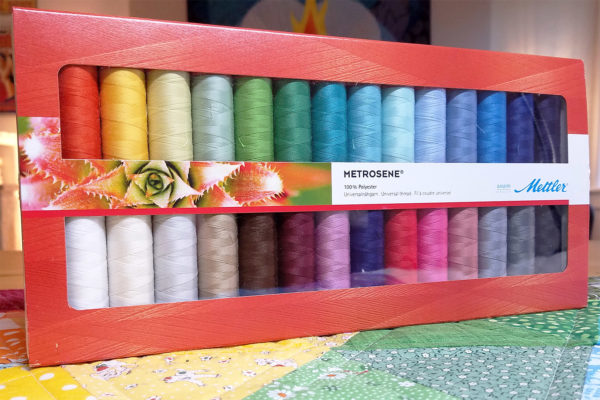 All you have to do is post a comment below and share a button story with us. It could be about the first time you tried to sew a button, loosing a button, or a story about button collecting. The the giveaway is open through Monday, March 23.
The giveaway is open to residents of the 50 United States and the District of Columbia. One comment per fan. Comment must be submitted to the WeAllSew.com blog by Monday, March 23, 2020 at 11:59 PM Central Time. Winner will be chosen randomly. Winner will be notified by email and will have 48 hours to contact to claim the prize.
Good luck!
Difficulty level

Beginner

Techniques

buttonholes, sewing
What you might also like
289 comments on "Celebrate National Button Week with WeAllSew"