Celebrate National Tool Day With WeAllSew
March 11 is National Tool Worship Day, a day to pay homage to your tools. Use this opportunity to take stock of the sewing tools in your toolbox, keep them clean and organized, and maybe add a new tool or two to your collection! Check out our compilation of WeAllSew posts about sewing tools, tool tips, and tool tutorials.
Basic Sewing Tools
These are tools that you can't sew without! How many of these basic tools are in your toolbox?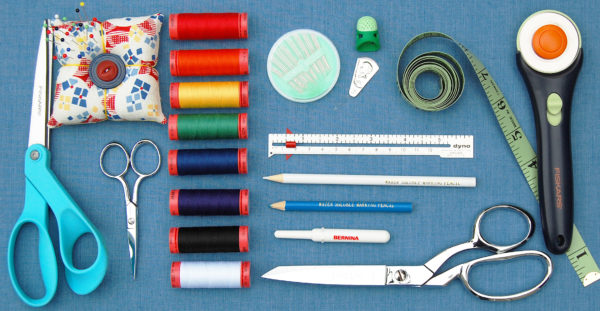 A good, basic set of sewing tools helps with the little tasks involved in sewing (careful measuring, pinning, and cutting for example). See our top list of sewing tool must-haves here!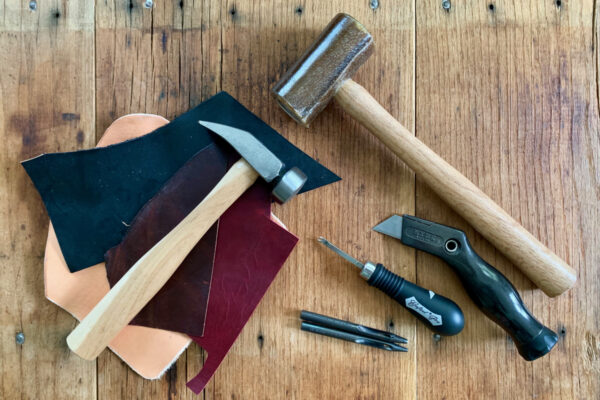 Have you ever wanted to sew with leather? Read all about the most important tools you need to make your first leather project with your domestic sewing machine.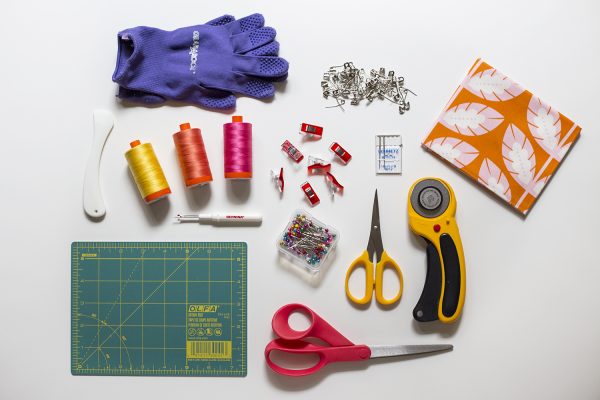 What basic tools do you absolutely need to start quilting, and what tools can you keep on your wish list for later? Read all about our expert Must-Have Tools for Quilters list here.
Paper piecing is a fine-tuned way of creating exact patchwork piecing, and this technique requires a different set of tools. Find out all about basic paper piecing tools (along with some great tips and easy projects) here.
Sewing Machine Tools: Presser Feet and Accessories
You know that old saying, it's the tools you use that make a difference! A simple change of a presser foot can improve your end result, there is a presser foot or accessory to help you accomplish just about any sewing task, project, or technique you can think of.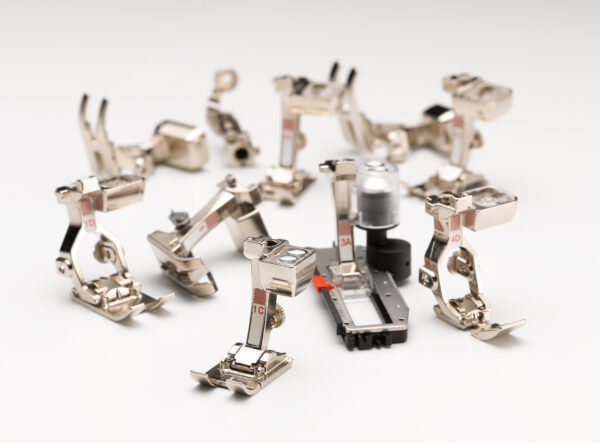 So, why are there so many feet? Visit this post to find out why there are so many different BERNINA feet and accessories for you to use.
Do you know how to use those basic feet and accessories that came with your sewing machine? This post will cover some of those basic presser feet and their common uses.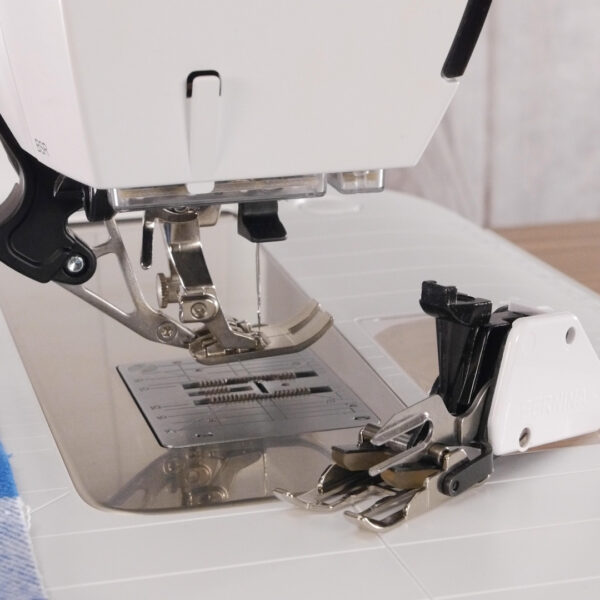 The Walking Foot #50 and the Dual Feed available on some BERNINA models both have similar functions. Explore them both further in this post and learn when to use each tool to the fullest potential.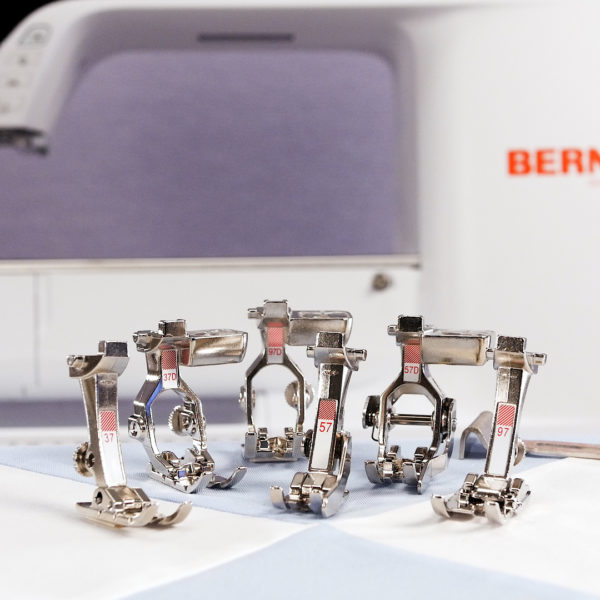 Meet the family of BERNINA Patchwork feet! Each one has a special use, learn all about each of the Patchwork feet here.
One of the most popular attachments for BERNINA sewing machines is the Circular Embroidery Attachment #83. This unique attachment allows you to sew and embroider perfect circles or semicircles and is easily screwed directly to the free-arm. Find tips and techniques to get started using the Circular embroidery attachment here.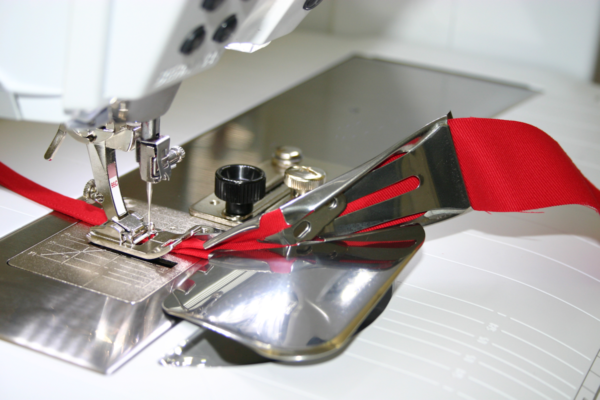 The BERNINA bias binder attachments can create a one-step finish for raw edges. Learn all about binding basics using Bias Binders #87 and #88 here.
Sewing Machines
It's no surprise that our favorite sewing tools of all are the machines we use to create our projects. Keep your machines in tip-top shape with these helpful hints.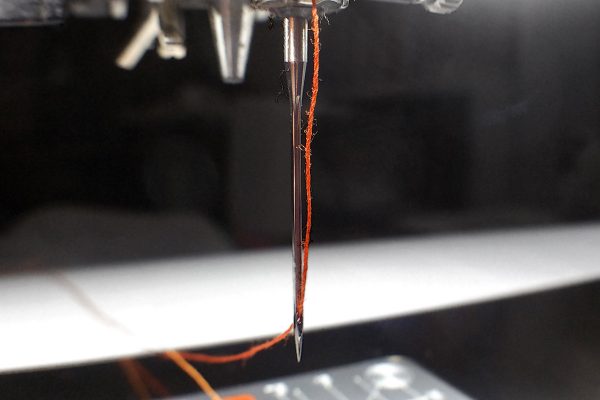 It's amazing how something as small as a needle can make such a huge impact on your sewing project! So how do you make sure you are choosing the right needle for the sewing project you're making? Check out our article All About Sewing Machine Needles here.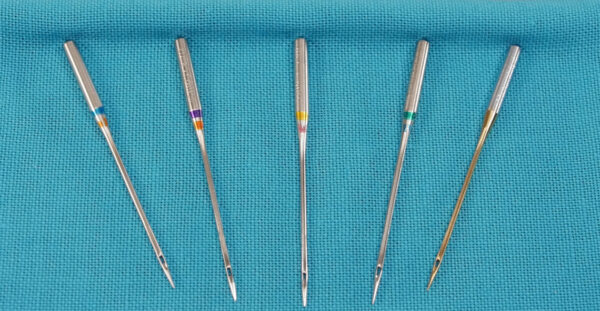 If you sew a variety of projects and materials, here are the five basic sewing needles you should always have on hand!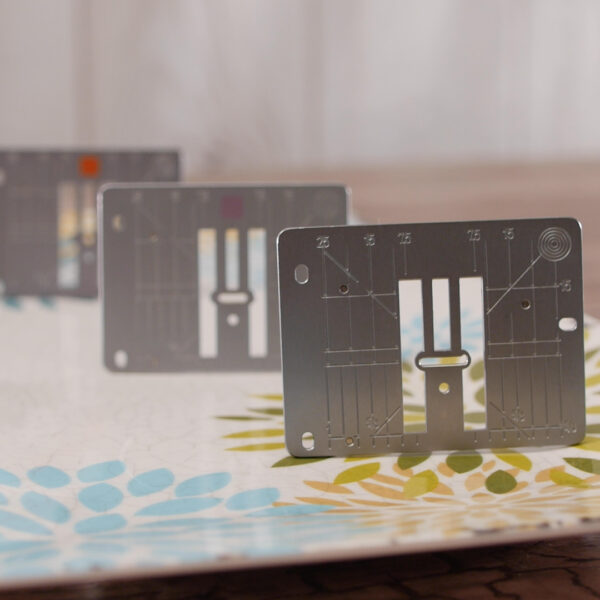 There's more to creating that perfect stitch than just using the right kind of needle. Under the fabric, the stitch plate plays a crucial role. It is the flat platform supporting the fabric while the feed dog, presser foot and needle all do their thing. Read more about why there are different types of stitch plates and when to use them.
Regular cleaning and oiling of your machine will keep it running in tip top shape for many years. There are just a few basic things to know about caring for your BERNINA sewing machine with the BERNINA hook, featured in our 7 and 5 Series machines.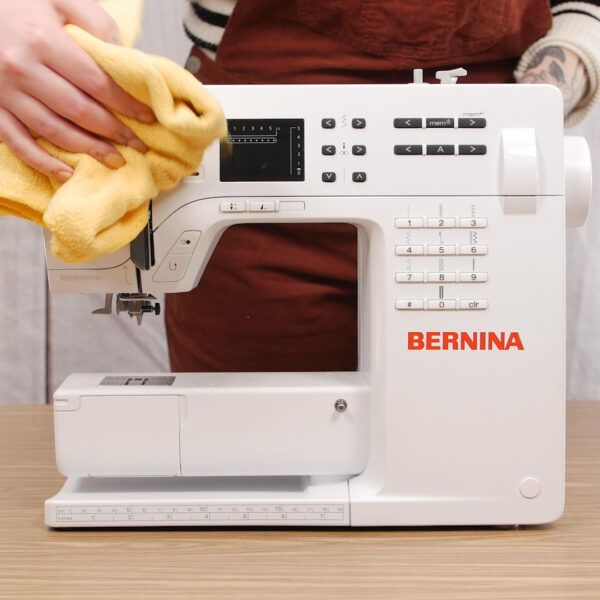 The CB hook system earned BERNINA the reputation for having excellent stitch quality. It is a beloved system known for its precision and excellent stitch quality. The key to helping these machines live long and prosper is taking care of them properly.
Sewing Tools to Make
Make a case to protect your favorite sewing shears or snips, create a dust cover for you machine, or make a simple pincushion to keep pins in place with these project tutorials.
What better tool is there to make for yourself (or a friend who sews!) than a personalized pincushion? We think this calls for a pincushion party, and we've gathered together our best tutorials and patterns for all kinds of unique pin holders!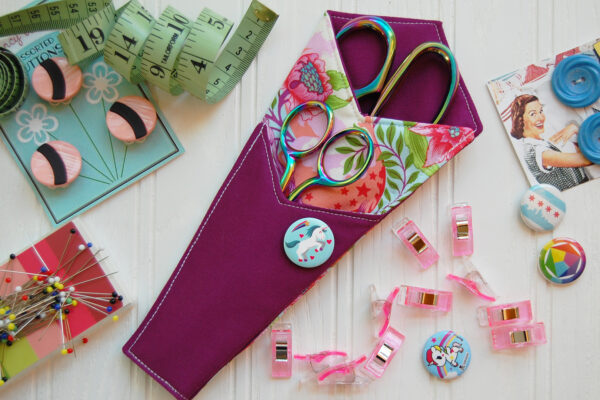 Keep your best sewing shears and snips safe in a handmade scissors case with the free, downloadable pattern and tutorial.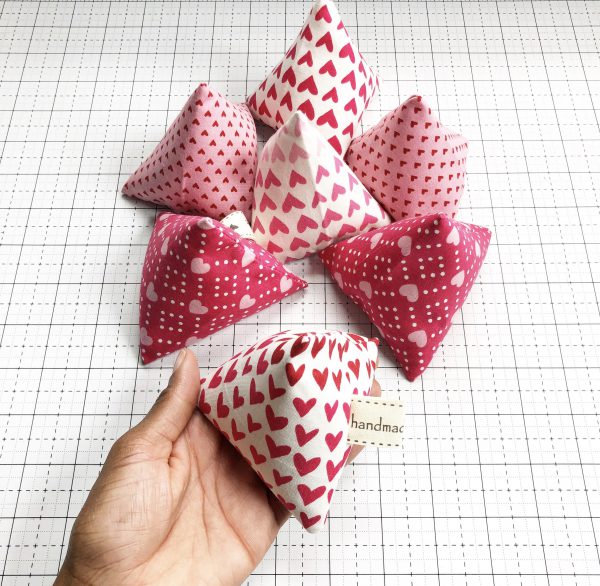 Fabric weights are handy for helping to hold down paper patterns, rulers, or anything else you need to stay put on your sewing table. Make your own set of fabric sewing weights with this tutorial.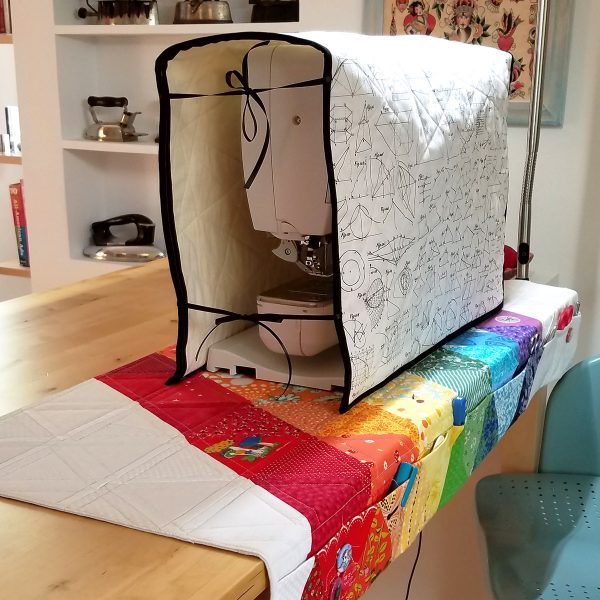 Do you even need to step away from a project when you're right in the middle of sewing? Throw this simple sewing machine dust cover over your machine to make sure your machine settings and thread are safe from little hands (or paws) until you get back to your machine.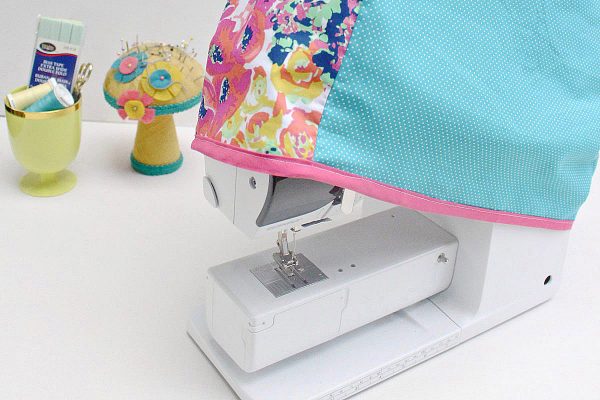 If you are looking for a machine cover with a tighter fit, try this Reversible Sewing Machine Cover tutorial. This tutorial walks you through the steps of measuring your machine to make a custom-made, fun, and reversible machine cover.
This mini scissors case features a little side pocket to keep track of little notions and a place to stick hand sewing needles and pins. Find the Mini Scissors Case tutorial here.
National Tool Day Giveaway!
One lucky WeAllSew reader will win one limited edition BERNINA 125th Anniversary Presser Foot #1! Coated with 24K gold, the special edition Reverse pattern foot #1 is an optional accessory packaged in a beautiful commemorative tin complete with a golden spool of Mettler Thread, created in celebration of the BERNINA 125 Year Golden Anniversary.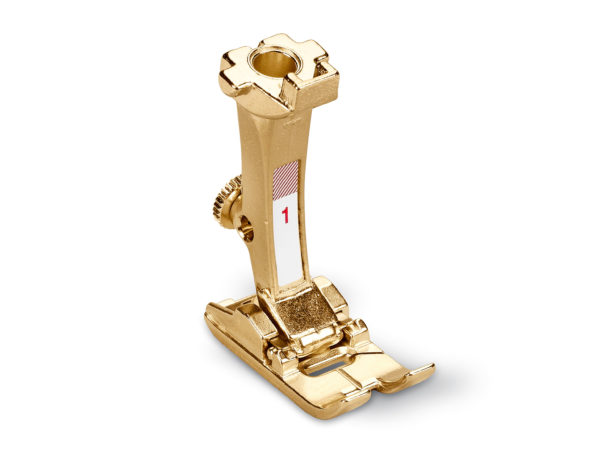 All you have to do is post a comment below and answer the question, "What is your favorite sewing tool?" The the giveaway is open through Tuesay, March 31.
The giveaway is open to residents of the 50 United States and the District of Columbia. One comment per fan. Comment must be submitted to the WeAllSew.com blog by Tuesday, March 31, 2020 at 11:59 PM Central Time. Winner will be chosen randomly. Winner will be notified by email and will have 48 hours to contact to claim the prize.
Good luck!
Difficulty level

Beginner

Seasons

all seasons

Techniques

sewing
What you might also like
39 comments on "Celebrate National Tool Day With WeAllSew"