Cotton+Steel and BERNINA
Cotton+Steel is SO excited to be the designer of both 2017 BERNINA 350 Special Edition sewing machines. We are honored to be collaborating with a company known for its quality, design innovation, and heritage, and we hope you love the machines!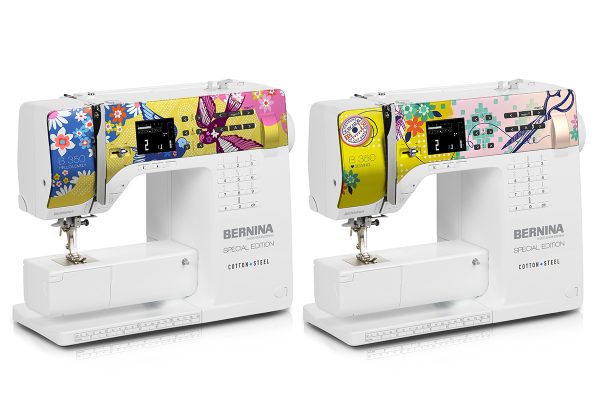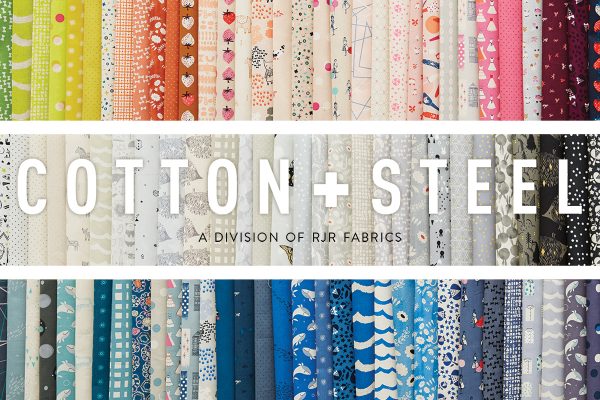 In case you don't know who we are, Cotton+Steel is a division of RJR Fabrics that designs fresh and fun fabrics that easily mix and match. Our five designers (Melody Miller, Rashida Coleman-Hale, Sarah Watts, Kim Kight and Alexia Abegg) work in a uniquely collaborative creative process. We offer a range of fabric types for quilting, home dec and garment sewing, including quilting cotton, canvas, rayon, cotton lawn, double gauze and brushed twill. They are all printed at one of the preeminent screen printing facilities in Japan. We just produced and released the first two fabric collections ever for much-loved stationery brand Rifle Paper Company, and we are debuting our brand new line of high quality 50wt cotton thread with Sulky Threads in early 2017.
As designers, we always try to put the utmost thought and care into our fabrics so that they're innovative and inspiring, and designing these BERNINA machines wasn't any different. Today we are sharing a bit about the design process we went through from initial inspiration to final product.
Design Process
We started by going through every single fabric we have ever designed and bookmarking our favorites. That's over 800 different prints, so it was kind of a tall order!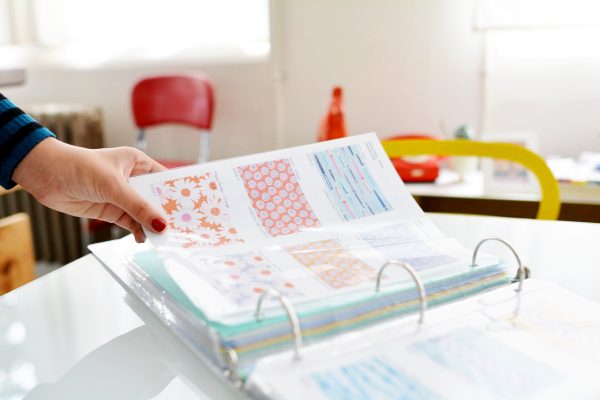 Then we started combining elements of all our favorites into machine designs. The Swiss BERNINA team sent us template files that we used to make sure we were accounting for all of the buttons and features of the machine. 
Once we started creating machine designs with our favorite elements, themes began to develop, and it became clear which ones needed additional shapes or different colors. We tried lots of different variations on lots of different designs—all in all, we created over 70 machine designs!
This was an interesting design experience for us—we are used to designing within the restrictions of fabric. The machine faceplate is a unique shape with lots of obstacles like gaps, buttons and three-dimensional features. We had to be sure our designs had good coverage and looked balanced while still avoiding certain areas. This was a difficult but fun design challenge.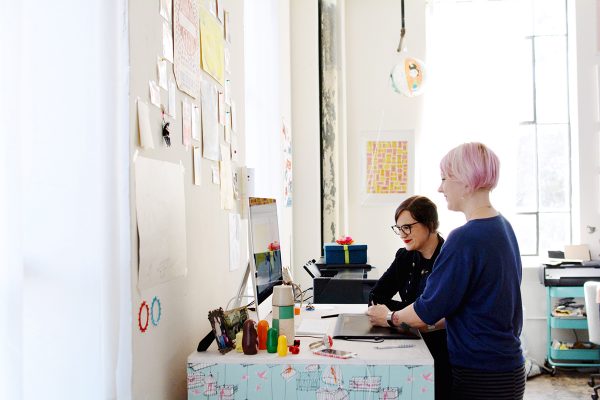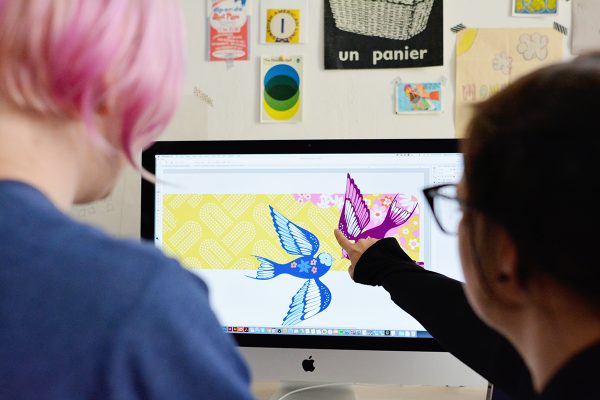 We then slowly narrowed them down to a group of finalists, tweaking and readjusting as we went. We used Photoshop to apply the every single one of our designs to a photo of the BERNINA 350 Special Edition machine to visualize how our designs would look in their finished form. This was very helpful, and it let us adjust the designs as needed to make the transition from flat template to sewing machine.
We narrowed our designs down further to a small group of our favorites. From there, the BERNINA team picked their favorite two to become the 2017 BERNINA 350 Special Edition machines.
Machine Designs
The first design is called 'I Love Sewing.' This one features an assortment of sewing accessories in fun and bright colors, including the well known (and wise!) sewing saying, "Measure twice, cut once."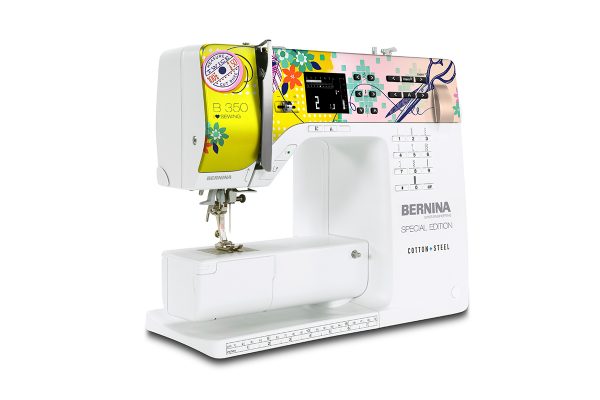 The second machine design is called 'Hello Lovely.' It showcases two beautiful birds (we like to think of them as lovebirds) flitting across the front of the machine through vibrant vintage-inspired flowers.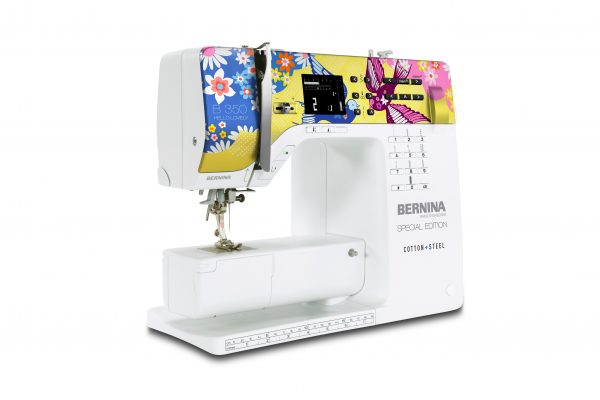 Once again, we are so thrilled to have designed machines for such an esteemed and distinguished company as BERNINA. The Cotton+Steel BERNINA 350 SE will be available at your local BERNINA store in early 2017…we can't wait to see these beautiful machines in your sewing rooms!
To stay in the know when the BERNINA machines hit the sales floor, sign up here.
Techniques

quilting, sewing
What you might also like