Gee's Bend
Twenty years ago, I bought a book that opened my eyes to a new way of thinking about quiltmaking, quilt designing, and quilts as an art form.
That book was "The Quilts of Gee's Bend," and it just had the 20th anniversary of its publication.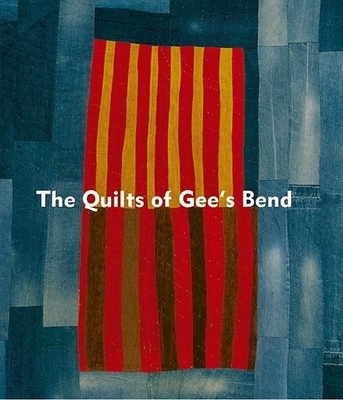 This inspiring book was published in 2002.
The quilters that live in the community of Gee's Bend have been making these unique quilts near Boykin, Alabama, for over 200 years.
The quilters of Gee's Bend and their ancestors live or have lived in the isolated African-American community along the Alabama River. Most are descendants of enslaved people from the former Pettway plantation. Many have the Pettway surname.
A Folk art collector, historian, and curator, William Arnett brought attention to the quilted works of Gee's Bend quilters. He organized an exhibit of the quilts, which debuted in 2002 at the Museum of Fine Arts in Houston. This exhibit brought attention to the quilts and their quiltmakers. Later that year, the book, "The Quilts of Gee's Bend," was published. "The quilts of Gee's Bend are among the most important African-American visual and cultural contributions to the history of art within the United States," according to Wikipedia.
Last summer, I traveled to Alabama and the Gee's Bend community (I had to take a ferry to get to their isolated corner of Alabama). I met Mary Ann Pettway, the Gee's Bend Quilter's Collective manager. She gave me a quick history of the area and shared the quilt projects she was making. I was thrilled to see many of the quilts made independently by the women of Gee's Bend.
The quilts, with their distinctive geometric and improvisational designs, were made for practical purposes, said Mary. "We needed quilts to stay warm! We made these quilts with leftover fabric scraps from a clothing manufacturer in a neighboring town. We didn't have much money, and we had to make do and stay warm, so we made quilts."
"Each of us makes our own quilts, usually in our own homes, and we occasionally gather to quilt and support each other," said Mary Ann, who also manages the Gee's Bend Quilter's Collective and gift shop. When I visited, she was working on two different commissioned pieces. One was a basketball memory quilt for the Vandals Athletic Club, founded in 1910. The Black Fives Foundation commissioned the quilt. The other was a jeans quilt. "A guy comes in one day and sees a quilt I am working on, and he said he wanted one in similar colors, but he wanted me to use his own jeans. He sent me the jeans, and I started making it."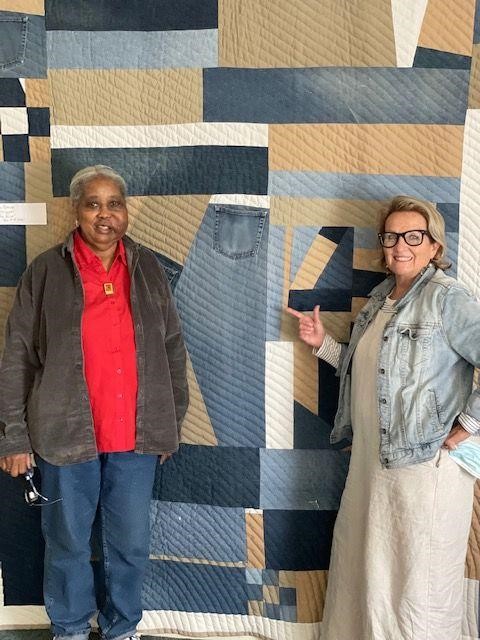 Here is another nearly finished commissioned quilt designed and made by Mary Ann Pettway.
Her design process is simple: "It's whatever I come up with in my head. I pick up a piece of fabric, and if I like it and it fits in the spot I need, that's where I put it."
Today, fashion designer Greg Lauren (nephew to Ralph Lauren) has commissioned quilt pieces from some of the women of Gee's Bend. A group of 14 women handmade 276 quilt panels which Lauren then made into clothing, according to Lauren's website.
"This project is close to my heart, as I have been immersed in the love of quilts for many, many years. It became clear long ago that much of that comes from the inspiring, often under-acknowledged work of those that create the quilts by hand, particularly those women of Gee's Bend, in Boykin, Alabama," said Lauren.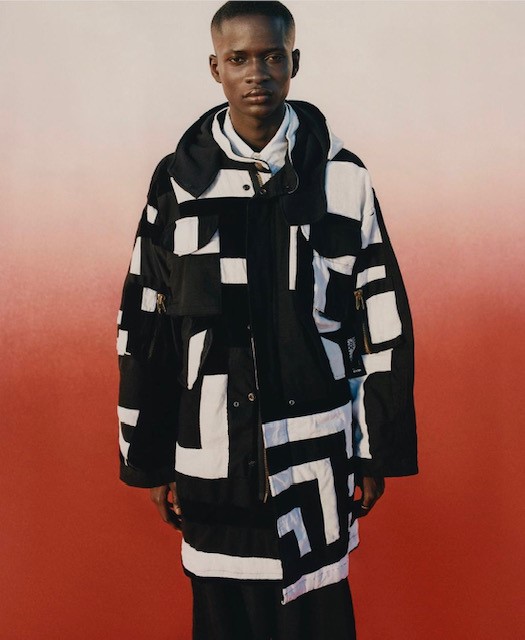 "New Formal" jacket–a Gee's Bend and Greg Lauren collaboration. (photo from Greg Lauren's Instagram page.)
Another designer, Patrick Robinson, the founder and CEO at Paskho, also decided to commission some work from Gee's Bend quilters. "Gee's Bend was the place to expand production," he said. Sewing pods were set up where the Gee's Bend sewers make and assemble apparel for the company. "We make a profit, and we're able to reinvest in this community," said Robinson in an article by Bob Blalock for AlabamaNewscenter.com.
The quilts made by the quilters of Gee's Bend still inspire me and others even 20 years later. I am grateful for my time with Mary Ann in her studio.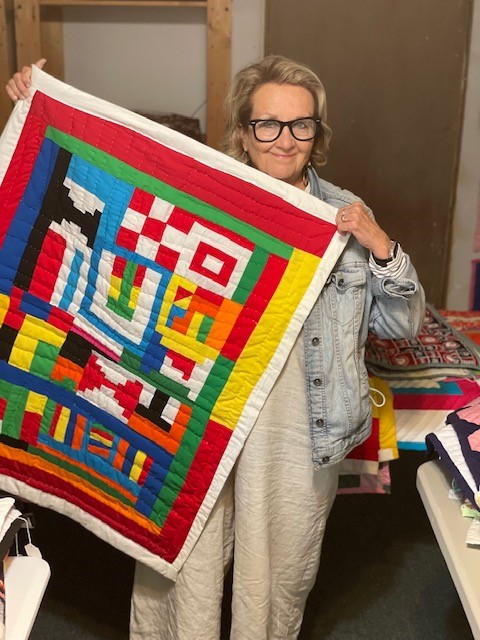 The quilts of Gee's Bend are inspiring
"I am happy that I can make a living and pay my bills doing something that I love," said Mary Ann.
Click here to see more quilts in a slide show about the Quilts of Gee's Bend –presented by the National Endowment for the Arts.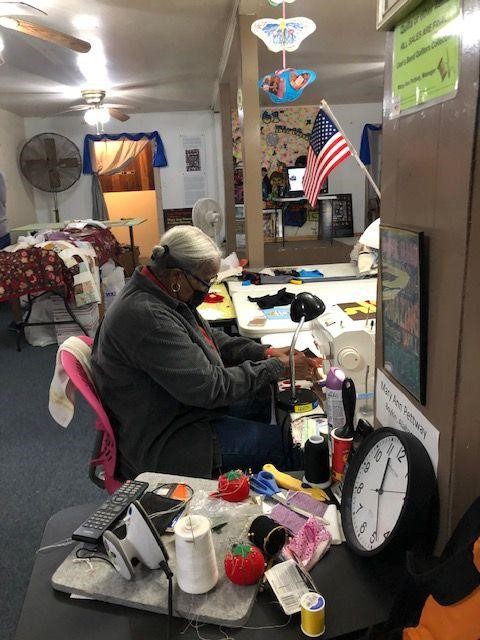 Mary Ann is sewing on her BERNINA at her sewing studio.
Seasons

all seasons
What you might also like