Centuries-old Log Cabin Quilts Inspire Today's Quiltmakers
Quiltmakers have been sewing Log Cabin quilts since the mid-19th century, and today it remains one of the most popular quilt patterns to make. The Log Cabin block is simple to make and usually starts with a square at the center with fabric strips sewn around that square, usually with two sides of lighter fabrics and the other two sides of darker prints. A piece of red fabric is often used for the center square to symbolize the home's hearth or fireplace. 
"Depending on the orientation of the blocks and the placement of the dark and light sides, names for the Log Cabin setting can include Sunshine and Shadow, Streak of Lightning, Barn Raising, Straight Furrow, Chevron, and Straight set," according to an article about the history of the Log Cabin quilt published on www.huntington.org.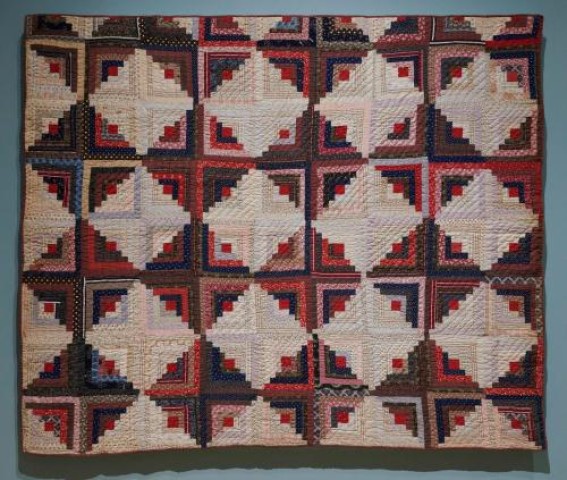 An unrecorded American artist made this Log Cabin quilt in the Boston, Massachusetts, area in the 1870s. This quilt is from the Jonathan and Karin Fielding Collection. (Photo credit: www.huntington.org)
Some of today's quiltmakers have artfully created Log Cabin blocks and quilts by being inspired by this traditional block and putting their twist on it by creating "wonky" or asymmetrical Log Cabin blocks, by playing with the use of fabric color and value to create secondary patterns within the quilt, by changing up the scale of the block, and even including Log Cabin blocks within a completely different quilt design.
The Modern Quilt Guild challenged quiltmakers to design a variation of the Log Cabin Block
The Modern Quilt Guild hosted a "Log Cabin Challenge" at their QuiltCon 2023 event held in February. The challenge asked quilt makers to "think beyond the improvisational Log Cabin block that was so popular in the early days of modern quilting. How else can you modernize the Log Cabin — or its many variations? Whether your Log Cabins start with a square or another shape, have curved or straight edges, stretch your quilt design skills in this challenge!"
"Eligible quilts must use a Log Cabin or Log Cabin variation as a primary element in the design. A Log Cabin block is made of strips that build upon or wrap around a center in a circular fashion. The center element does not have to be a square in this challenge, but there should be a clear center element that has strips winding around it," according to the challenge rules.
"The Log Cabin block is a very accessible block to make, you don't need a special ruler, or do curved piecing," said Karen Cooper, the Executive Director of The Modern Quilt Guild. "The Log Cabin block is universally recognized and people were excited to do the challenge." 
The exhibit, sponsored by American Patchwork and Quilting, showcased incredible interpretations of a Log Cabin Quilt.
"I have been attracted to the Log Cabin quilt for 20 plus years," said Betsy Vinegard, who made the winning quilt in the challenge. "It is a traditional block but there can be a lot of variations of it too. I have studied the different types of Log Cabin blocks over the years, so this challenge really appealed to me." Betsy started off her quilting journey as a very traditional quilter, sewing on her college graduation gift, a BERNINA 830, but she now considers herself more of a modern quiltmaker.
Betsy designed her award-winning Log Cabin quilt "Concentric" on a computer and it took her about three weeks to make her quilt which finishes at 24" x 24". She used solid-colored fabric to make the quilt.
The winning quilts of the MQG Log Cabin Challenge are shown below.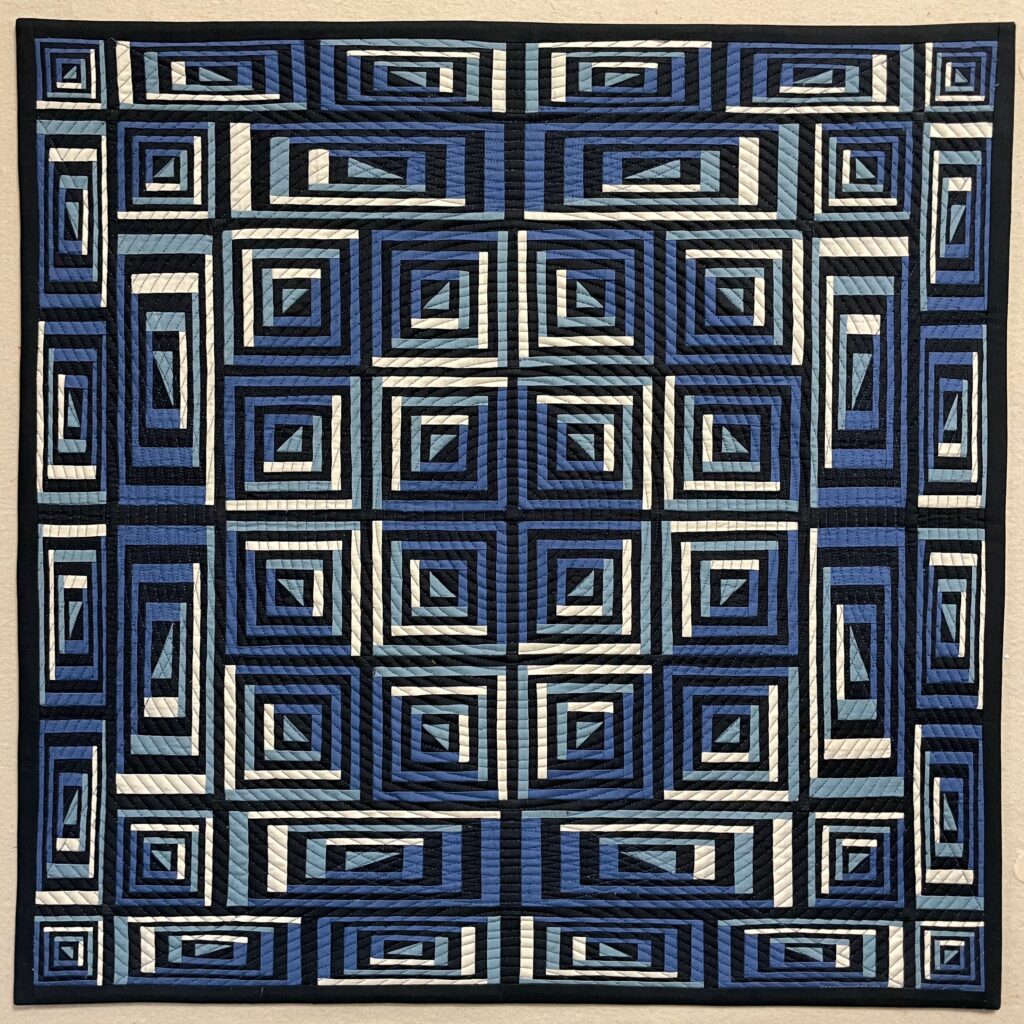 First Place: "Concentric" Pieced and Quilted by Betsy Vinegrad, Short Hills, New Jersey
Second Place: "It's Not What it Seams," Pieced and Quilted by Marah Light, Columbus, Ohio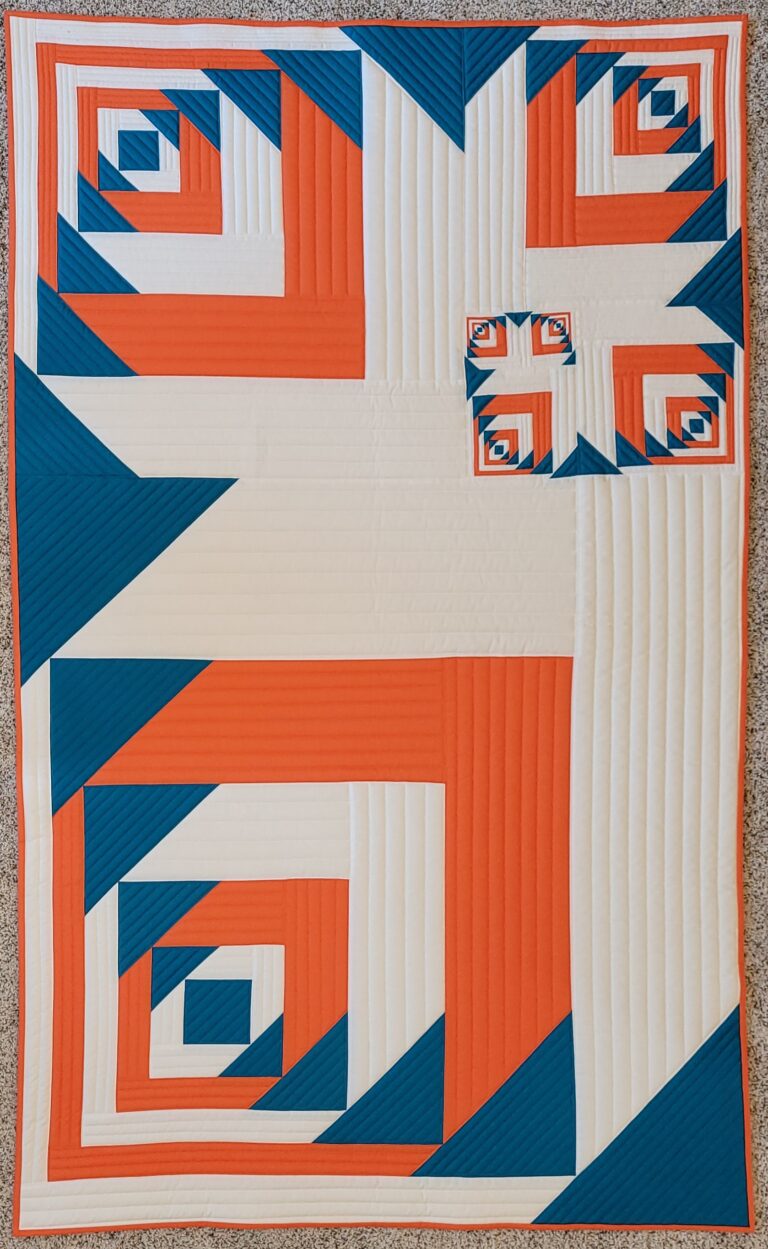 Third Place: "Fibonacci's Cabin" Pieced and Quilted by Nikki Woolsey, Lenexa, Kansas
"The Log Cabin quilt is classic. This pattern has been embraced by people everywhere…all over the globe. The Log Cabin has demonstrated its versatility, utility, and timelessness," writes Tamara Schmiege on QuiltingDaily.com
"The Log Cabin is a totally fascinating pattern. We know for a certainty that the Log Cabin's appeal has lasted for several centuries and certainly continues unabated today," writes quiltmaker and author Jane Hall in an article about Log Cabin Quilts on www.womenfolk.com
Have you ever made a traditional Log Cabin quilt or been inspired by the Log Cabin block to create your own quilt design? We would love to see your Log Cabin quilts or tell us your story about making one.
Seasons

all seasons

Techniques

quilting
What you might also like