Meet BERNINA Brand Ambassador Meg from MadeByMeg
Hi! I'm Meg, and making clothes is my creative outlet. I am currently knitting and sewing my way through grad school, which I like to joke is much more fun (and acceptable) than trying to wear a thesis or embellish a report. Like most things in my life, sewing has become somewhat of an obsessive hobby and I manage to find a sewing machine or pair of needles almost anywhere I go. My sewing adventures have led me to knit scarves in the Peruvian Andes and refashion traditional dresses in Mexico City, not to mention the sweater I am knitting during classes. Currently, I live in the San Francisco Bay Area and focus on making fun, wearable clothes for myself, my partner, and our Frenchie, Beatrix. You can find me at my blog, MadeByMeg.us.
For a bit more about me, read on!
Like most sewers, I learned to sew from my mother, a very talented home sewer who made many of my clothes growing up. I started with felt, making and embroidering "jackets" for my teddy bears, and moved on to fleece hats and other easy to sew stuff in elementary school. I took home ec in high school and learned some of the sewing basics, even making my own prom dress. Back then there wasn't as much fabric and pattern choice, but I loved knit jersey because it was easy to fit and didn't require closures. It took me years to learn that you needed to sew with a zig-zag stitch or else the seams would pop!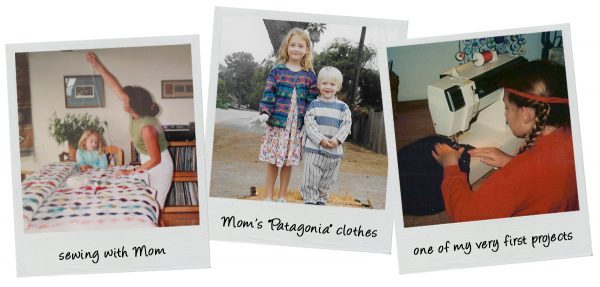 In college I took up knitting, and almost everyone I knew got a hat. I also did a lot of traveling during that time and was inspired by fabric stores and locally sourced yarn wherever I went. When I studied abroad in Mexico City, my Señora allowed me to borrow her sewing machine and a few old pattern books. I would roam the fabric markets, and sewed up a few dresses using both new and handcrafted materials.
As you can tell, I am very much a 'learn by doing' sort of person. As I developed my skills, I would sink my teeth into just about any project I could get my hands on. My paternal grandfather bought me my first sewing machine towards the end of college, just as he had done for my mom, and I sewed every chance I got. With a new job and lots of free time on my hands, I sewed over fifty garments that first year. Of course, very few of them survive to this day, but it was a period of rapid growth for me.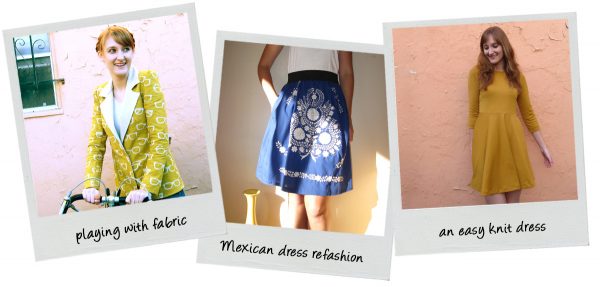 Over the last five years I have focused on refining my skills, sewing clothes that fit right and are wearable for every day. Over two thirds of my wardrobe is made by me, and no project is too big or too small. I love sewing jeans, tops and sweaters, bras, and even menswear. Beatrix, the latest addition to our family, has also received her share of handmade clothes because I just can't help myself.
Some of my favorite projects include my ombre dyed dress, which I wore to a friend's wedding this summer, my boyfriend's navy blazer, and the dog's jean jacket.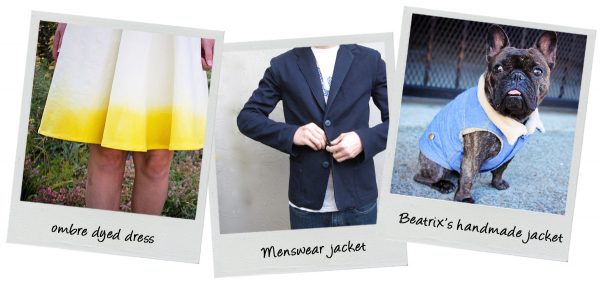 As a BERNINA Ambassador, I am excited to share my love of wearable, well-made clothes with the BERNINA 1300 MDC, a combination overlock/coverstitch machine. This machine is perfect for the casual knit clothes I've always loved, as well as professional hems and seam finishes, lingerie and swimsuit making, and timeless pieces you'll wear forever.
I hope you'll join me over the coming year as I share projects and tutorials and learn the ins and outs of my new BERNINA!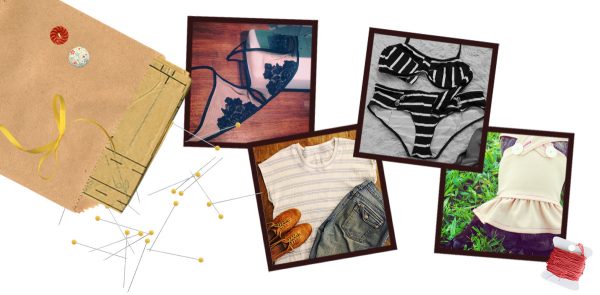 Projects

fashion
What you might also like