Mindful Mixing of Machine and Hand Quilting
If you quilted a quilt 100 years ago, you were probably hand-stitching around a wood quilting frame surrounded by friends, family, and neighbors.
Some quilters still hand quilt their quilts, but most of today's quilts are more than likely quilted using a domestic sewing machine or a longarm quilting machine. But there is a change brewing… The latest trend in the quilt world is to quilt a quilt using a combination of both machine and hand quilting.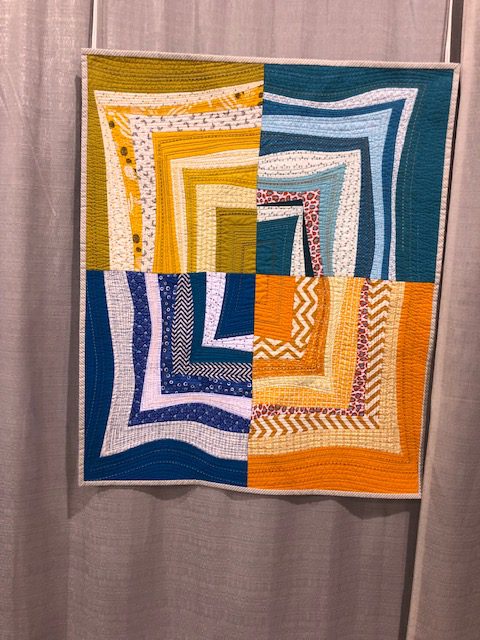 This quilt was made by Olga Bocharova of Russia. She used both machine and hand quilting on this quilt titled "Through the Looking Glass."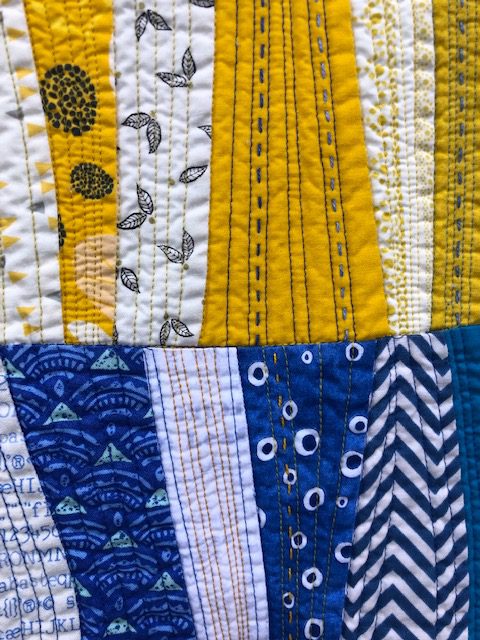 Close up of Olga's quilt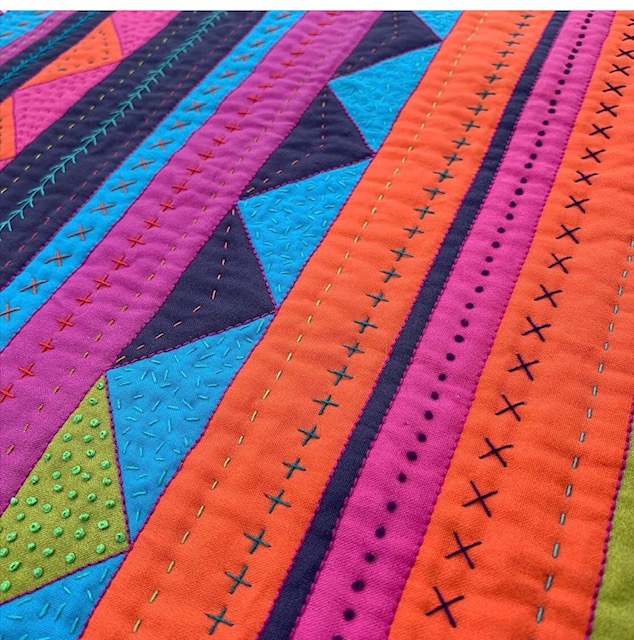 Hand quilting and machine quilting are used on this Cassandra Beaver quilt.
"I think this trend is going to last for a while," said Cassandra Beaver, a quilt designer, educator, and instructor.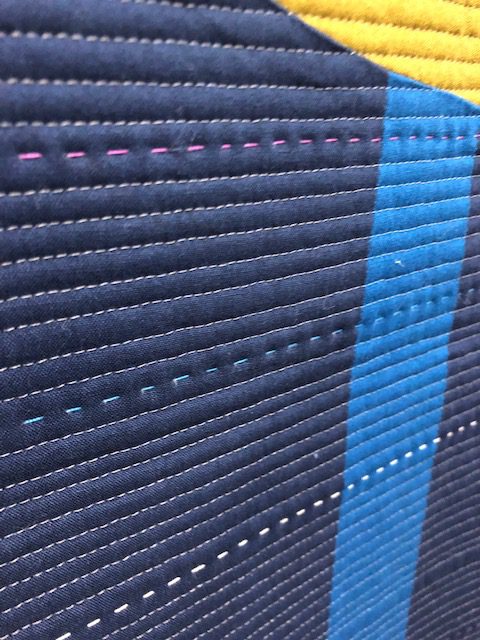 This is a closeup of the "Free Wheeling" quilt made by Laurie Sheldon. She uses both machine quilting and hand quilting in her quilt.
Hand quilting a quilt after it has been partially quilted by a machine allows the quilter to add texture, design elements, interest, and pops of color to a quilt in a very organic way.
"By hand-quilting, after the quilt has already been quilted down, it is easier and faster than trying to hand quilt while worrying about the quilt shifting and moving," she said.  "I like to add straight line stitches, X's, and plus marks, as well as french knots and seed stitches to fill in areas on my quilt." These hand stitches go through to the back of the quilt and are not just an embroidery embellishment.
"You get a nice texture on the front and the back of the quilt.  I use a thicker 12 or 28-weight thread for my hand quilting," said Cassandra. 
Hand quilting and stitching is a mindful activity and has gained popularity as the "Slow Stitching" movement has found an active audience on social media. Slow stitching workshops, online classes, and sew-a-longs have popped up all over the country.  There are more than 280,000 posts on Instagram under the hashtag #slowstitching.
"Unlike stitching that is used to mend or make a garment, slow stitching is the act of using needle and thread to create art, just as you would paint, draw or sculpt out of clay.  I like to think of it as hand stitching with a creative purpose.  Slow stitching is also an unexpectedly good mindfulness activity,"  writes Ruth Woods in an article posted at www.craftschooloz.com.
Slow stitching incorporates the old hand-stitching traditions of the past.  Maybe our grandmothers did know a little something about getting together with their friends, talking and laughing, and stitching away to make something valuable, creative, and beautiful.
Projects

quilting

Seasons

all seasons

Techniques

quilting
What you might also like