Will it Ruffle? Get the low-down on the BERNINA Ruffler #86
Creating gathers or pleats for voluminous skirts or trims can be tedious. We've all done gathering by hand which takes all too much time and doesn't always create even, consistent results. Pressing and pinning individual pleats? You'll do it if you have to but who has time for that! If you're looking for a simple solution, the ruffler may be exactly what you need.
This accessory is unlike any other. The BERNINA Ruffler #86 is a presser foot that may look intimidating to use but relies on a few very simple mechanisms. When attaching this accessory, you will slide the shank up onto the cone and fasten the lever on the left just like all other BERNINA presser feet but you must also align the U-shaped arm over the needle clamp (similar to how the Walking Foot #50 fits on the machine). The ruffler is then able to count stitches with the movement of the needle/needle clamp and create pleats when necessary.
The pleating itself is created by feeding your fabric between the separating blade and the ruffler blade.
The fabric will move smoothly through the presser foot as you stitch and when it is time to create a pleat, the ruffler blade, with small teeth-like grooves at the front, pushes and tucks fabric forward to create a folded pleat as you stitch.
How often are the pleats created? Well, that's up to you! With the ruffler attached to the machine, you might notice a small lever and several holes labeled with different numbers.
These numbers indicate the frequency of pleating—at the 0 position, the accessory will not pleat at all, 12 creates a pleat once every 12 stitches, six creates a pleat every six stitches, and one creates a pleat with every stitch.
The final element for customization with this accessory is often overlooked. At the front of the ruffler is the adjusting screw. Use the small screwdriver provided with the accessory to tighten or loosen this screw to vary the depth of the pleat sewn.
You can create shallow pleats for soft, subtle gathered effect by turning the screw counterclockwise or create deeper, crisp pleats by turning it clockwise.
Are you ready to welcome a ruffler into your life? Here are some fun projects to try it out!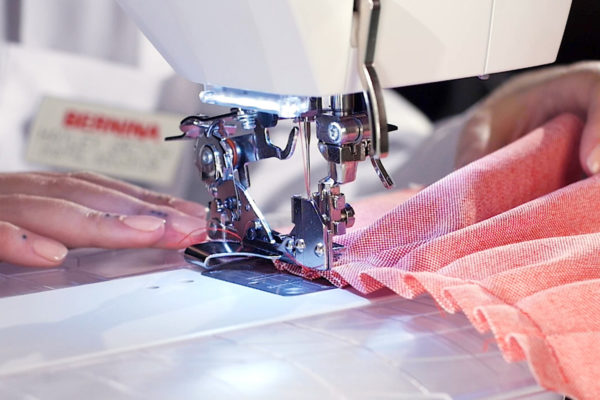 Used Products
What you might also like