5 Essential Serger Tips for a Happy, Healthy Machine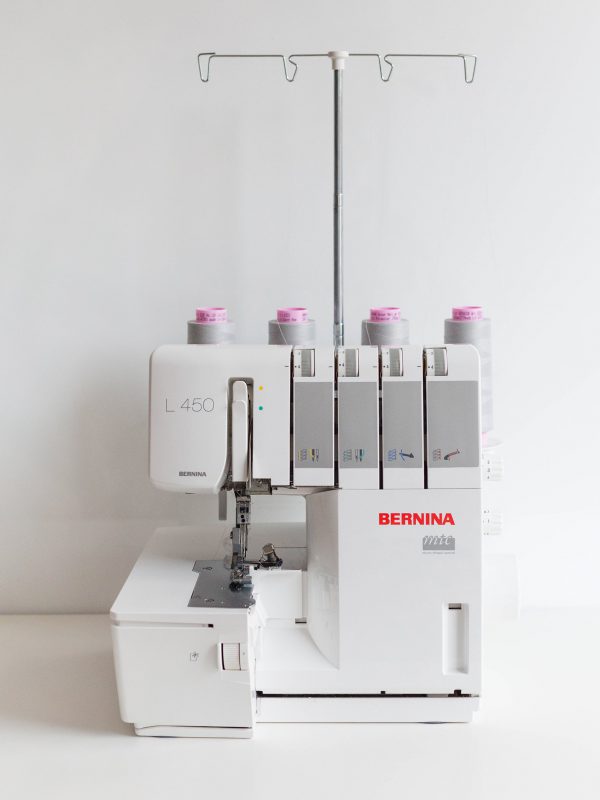 Lately it seems like sergers are getting more and more attention as an essential part of a home sewing machine lineup, and rightly so! Sergers not only can assist in cleanly finishing a woven garment, they can also be used to sew knits with ease. Today we're sharing 5 essential serger tips for a happy, healthy machine to help you get the best serger results possible. If you're new to sergers, or are just looking for a few tips to up your serger game, this post is for you!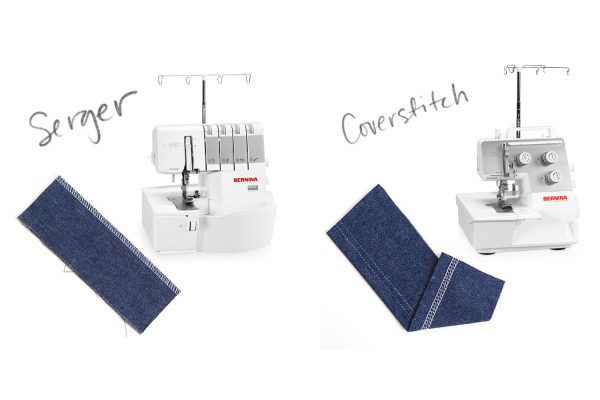 First off I'd like to clarify that a serger, overlocker, and merrow machine are all the same thing – a typically 3-4 thread machine that trims and overstitches the edge of the fabric as you feed it through. Coverstitch machines on the other hand are a separate thing entirely and we'll touch on them in a different post. The machines we're using in our photos, and in our studio, are the BERNINA L450 serger and the BERNINA L220 coverstitch and we love them so much! So now that we've established that, let's get to those tips.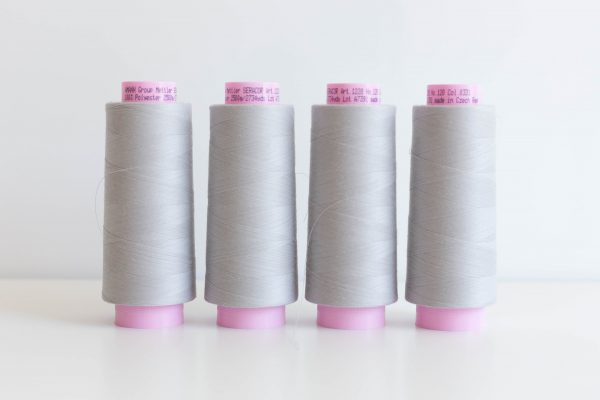 Tip #01: It is highly worthwhile to spend a bit extra on high quality serger thread.
You probably already use high quality thread for your sewing machine, but it's just as important for your other machines as well! As tempting as it can be to grab those always-on-sale thread cones at your local big box sewing store, we've got a few reasons why you'll want to splurge on higher quality thread for your serger.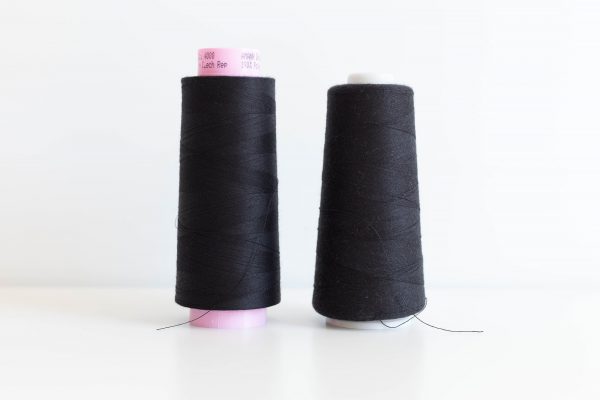 Much like with your sewing machine, higher quality cones, like these Mettler cones, have a smooth, even thread that passes easily through your serger's tension discs. You'll get beautiful tension with the machine's default settings 95% of the time if your machine has an even thread passing consistently through it. High quality threads are not only smoother, they also have less lint which means your machine stays cleaner! Sergers especially collect a lot of fiber lint since they cut and sew, so we don't need to add to it with a thread that sheds. A smooth, even thread is also stronger so this is especially important if you're using the serger to assemble your garment together. You can see in the above image that the Mettler cone has a much smoother sheen than the cone on the right because the thread is smoother and stronger.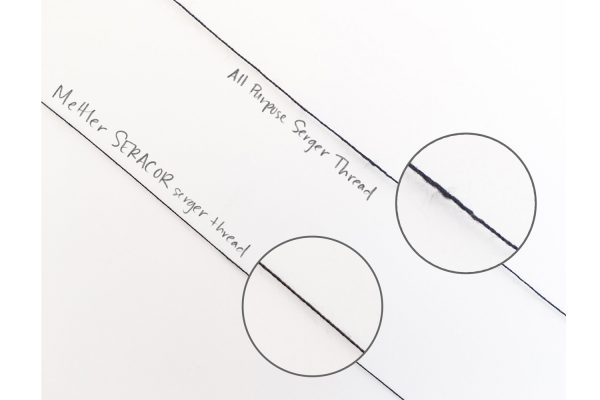 You can see more clearly in these closeup photos the difference between the two threads. We're comparing the Mettler SERACOR serger thread (which we buy at our local BERNINA dealer) on the left with a cheap serger thread available at most larger craft stores on the right. We really think it pays off to use the nicer thread in your machines!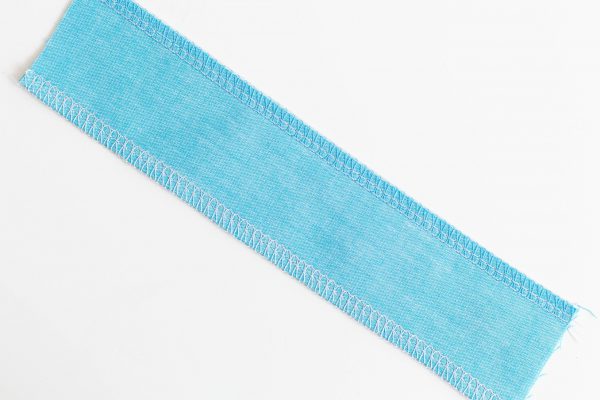 Tip #02: Purchase 1 specialty color spool for a match.
Rather than buying 4 spools of an odd color you'll likely not use very often, purchase one specialty color to match your fabric and have a good stock of basic colors like black, medium grey, and ivory.
If you're simply finishing a seam that's already been sewn, place the special color into the upper looper of your machine and use the closest neutral for the rest of the threads. The other threads will barely show while the top side of your seam allowance will match perfectly.
If you're assembling a garment with your serger, place the special color in the left-most needle. That way when stress is placed on your garment, say at the side seams, any thread that shows through matches your fabric.
You can see how effective this is in the above photo. Like good sewing machine thread, high quality serger thread isn't cheap, so this is a great trick to save money while still having the insides of your garment look as amazing as the outsides.
Tip #03: Save thread by rotating your spools.
The upper looper is the system that uses the most thread, followed by the lower looper. To make sure you run out of all 4 cones at approximately the same time you'll want to rotate your cones occasionally switching the needle cones with the looper cones. This should help prevent you from having to make unexpected thread runs!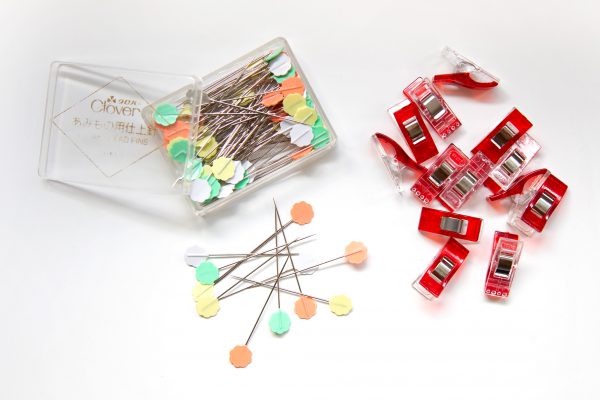 Tip #04: Watch out for those pins!
Running over a pin while sewing is never a great idea, but it's especially troublesome on a serger. It can only take one pin to damage your machine's knife badly enough that you need a replacement and you also run the risk of jamming the machine. Not only that but since the knife is rapidly going up and down the pin is likely to fly at you and that's really never a great time. If you like using pins but don't like hitting them, try using something like these Clover flower head pins. They're easy to spot as they approach the knife meaning you're less likely to run one over. Another great option are Wonder Clips. They clip to your fabric and hold it in place and there's no danger of them getting under the knife!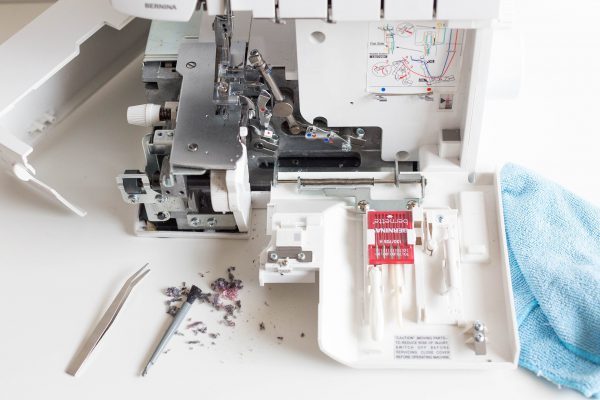 Tip #05: Clean your machine.
Last but not least, it's important to clean your serger more frequently than your sewing machine. Due to the fact that your serger is cutting fabric while sewing it ends up collecting a lot more lint and dust than your sewing machine. Most machine's come with a small lint brush you can use to keep it clean and tidy. In addition to brushing we also use our tweezers for grabbing larger fuzz puffs, as well as microfiber cloths that I'm completely obsessed with. If you're very serious about a clean machine, you can buy a small attachment for most vacuums that work great at getting the lint out. We highly recommend not using compressed air though, it can force lint back into places that are hard to clean, and certain types of air that come out cold can actually damage or crack machine parts. The fuzz shown above is only from 2 small woven projects so you can imagine just how quickly debris builds up in there. Like any hardworking machine, you'll want to get your serger professionally serviced about once a year along with your sewing machine. This will help keep it running smoothly for a longer length of time.
That's it for our tips! If you have any you'd like to add, feel free to leave them in the comments below!
Difficulty level

Beginner
Used Products
What you might also like
8 comments on "5 Essential Serger Tips for a Happy, Healthy Machine"