Evolution of an Embroidery Design
Here's a note from Morian Whaley, an artist at OESD:
Hello! I want to give a little information on a new embroidery collection that I drew. "Dashing Through the Snow," OESD collection #12359, is a large tiling scene consisting of 24 tiles (not including the border).
I'm really excited about how this collection turned out. After drawing for embroidery for five years it's still amazing to see artwork be transformed into an embroidery design, and even cooler to see those designs get put together to make something! Before drawing this collection I was given no instructions other than to draw a Christmas or holiday-themed tiling scene. I immediately pictured a big, snowy scene with a spirited horse pulling an old-fashioned sleigh through the snow. (I'm a huge horse lover, so any time I get to work horses into my artwork I do!) I was inspired to put a covered bridge in the picture by my mother — she loves covered bridges and has a beautiful painting of a snow-covered bridge which has hung in her dining room for as long as I can remember.
To start with I made a rough sketch of the whole scene: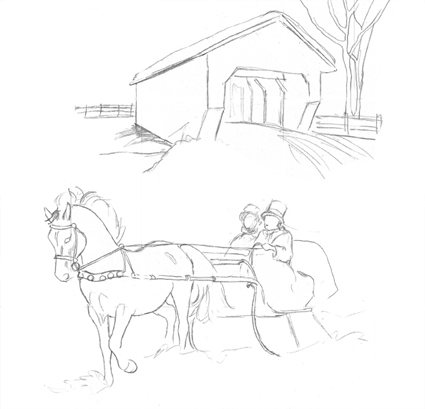 Then I did some tweaking and added some color: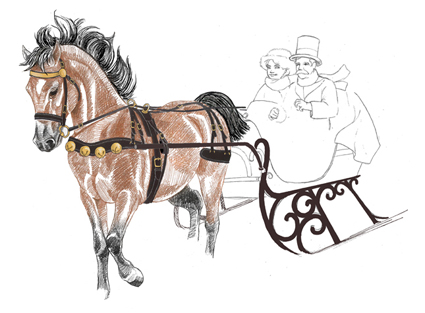 After the whole scene is drawn it's given to the digitizer. (Who, I have to say, translated it beautifully!) Then everything gets stitched out and put together, and voila!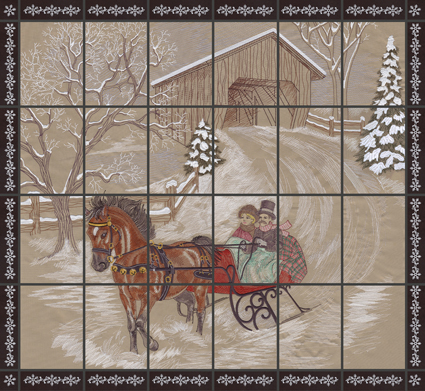 Techniques

embroidery
What you might also like
3 comments on "Evolution of an Embroidery Design"