Freestanding Embroidery Designs
Machine embroidery is more than just stitching a design on fabric. One thing that's fun to do is creating freestanding embroidery designs. You do this by stitching on a water-soluble stabilizer. When you complete your stitching and then dissolve the stabilizer, the design is freestanding. You can stitch designs that are ornaments, appliques, or parts of a project. Stitch Patches/Badges, 3-D Designs, Lace Designs, and Structured Designs, which are the four types of stand-alone designs. The design shown below is a 3-D Easter Egg. The parts are stitched individually and then buttoned together to form this colorful festive egg.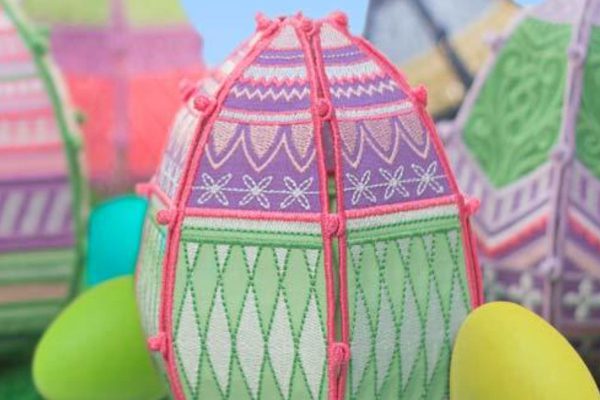 How to Stitch a Freestanding Design
The process of stitching a freestanding design is fairly simple. Select designs that are specifically digitized to be freestanding. They are made to hold together when the stabilizer is rinsed away. These stitched designs may include fabric for appliques or be made entirely of thread. Hoop two layers of water-soluble stabilizer. Stitch the selected design, changing thread colors, and adding applique fabrics as instructed by the machine.
After stitching the design, trim away the excess stabilizer from around the shape. Rinse the remaining stabilizer.
For a more detailed tutorial on stitch a freestanding lace design, click here.
Embroidered Jewelry
I love in-the-hoop projects and one of my favorites is making jewelry. It couldn't be easier. You stitch the design, rinse the water-soluble stabilizer as usual. To finish, add the closure. Click here for a post on making bracelets with metallic thread accents – you can take care of half of your holiday gift list!
Haunted House
Here's a unique way to use freestanding embroidery designs: Building 3-D structures. Stitch and rinse individual, specially-digitized designs. Connect them to form buildings, birdhouses, holiday ornaments, and more. Click here to see how a really fun haunted house is stitched and assembled for a spooky Halloween display.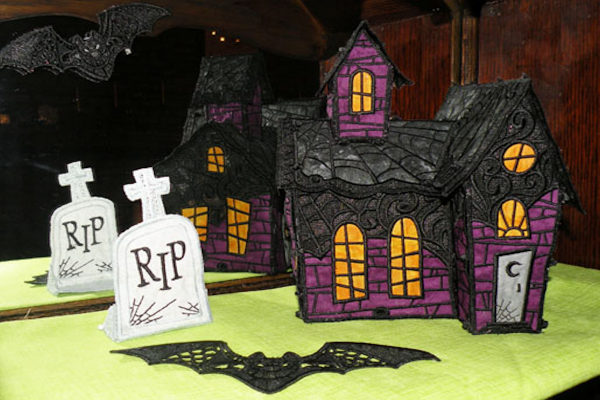 For more machine embroidery techniques, see The Big Book of Embroidery at your local BERNINA store. Click here to find a BERNINA store near you.
Used Material

haunted house, machine embrodiery lace
What you might also like
15 comments on "Freestanding Embroidery Designs"