Hair Scrunchie with Tails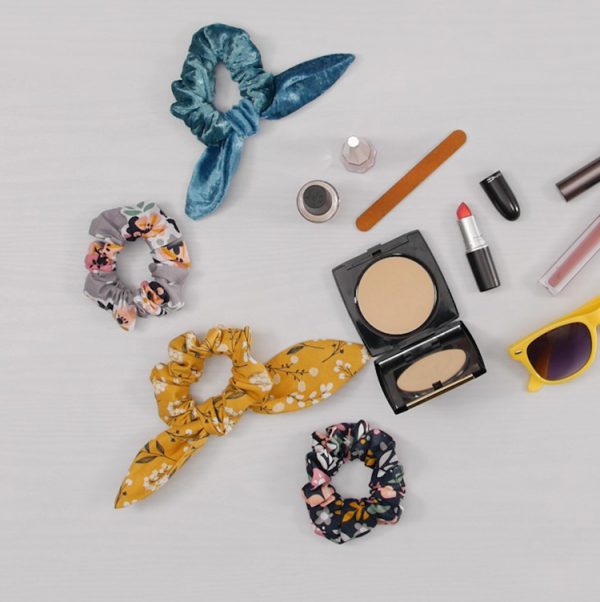 You may have noticed recently that hair scrunchies are back! I began wondering who invented hair scrunchies and when. I remember them from the 80's but was that their first appearance? A quick search took me to Wikipedia which states that the scrunchie was invented by Philips E. Meyers in 1963 but was not patented until 1987 by Ronny Revson, who named it the Scunci after her toy poodle. The name Scrunchie evolved because of the way the fabric scrunches up. The 80's and 90's were exploding with hair scrunchies. Then, they disappeared for over a decade and regained popularity in the mid 2010s. Today, hair scrunchies are back in various sizes, colors, and fabrics. Not only are they worn in ponytails and buns, they're also worn on wrists. Let's make a few before they disappear for another 10 years.
To make hair scrunchies, I use my BERNINA 335 and the Sue O'very Designs EZ Point & Turner. The BERNINA 335 allows creativity and speed at 900 stitches per minute. The EZ Point & Turner makes turning fabric tubes fun. Hard to believe? Let's get started!
Materials to Make a Hair Scrunchie With Tails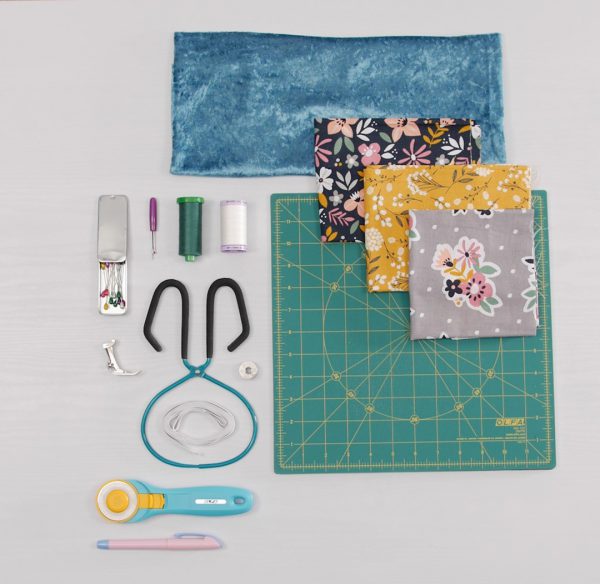 Velvet fabric or fabric of choice – 1/4 yard
7" elastic (I use braided elastic for scrunchies)
Thread to match fabric
Scissors
Pins
Fabric marker
Note: All seam allowances are 1/2".
Cutting Directions
Cut one piece fabric 4" x 20" for scrunchie
Two pieces of fabric for tails cut approximately 4" x 16"

Fold each fabric in half crosswise with right sides together.
Align the fold of the fabric with "Place on fold" on the template. Cut out the two pieces.
Pin Fabric
Fold your rectangular fabric piece lengthwise with right sides together. Pin.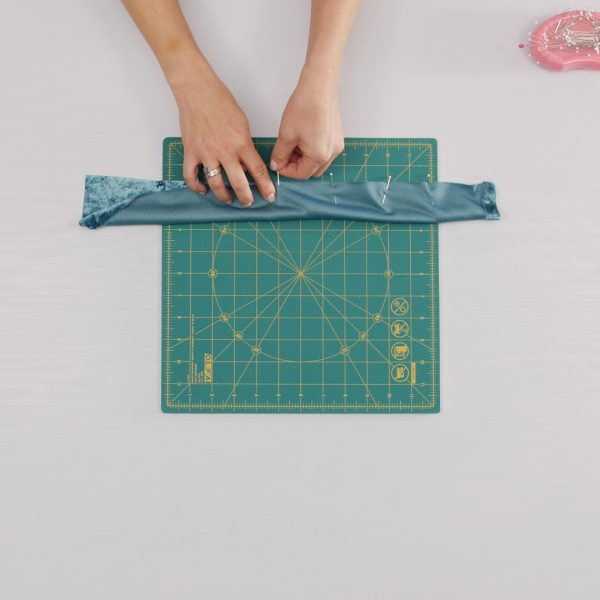 Fold two short ends to wrong side about 1/2" and pin in place.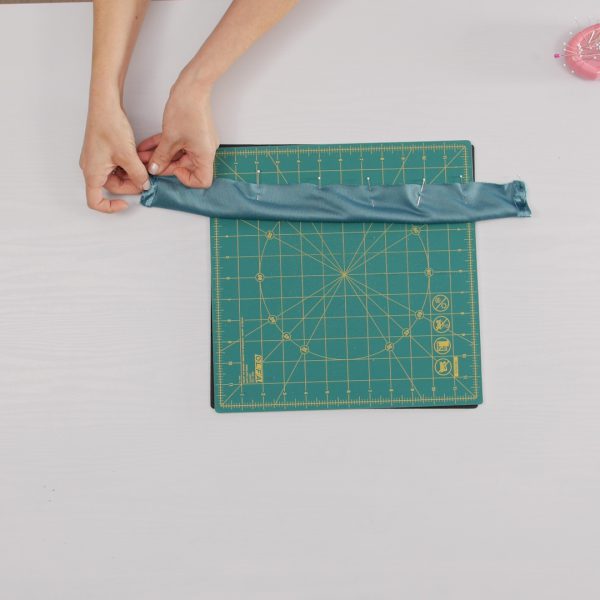 Pin tail pieces right sides together leaving a 3" opening – I put two pins side by side where I want to stop sewing. It's easy to accidentally sew the opening closed at 900 stitches per minute!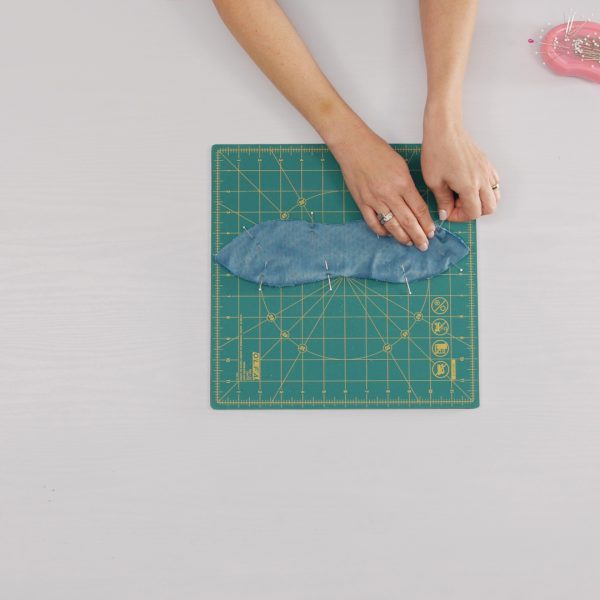 Sew Fabric
Attach Reverse Pattern Foot #1. Sew long fabric piece with a straight stitch and 1/2" seam allowance. Leave both ends open for turning inside out.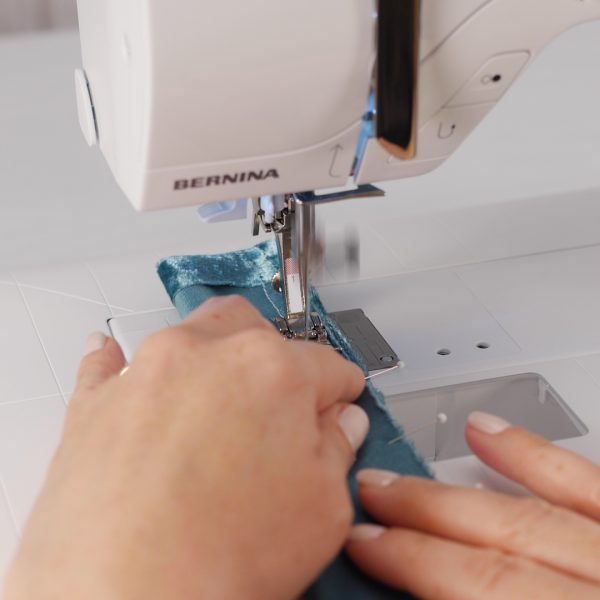 Sew fabric tails with straight stitch and 1/2" seam allowance. Remember to leave a 3" opening for turning inside out.
EZ Point & Turner
Scrunchie:
Slide fabric tube onto the side of EZ Point & Turner with the slender-tipped end. Clamp end of fabric tube so that the slender-tipped end is securely in the groove.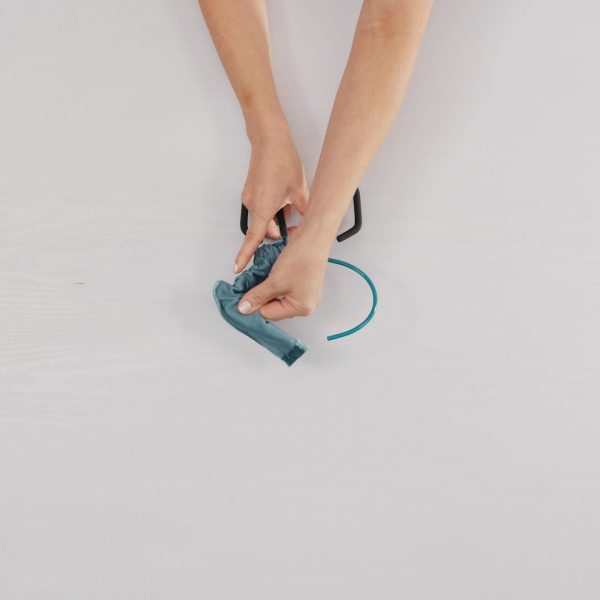 Keep a good grip on the tool and start to wiggle fabric over itself. Continue until the fabric tube is completely on the other side of tool.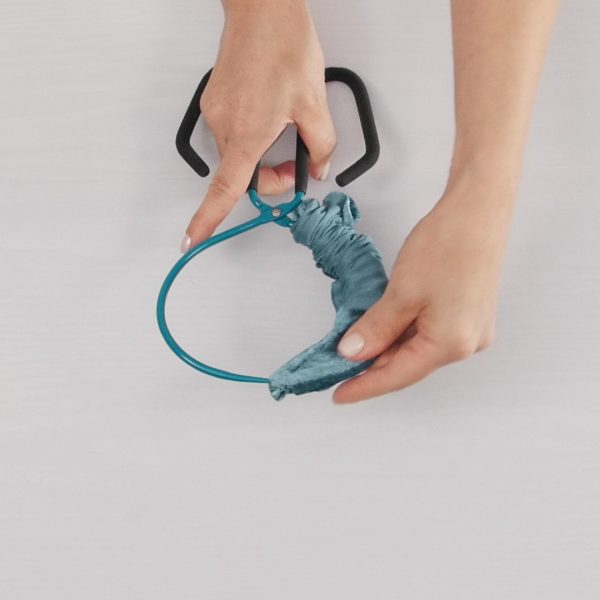 Take the scrunched fabric tube off the turner and pull rest of fabric right side out. Sue O'Very has a GREAT VIDEO where she was able to successfully turn 66 inches of fabric!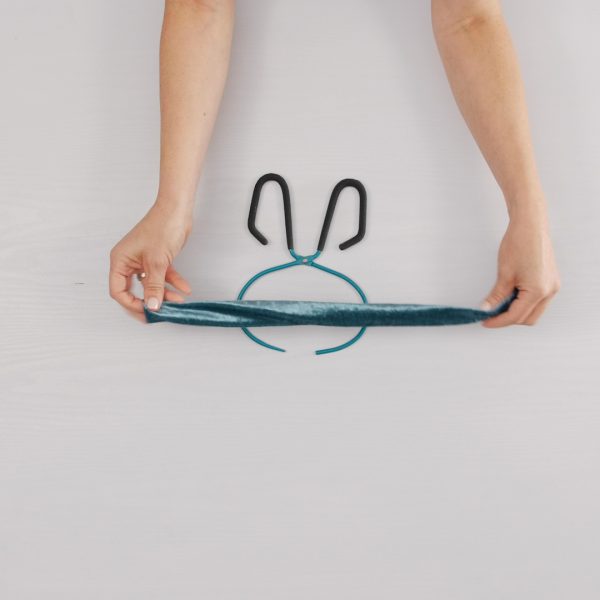 To easily insert the elastic into the scrunchie, slide the scrunchie back onto the EZ Point & Turner. Add large pin to one end of 7" elastic to keep it from getting lost inside scrunchie. Clamp opposite end of elastic to the turner and keep a tight grip.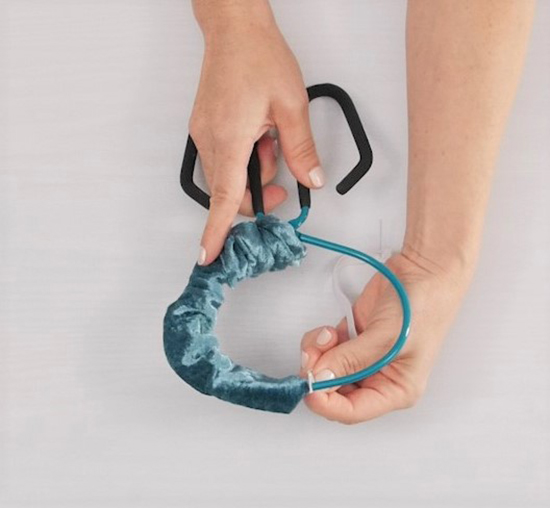 Feed the scrunchie over the elastic and onto other side of the turner keeping a tight grip on the tool.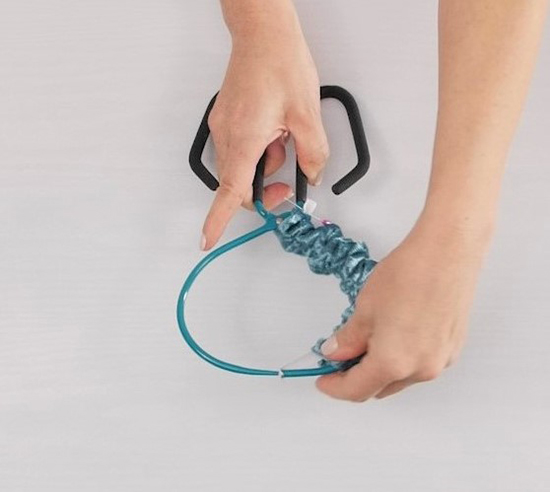 While holding the end of elastic (without the pin), carefully take scrunchie off the turner. At the other end of the tube, the pin should be keeping the elastic from slipping into the fabric. See how the pin keeps the other end of elastic from slipping into the tube? Now, pin the two elastic ends together to hold in place.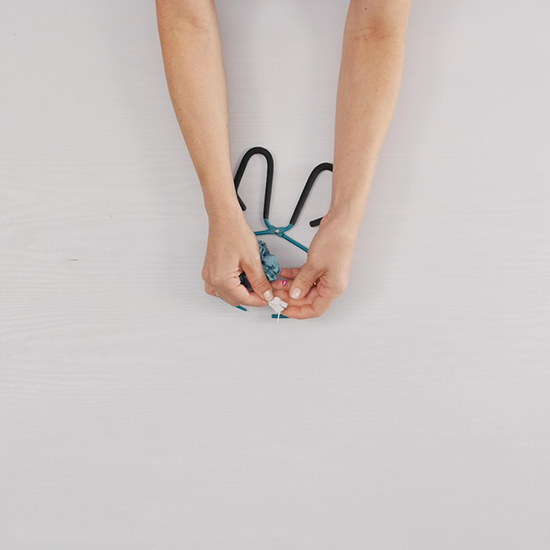 Turn the tail right side out:
Insert one tail end into the EZ Point & Turner.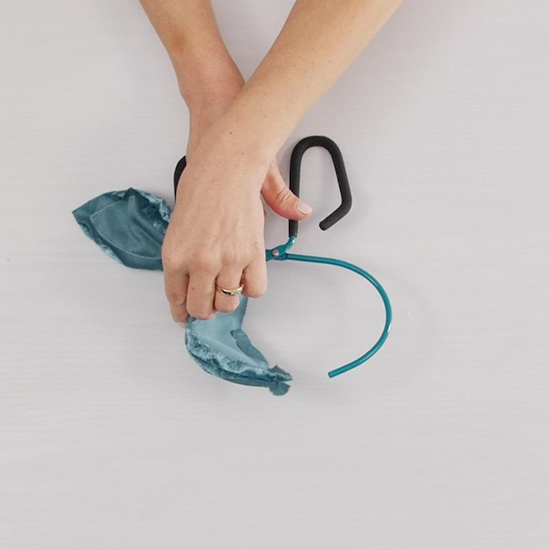 Clamp and turn right side out onto other side of turner.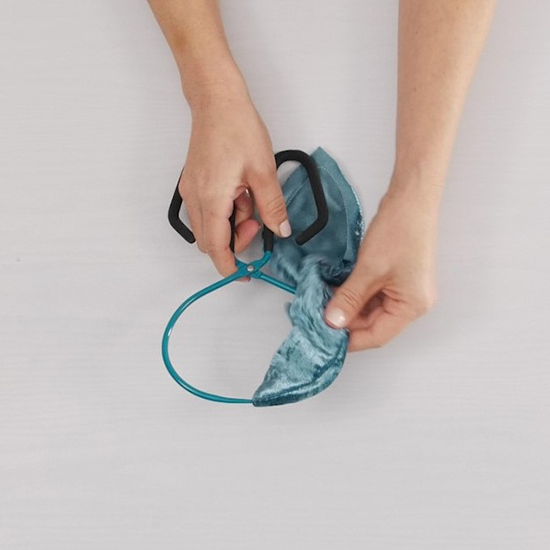 Do the same for other end of the tail. Use the pointed side of tool to smooth out seams and corners.
Sew Elastic Ends
On your machine, select a stretch stitch. I used Stretch Stitch #4.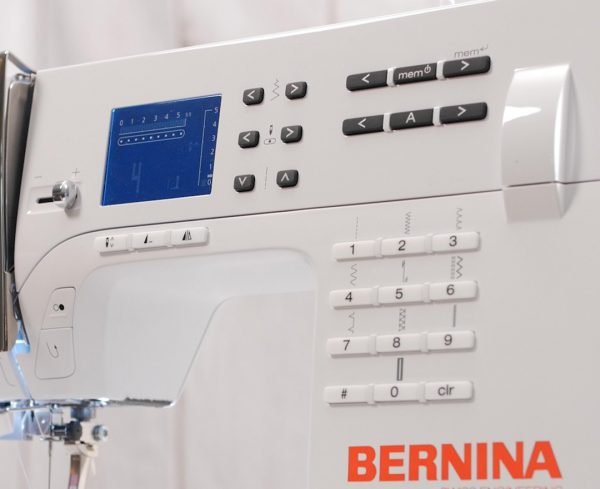 Overlap elastic ends about 1" and pin in place. Push fabric out of the way and sew elastic ends together. I reinforce the stitch by sewing back and forth a couple times, scrunchies get a lot of wear and tear!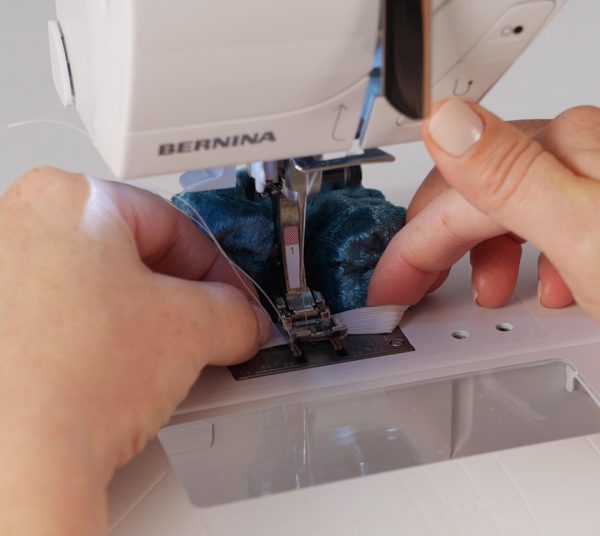 Hand Stitch
I like to hand stitch the openings on the scrunchie and tails closed, especially with slippery fabrics. However, stitching by machine is faster and really no one will ever notice!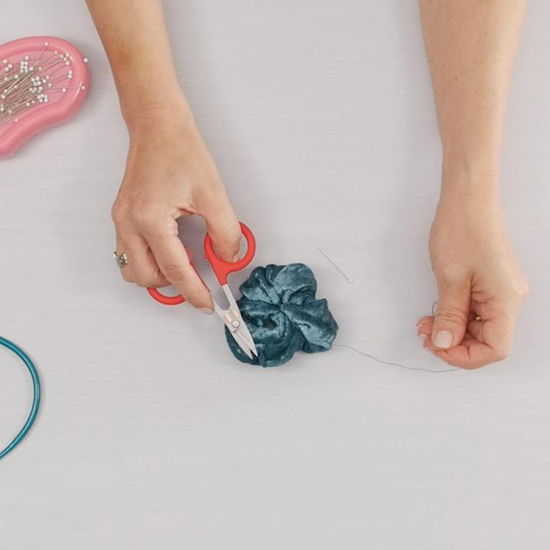 Now that you know the basics, have fun! Experiment with different sizes. Add fun trim or beading. Go to the fabric store for hip novelty fabrics. Better yet, dive into your pile of scraps at home!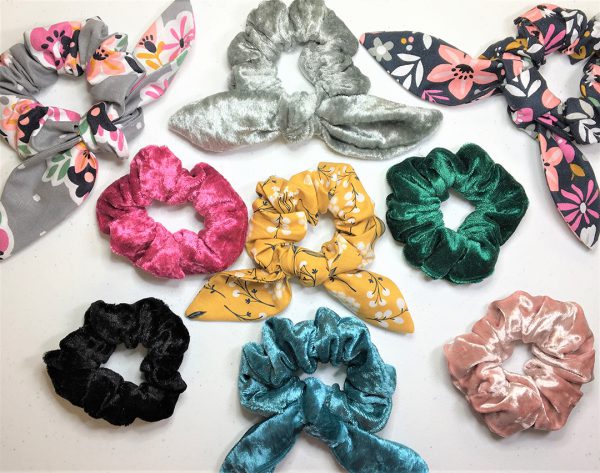 Enjoy!
Difficulty level

Beginner

Time to Complete

Evening

Projects

Accessories, fashion, scrunchie

Seasons

all seasons

Techniques

sewing
Used Products
What you might also like
63 comments on "Hair Scrunchie with Tails"