DIY Hair Scrunchie
Sew DIY scrunchies using 5 simple steps!
One of my first introductions to sewing came in middle school when I took a Home Economics class.  We made a pair of shorts and this was my first time officially on a sewing machine.  I have to say I took to it fairly easy.  The shorts I made were white knee length with navy blue polka dots.  I was so proud them that I wanted to make a matching accessory to go with it.
I grew up in the late 80's early 90s and hair scrunchies were not only a thing they were "the thing".  The larger the scrunchies the cooler you were. I decided to make a scrunchie to match my shorts.  The process was so fun and easy that making scrunchies was something that I enjoyed doing in my free time. Fast forward to 2022 the scrunchie style is back in style. We are using all sorts of fabrics, textures & colors.
This tutorial gives you step-by-step instructions on sewing a scrunchie.  Don't have a sewing machine? No worries you can hand sew using a backstitch where it says sew on a machine.  Want to make your scrunchie larger?  Just increase the width.  Instead of 3″ use 4 or 5″.  I used satin fabric but feel free to use whatever fabric you want.  Just remember the softer the fabric the harder it is to sew.  So if you are truly a beginner try starting with cotton until you have the hang of it.
Have fun & Happy Sewing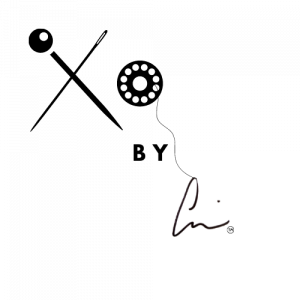 Supplies to Make a Scrunchie
22 x 3″ piece of fabric
Matching thread
9″ of 1/4″ elastic
Scissors
Safety Pin
Straight Pins
Ruler
Steps to Make a Scrunchie
Step 1: Fold the fabric in half right sides together.  On one edge fold end back 1/2″ Sew along edge using a 1/4″ seam allowance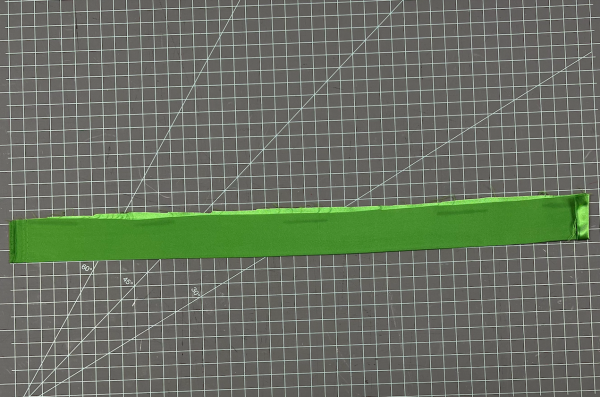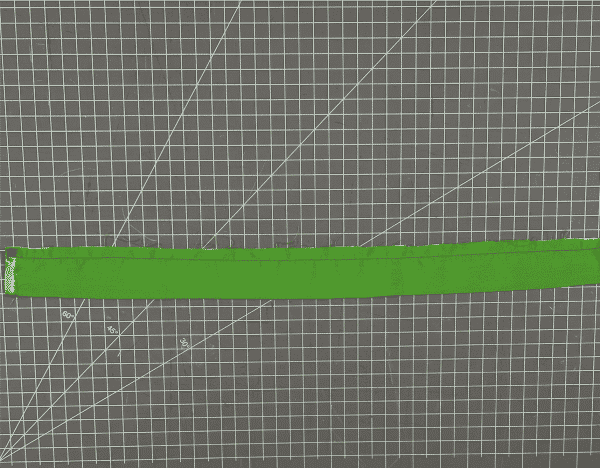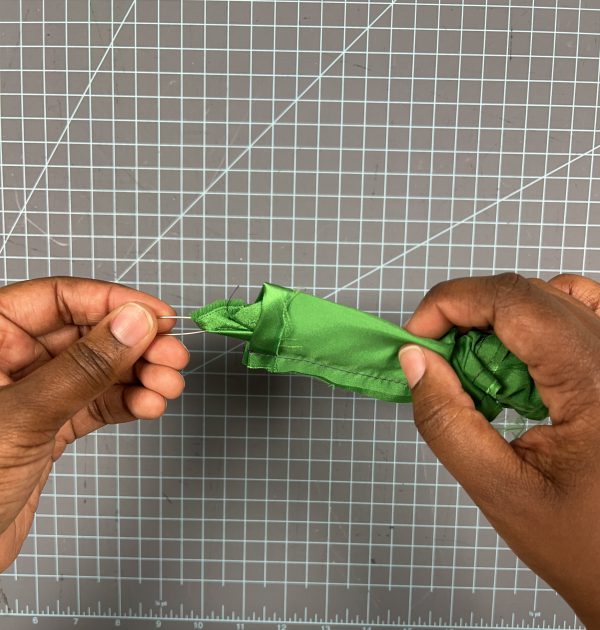 Step 2: Using the safety pin flip the fabric tube to the right side.  Iron flat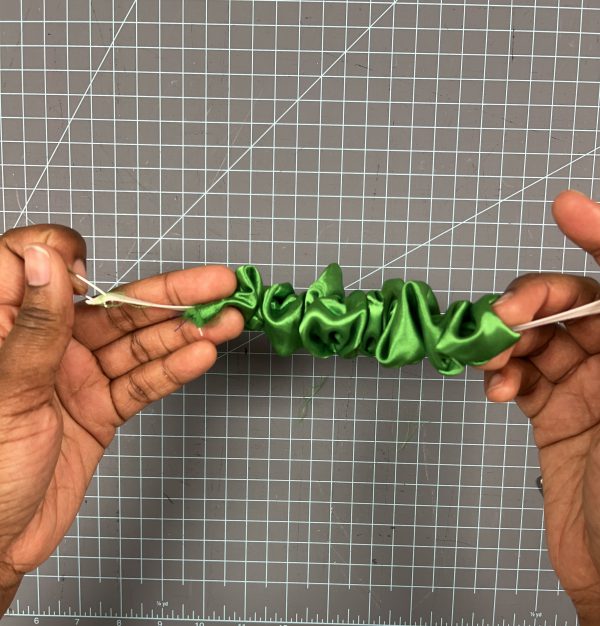 Step 3: Using a safety pin pull the elastic through the tube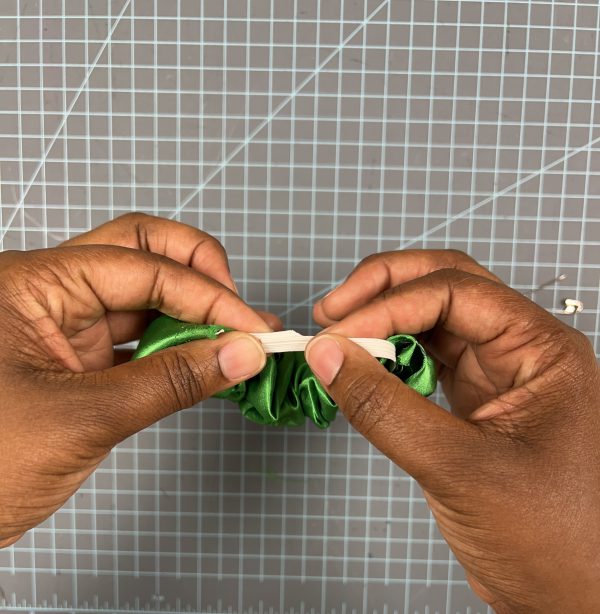 Step 4: Overlap the elastic 1″ & sew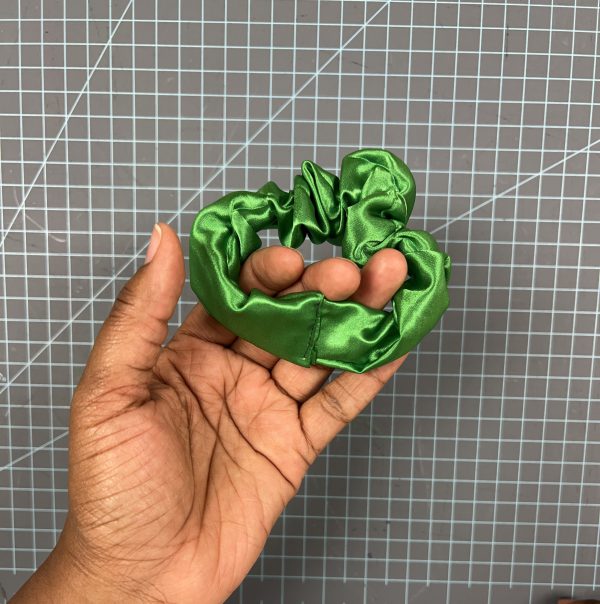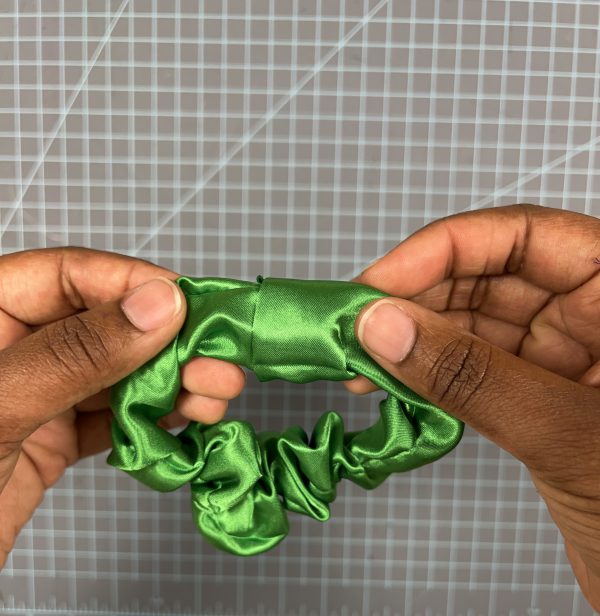 Step 5:  Tuck the raw edge of your tube into the folded edge. Topstich closed.
Difficulty level

Beginner

Time to Complete

Less than one hour

Projects

Accessories

Seasons

all seasons

Techniques

crafts
Used Products
What you might also like