How to Make a Lumberjack Hat
This fall I launched a new line for my boys clothing designs at TrashN2Tees in collaboration with friend and fabric designer Kimberly Kling of Joyful Roots. We set out on a wilderness adventure with our sweet but burly lumberjack design. A celebration of Paul Bunyan proportions ensued as I gathered all the wee ones I know for a photo shoot and lumberjack-themed party. There were maple syrup and bacon cupcakes, too! You can read all about it on my blog.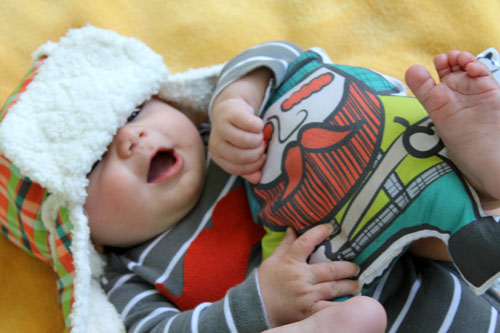 No lumberjack is complete without his hat (and a beard!). Today I'm sharing my one-size-fits-most Lumberjack Hat pattern created just for the occasion! You'll be able to whip up a warm winter hat in less than an hour. The pattern provided comfortably fits children and adults from age 3-103.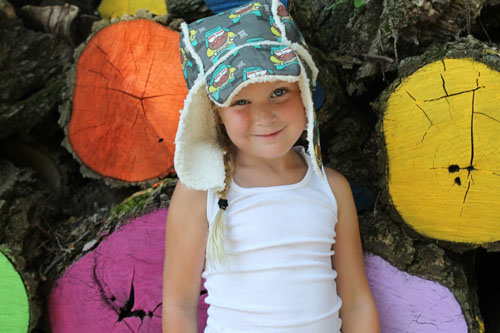 Supplies
Download and print the Lumberjack Hat pattern pieces: how_to_make_a_lumberjack_hat_-_pattern_121814.pdf
Step 1) Prepare the fabric pieces.
Cut out and tape the pattern pieces together as indicated.
Cut the following pieces from the print fabric:
Side – Cut two 

Center Strip – Tape pieces together; cut one 
Back/Ear Flaps – Tape pieces together; cut one 
Brim – Cut one 
Place cut fabric pieces on top of the sherpa fleece, right sides together. Cut fleece pieces 1/4″ larger than the fabric pieces.
Step 2) Construct the hat.
Position your materials with wrong sides together.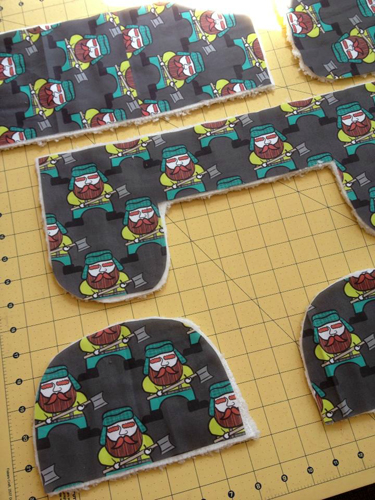 Construct the top part of the hat: Match one side piece with one long edge of the long edge of the center top strip. Stitch together leaving raw edges exposed on the outside of the hat. Repeat for the second side.
Topstitch around the lower edges of the back/ear flap section and the front brim.
Pin the back/ear flap piece to the top part of the hat, using the side pieces as guides for aligning the ear flaps. Stitch.
Finish the hat by sewing the front brim on. For a floppy brim I attached this piece 1/2″ inside the topstitching. If you choose to have a fixed brim, tack it in place or add snaps, buttons, or hook-and-loop tape closures.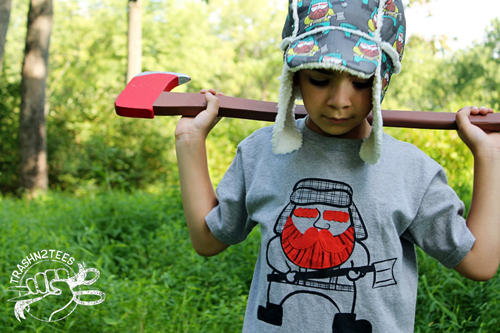 Projects

fashion
What you might also like
10 comments on "How to Make a Lumberjack Hat"