Introducing the BERNINA L 860: An Air Threading Overlocker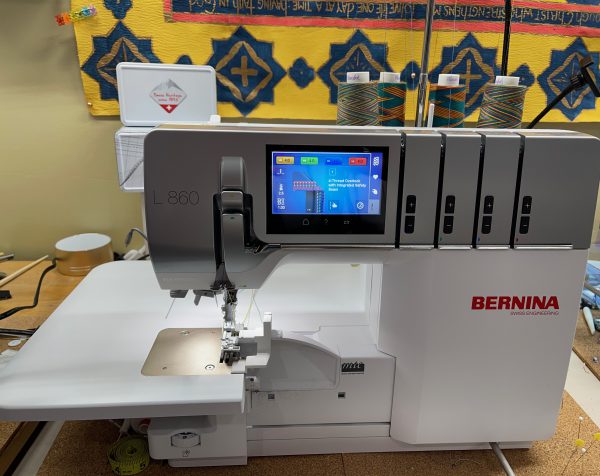 I think I am going to expose a few shameful sewing secrets in this post.  But it's all in the name of proclaiming the virtues of a great machine.  So don't judge me too hard. 
How I Started with the BERNINA L 860 
I will admit that I was one of those sewers that shy'd away from knits! I was a woven person through and through because I could do it on my sewing machine alone! When I got my first serger, though intimidated, I learned to thread it and get working. Sadly I did not learn much more than that for a long time. My serger would be how I finished my seams ONLY! Even knits, I would sew them first with a zig-zag on my sewing machine then move over to finish the edges on the serger. Even as I got more proficient that would be how I operated in my sewing room.  I avoided rethreading my machine, so everything was finished in a basic neutral color (a habit that is hard to break).  I would only stick with the basic stitches worried I wouldn't be able to achieve the stitch quality I like again. Well, I am happy to say all that has now changed due to the BERNINA L 860!
Creating with the BERNINA L 860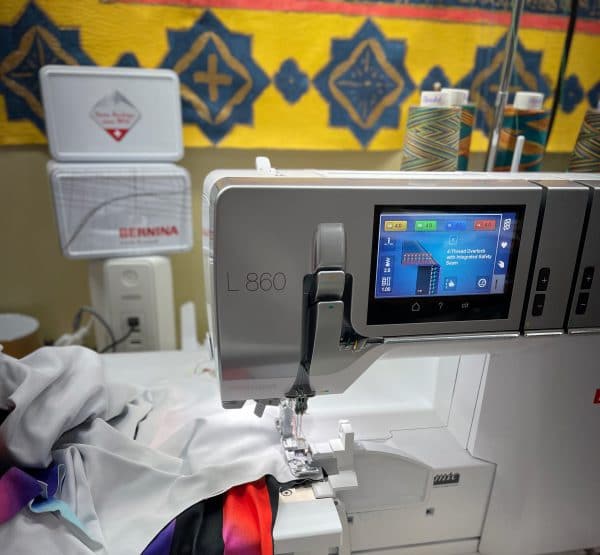 Before getting the L 860, I had the wonderful opportunity to test out the BERNINA L 890 and once I plugged it in and turned it on, I knew I was entering into a whole new sewing world! The same can be said of the L 860.  This serger was truly love at first stitch for me and has totally changed how I approach knits.  Before, I always saw sewing knits as a chore, worried about wavy stitching or figuring out where I needed to place the fabric to hit my desired seam allowance. Many of those worries went out the window with the L 860 and I want to share a few of my favorite features with you.  
One-step Bernina Air Threader
I can't tell you how much the air threader has changed my life!!! I now have fun with the thread I use because switching threads takes a minute or two instead of five to six. Threading my L 860 is almost as fast as threading my B 830 with its automatic needle threader! Now I spend more time choosing the thread I want for creative purposes, instead of only changing the thread if I absolutely have to.  

Built-in Sewing Modes
When I first started using a serger I knew It could probably do more than what I was using it for, but without seeing the step-by-step process, I always stayed away from exploring out of fear of messing up the stitch I use the most.  With the built-in Guided mode, I took time to explore. No need to worry about getting lost or confused, it tells you what to do step by step. I never knew I could love instructional animations more. From how to set up particular stitches to correspond with a fabric, to trying all the stitches on a machine, it's like you have a teacher at your fingertips, I feel it truly has made me a better sewist.  
Ease of Use
Not necessarily a feature but a luxury I couldn't forget.  The L 860 is such a smooth-running machine!.  Previously I always had my serger sitting on blocks of cork to make sure it doesn't walk across my table. That worry never crossed my mind with the L 860. Its heft and smoothness are indicative of that BERNINA quality we have come to know and love. It is already a well-loved addition to my sewing room.  
Quick and Easy Wardrobe Builder

The L 860 has in many ways changed how I sew as well to fit more of my life today. I still work from home so my work wardrobe requires things to be comfy and preferably stretchy (dang doughnuts). I find myself sewing up more sweaters, T-shirts, and polos to wear every day rather than the woven button-ups I have preferred for years.  In this instance, I was able to use this great rainbow stripe fabric from So Sew English with a unisex Simplicity pattern to make a great T-shirt that I know I will make more of in fun, bold knits! I quickly changed my thread to variegated rainbow thread to coordinate and had this shirt made in about an hour and a half. I could focus on matching stripes rather than worry about whether I have a good stitch with the right seam allowance. It is as if this machine has ignited my creativity in new and inventive ways.
For all those sewists who are a little scared or intimidated by sergers/overlockers, this might be the machine for you! With the air threader, color touch display, and easy-to-use Guided and Expert modes, anyone could quickly learn how to use this machine to make their own well-crafted creations. I can't wait to share more of my creations with you soon.
Difficulty level

Beginner

Time to Complete

Evening

Techniques

garment sewing, serger, serging, sewing with knits
Used Products
What you might also like
2 comments on "Introducing the BERNINA L 860: An Air Threading Overlocker"