Kaffe Fassett Hat Box Quilt Series: Templates and Fabric Prep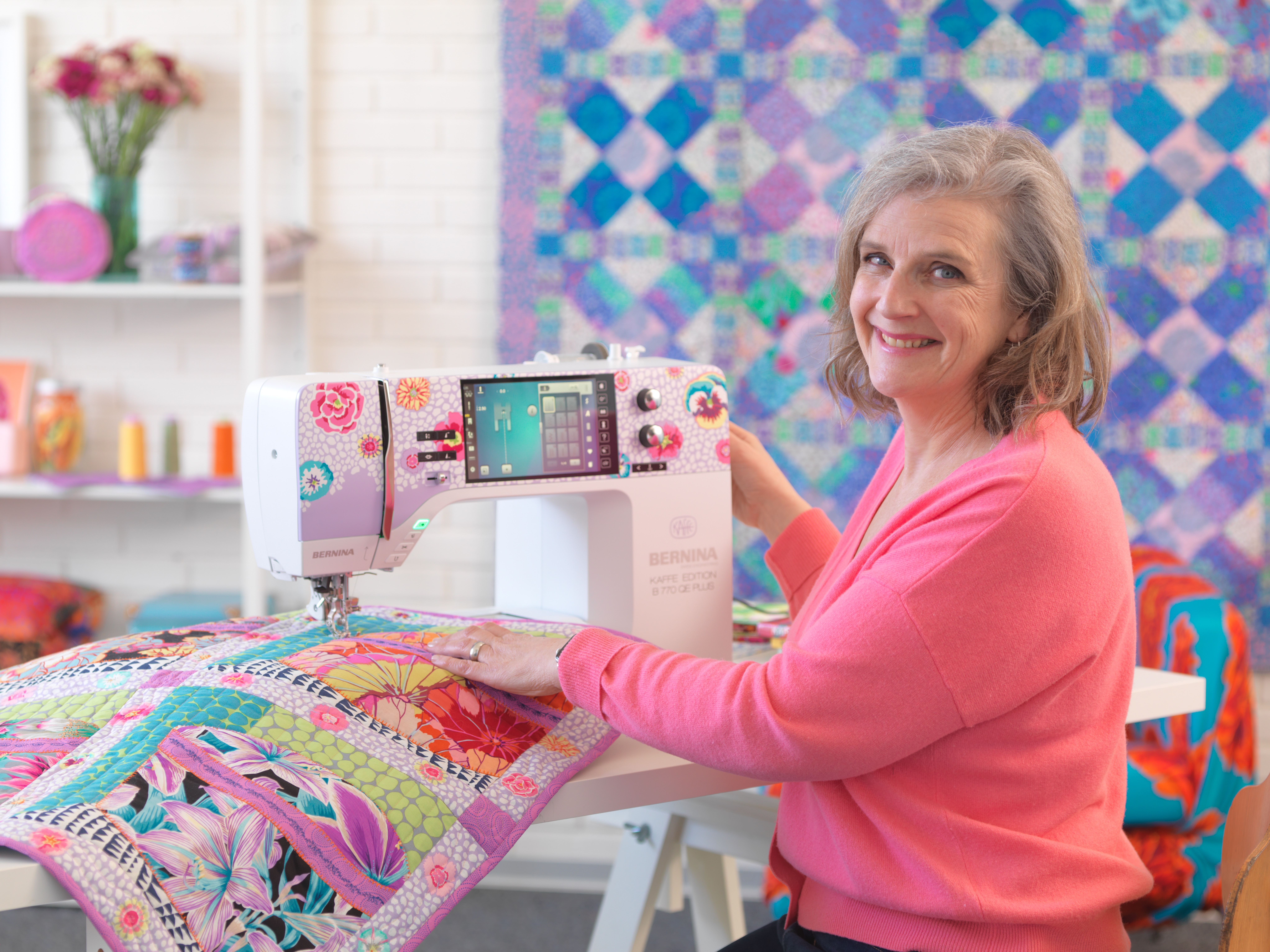 Kaffe Fassett is a ubiquitous name in the quilting world. Every quilter I know has heard of him, despite not being able to pronounce his name correctly. An easy way to remember, explained by Kaffe himself, is thru a mnemonic rhyming aid: you have a safe asset with Kaffe Fassett! Quilters, sewists and makers around the world recognize his signature look of vibrant colors, large floral prints and bold color combinations. This is why BERNINA has partnered with Kaffe to release two amazing special edition sewing machines.
First, let me introduce the BERNINA 770 QE PLUS Kaffe Edition. The picture of the machine says it all! Rest assured this machine is just as beautiful on the inside as on the outside. The Kaffe Edition has the same platform as every B 770 QE PLUS with abundant functions and features!
Next, check out the BERNINA 475 QE Kaffe Edition. You are seeing it correctly! This machine has an all-over teal color with a beautiful millefiori-inspired design! At 20 pounds, this can be your travel sewing machine and the envy of your fellow quilters. But seriously, I want to see this in my sewing room every day!
Did I mention that both Kaffe Edition machines come with exclusive decorative stitches? These stitches were designed from hand drawings by Kaffe himself. I already have my favorites!
To celebrate the new Kaffe Editions, we're creating a beautiful wall quilt using Kaffe fabric, Kaffe decorative stitches, and lots of color and creativity!
Join us for this exciting Kaffe Hat Box Series!
Sewing Machine Set-Up
Fabric
(4) 1/2 yard or 1 fat quarter large floral – hat boxes
1/2 yard or 1 fat quarter – back wall
1/2 yard – side wall
1/2 yard – floor
1/2 yard – hat box trim and cornerstones
1/3 yard – sashing
1/3 yard – binding
1 yard – backing


Supplies for Entire Series
Steps to Make the Kaffe Fassett Hat Box Quilt:
1. Make Templates
Print the free templates and check the size for accuracy. Trace the templates onto clear plastic and cut out. Label each one so you know which side is the right side. The pieces are not symmetrical.
2. Cut Hat Box Fabric
Trace Hat Box Top and Bottom templates onto floral fabric. Cut out. Do the same for the other 3 floral fabrics.
Optional: press OESD Fusible Woven to back before cutting. This helps keep raw edges intact.
Trace the Hat Box Trim template 4 times onto the Trim fabric. Do not cut out yet.
3. Cut Background Fabric
 Cut the following sizes for the background pieces:
Back wall: (4) 8 1/2" x 8 1/2"
Side wall: (4) 4 1/2" x 12 7/8"
Floor: (4) 4 1/2" x 12 7/8"
Here is the layout:
Place the side wall and floor pieces right sides together. You should have 4 sets. Place the ruler at a 45-degree angle on one short end (see picture below). Cut.
This is how your background pieces should look. You will have 4 sets.
4. Sashing, Cornerstones and Binding
Cut the following sizes with the appropriate fabric:
Sashing: (12) 2 1/2" x 12 1/2" strips
Cornerstones: (9) 2 1/2" squares
Binding: (4) 2 1/4" x WOF
We're off to a good start! Next week we'll start piecing the blocks.
Kaffe Fassett Hat Box Quilt Series
Join in the quilt along fun by sharing your Kaffe Fassett Hat Box Quilt on social media tagging @berninausa and using #kaffehatboxquilt.
If you haven't already, visit your local dealer and see the Kaffe Editions in person. They are amazing! Also, these Kaffe Editions come with an incredible free gift package that includes a Kaffe-designed trolley and machine cover. If you like embroidery, the BERNINA 770 QE PLUS Kaffe Edition comes with over 60 Kaffe embroidery designs built into the machine. These designs have a hand-stitched look that are exclusive to the machine. And remember you have a safe asset with Kaffe Fasset!
Check out how amazing these exclusive embroidery designs can be in projects from quilts to bags.
Difficulty level

Intermediate

Time to Complete

A week or more

Used Material

36" square batting, Metler Poly Sheen Thread, Mettler Silk Wrapped Finish 50 wt Cotton Thread, OESD Ultra Clean & Tear Stabilizer, plastic template, Quilting Ruler with 45 degree mark, rotary cutter, scissors, Temporary Marker

Projects

quilt

Seasons

all seasons

Techniques

embroidery, patchwork, quilting
Used Products
What you might also like
3 comments on "Kaffe Fassett Hat Box Quilt Series: Templates and Fabric Prep"