Sew a Face Mask Lanyard
We recently spent a day as tourists in our own town of Chicago, taking an architectural boat tour of the river and walking all around the Loop. It was a lot of fun and we even learned a few new things about our own city! But we realized pretty quickly that it was hard to keep track of masks when transitioning between outside and inside spaces with mask requirements. That's when I discovered these handy lanyards to keep hold of your mask when removed—no more lost masks!
These lanyards are also suggested for school, this year with mask mandates (kids will need to remove masks for eating lunch and hydration breaks). Learn how to sew a face mask lanyard to hold masks with this simple tutorial.
Materials to Sew a Face Mask Lanyard
1/4 yard of 100% cotton fabric (will make approximately 6 lanyards)
Plastic lanyard clips
Short piece of 3mm synthetic macrame cord (or another very strong cording in 3mm size)
All-purpose sewing thread to match fabric
Sewing machine (I use a BERNINA 570QE)
Patchwork straight stitch foot (I use BERNINA Patchwork foot #97D)
Straight stitch needle plate
rotary cutter, cutting mat, and quilting ruler
Steam iron and pressing surface
Using the rotary cutter, cutting mat, and quilting ruler to cut the 1/4 yard of fabric into 1 1/2″ strips. Cut strips 30″ long for adult-sized lanyard, and cut strips 24″ long for a child-sized lanyard. The sewing instructions are the same for both adult and child-sized lanyards.
I've learned from experience that metal rings or lanyard clips can aggravate sensitive skin because this part of the lanyard does end up touching the face/neck area. That's why I'm using cording and a plastic lanyard clip. Another plus is these materials are lighter weight than metal, a bit help when wearing for an entire day of school or work.
Get ready to sew. Insert the straight stitch needle plate on your machine, use a new sized 90/14 sharp needle, and thread the machine with a strong all-purpose sewing thread that matches your fabric.
Use a straight stitch or patchwork foot to help sew precise straight stitches. I use Patchwork foot #97D for use with Dual Feed, which gives me a little extra help feeding the thick layers through the machine.
Begin by folding over 1/2″ of fabric on both short edges of the strip and press well.
Then press the strip in half lengthwise, wrong sides together, matching raw edges. Press well to set a solid crease.
Open the strip so you can see the center crease, and fold each raw edge to the crease, pressing well. Then fold the strip in at the center crease, forming one long strip with folded edges along one side. Press well.
Cut two 3″ lengths of the cording to form the loops for the lanyard hooks. Slide one end of the cord into one outside fold, the other end in the center crease. Use a pin to help hold one end of the cording in the outside fold.
Next, fold the strip back over. Hold the cording in place with one hand while switching the pin to the outside of the strip to hold the cording in place. Repeat on other end of the lanyard.
Start stitching across one short end of the lanyard strip about 1/8″ from the edge. Be sure to backstitch a few times, making sure that you are sewing over the cording. Then turn the corner to sew down the folded edge of the strip.
I don't pin the long edge of the strip, but I do stop every few inches to make sure edges are matching up and that I am stitching close to the folded edges without sewing off the edge.
Turn the corner and sew the other end, making sure to backstitch a few times.
To make sure the cording loop is really secure, make a second line of stitching across each end about 1/4″ from the first line of stitching. Really backstitch across the whole strip to make sure you are catching that cording in the stitches.
Open and insert one plastic lanyard clip in each corded loop.
Attach one plastic lanyard clip to each side of the face mask.
Now wear your mask and use it but don't lose it!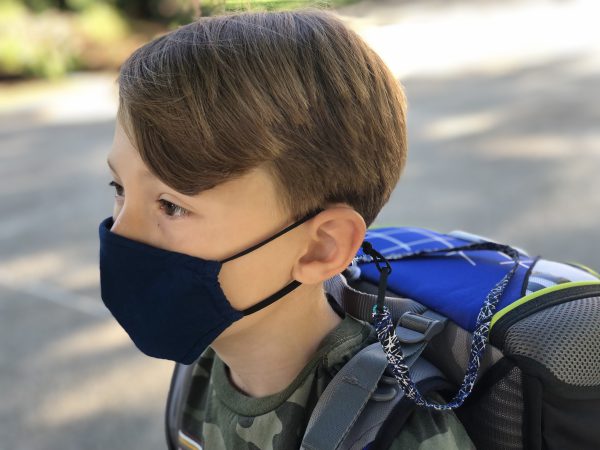 Check out these other tutorials for face masks and accessories here at WeAllSew.
For those of you who are sewing masks, find these helpful Mask Sewing Tips and Techniques here.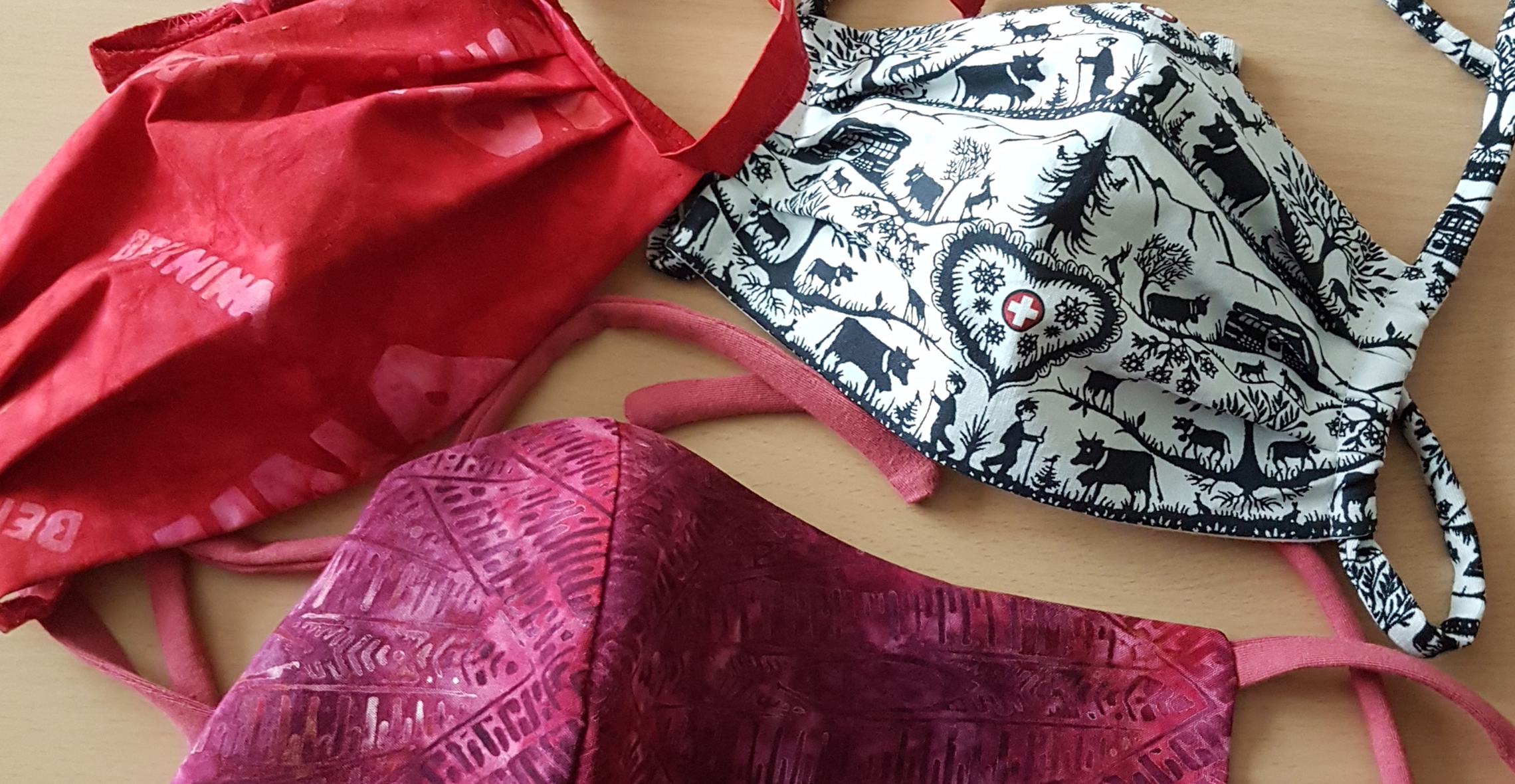 All you need are two pieces of fabric and elastic to make this 5-Minute Mask with an Overlocker.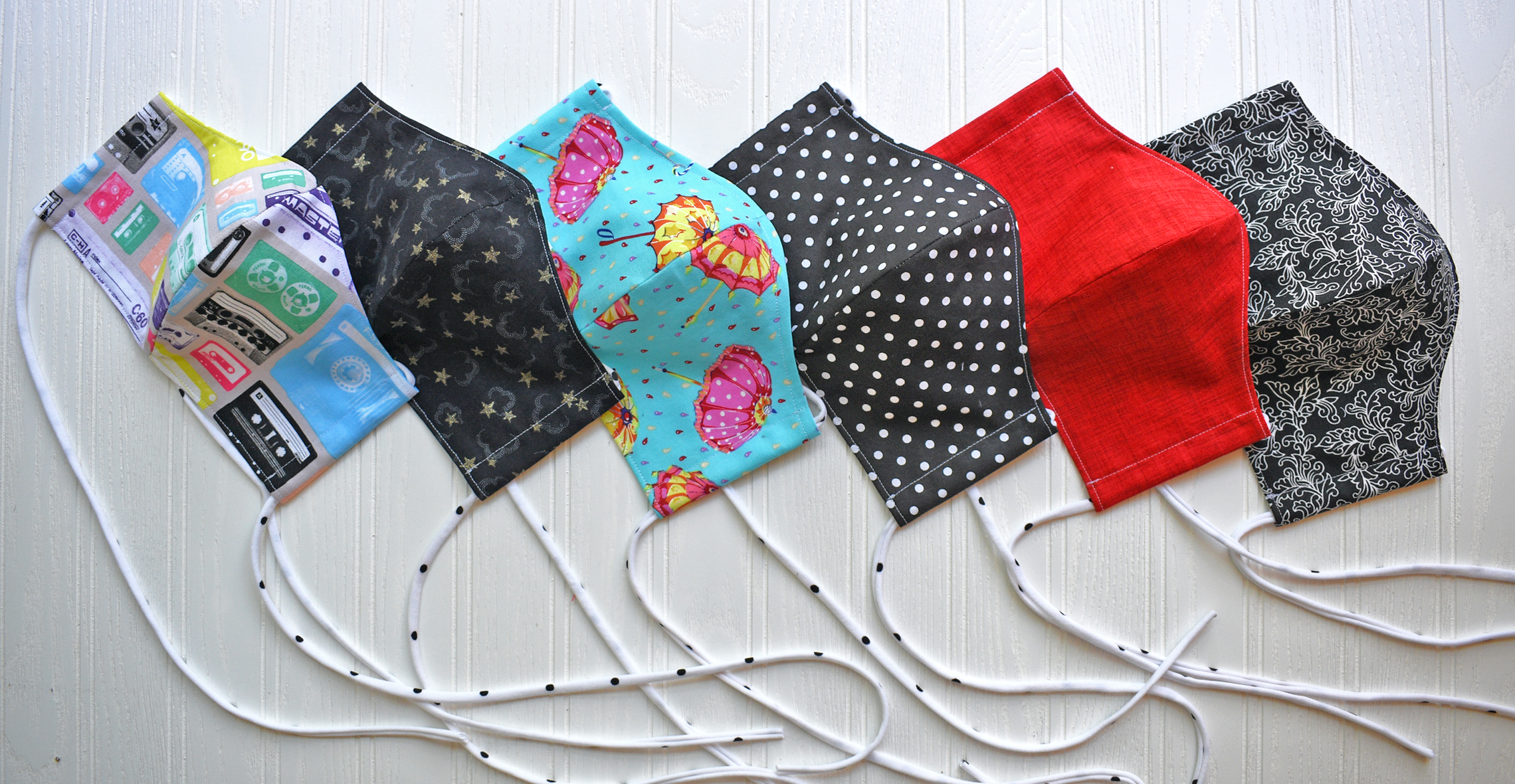 Find a bunch of Fast Face Mask Sewing Techniques in this tip post here at WeAllSew.
This handy pouch is designed to store fresh masks on one side, and carefully stow the used ones in a different section. Find the Mask Carrying Pouch tutorial here.
Difficulty level

Beginner

Time to Complete

Evening

Used Material

1/4 yard fabric, 3mm cording, coordinating thread, plastic lanyard clips

Projects

Accessories, face mask, fashion, lanyard

Seasons

all seasons

Techniques

face mask, sewing
Used Products
What you might also like
4 comments on "Sew a Face Mask Lanyard"