Georgia Bonesteel Visits the BERNINA Creative Center
Georgia Bonesteel visited the BERNINA Creative Center during December's Ambassadors Reunion in Aurora, IL. You may know her from her Lap Quilting with Georgia Bonesteel television series and books or the documentary film she made with her son Paul – The Great American Quilt Revival. But just because she's been teaching quilting for a long time, don't be fooled into thinking her quilts are old-fashioned. Just take a peek at her QR Code quilts! For info on classes and much more, visit her blog at georgiabonesteel.com. – Jo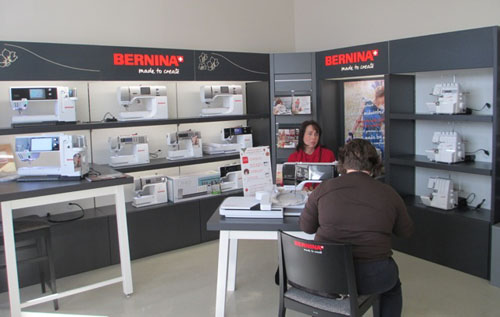 A BERNINA Jump Start, for sure! Nothing like a class to energize a teacher. A trip to BERNINA headquarters in Aurora, IL for a refresher course opened new doors. Our BERNINA sewing machines can do so much more these days—now paint; now crystal application; now felt. Just when will they cook and do laundry? Just coming in the front door is inspiring to see all the new models. Did you know they have classes here throughout the year on these very machines? Come and learn.
How inspiring to see an array of pillow techniques using a variety of feet and stitches. I fell in love with these bright red chairs. A chair update is around the corner in my very studio. So comfy!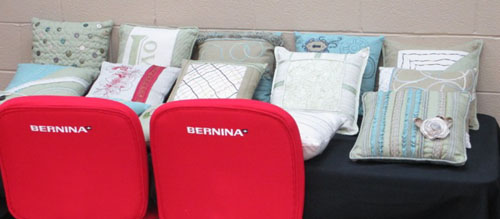 [You'll see these pillow again soon! Each one will be featured in a series of WeAllSew posts throughout 2014. The one at the front right corner, with the zipper tape flower and trim, is mine 🙂  Jo]
I have always loved the circular tool that so easily fits the machine—all models—but it never dawned on me to use decorative stitches along with yarn pulled through my #22 three-groove cording foot. This created some texture and dimension in the circular motif.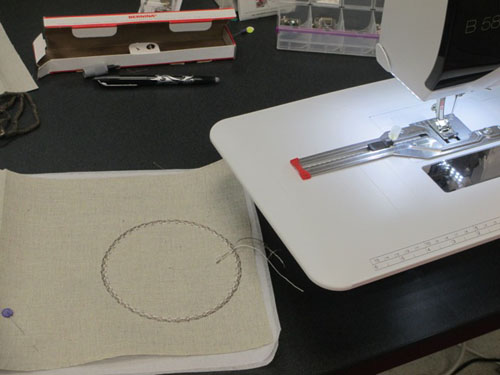 Of course, we had visuals every step of the way.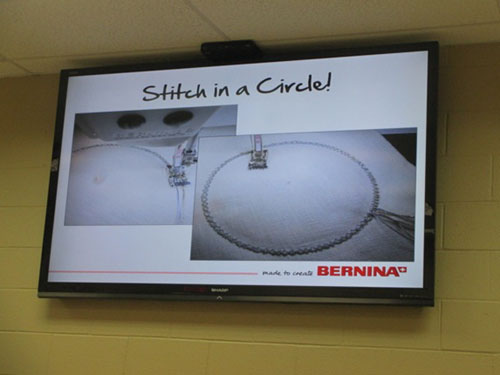 This was just the incentive I needed to complete some pillow tops from the past. A couple of cross stitched things I did by hand circa 1948 or so, when I was really young. But now they will find a home with my modern pillow with the beige background. Forge Ahead on my BERNINA. Georgia Bonesteel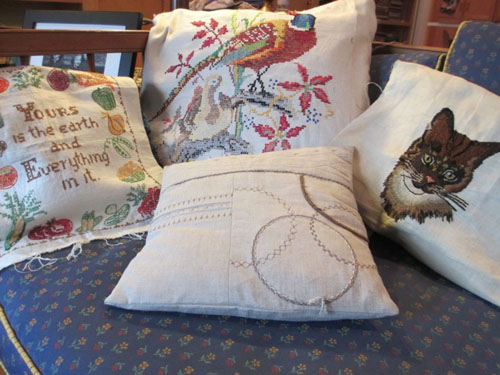 What you might also like
One comment on "Georgia Bonesteel Visits the BERNINA Creative Center"