How to Sew a Fabric Vase
On a recent visit to BERNINA headquarters near Chicago, I stopped into The Art Institute of Chicago. Having not been out and about recently, it was an amazing experience and ignited my creative juices to see works of art both famous and new to me. I stopped in the gift shop—I love a good museum gift shop—and saw a paper vase by the Spanish designer Marcel Baer for Octaevo. The concept is simple: a paper sleeve, shaped like a Greek urn, slips over those ubiquitous glass cylinder vases we all have in the cupboard.  I thought, "Hmmm. I think I could expand on this idea and be really creative all with bold piecing and use all of those fabulous decorative stitches on my BERNINA 590."
Below are basic instructions and a template for you to launch your creativity. The template is pretty versatile. I have fit it over a wide range of glass vases, including 9"x12" (height x circumference) and 5" x 15.5". The simplest version uses fabric that you like the look of. For me, the next step was creating rows of decorative stitches with colorful thread. Then, I let loose and started improv-piecing designs that I thought looked like Grecian urns or traditional crockery. These can be used for wooden utensils in the kitchen, filled with flowers or simply left as a decorative object on the mantel. I'm excited to see what you will create!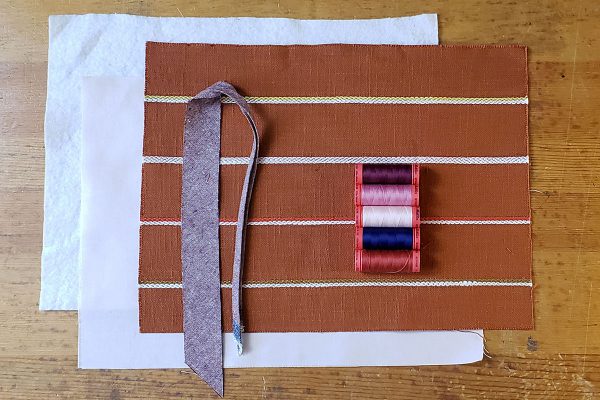 Materials to Sew a Fabric Vase
Glass cylinder vase

Height should be equal to or less than 12"

Circumference should be equal to or less than 14"

Lining Fabric: 2 pieces of muslin or quilting cotton measuring 10.5 x 14"

Main Fabric: 2 pieces measuring 10.5 x 14"

These can be solid fabrics, printed or decorative fabrics or pieced fabric of your own design.

Batting: 2 pieces of lightweight batting measuring 10.5 x 14"

Coordinating thread: as many colors as you would like.

Binding: 2 pieces of 1.25 wide (before folding) bias tape measuring 12-13" each.

Embellishments

You can use scraps of trim, ribbon, ricrac to embellish your vase.

Steps to Sew a Fabric Vase
Step 1.
Print out the template. There is a 1" square on the template to help you register your print-out.
Step 2.
On your work surface place one piece of Batting followed by one piece of Lining Fabric (face up) and finally one piece of Main Fabric (face down). The sandwich should be Batting, Lining, Main. (For you avid quilters this will seem like the wrong order but it is correct.) Stitch both the 14" edges with a ½" seam allowance. DO NOT stitch the shorter edges.

Step 3.
Trim the excess Batting in the seam allowance. Turn the sandwich right-side out so that the Batting is between the Lining and Main Fabric, which are now facing out. Press to get a nice finished edge on the top and bottom of your work.  The Laurastar Ironing Systems make quick and crisp work of this.

Step 4.
Repeat with the second set of fabrics and batting.
Step 5.
This is the fun part! Take both quilt sandwiches to your sewing machine and stitch from raw edge to raw edge using straight lines and whatever decorative stitches you like. You may want to use a walking foot. I was able to use the Dual Feed function on my BERNINA 590. You may also want to use a BERNINA Open Embroidery Foot #20 to see more clearly where your decorative stitches are landing.
Have fun. Change threads. Explore all of the decorative stitches in your machine. I particularly like the cross-stitch designs and the satin-stitch designs. Rows of tight zig-zag stitches in various widths also create bold stripes. When you are satisfied, proceed to the next step.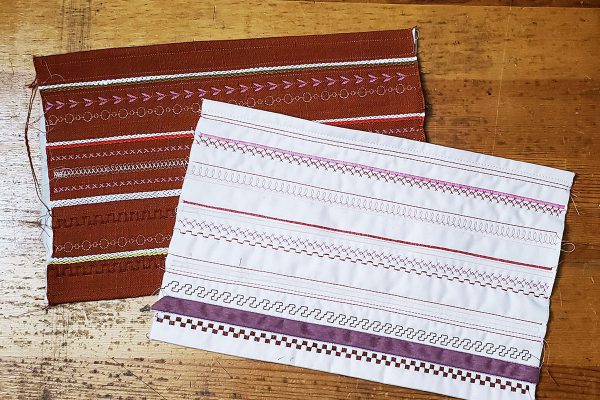 Once I felt confident in decorative stitches, I got a little excited and started to make some pieced blocks and then added some decorative stitches to those. Here is what they looked like at this stage in the project. Raw edge applique, embroidery, whatever you want!
Fold each quilt sandwich in half, matching raw edges. 
Step 6.
Place the template along the fold and trim the excess. Repeat with the second sandwich.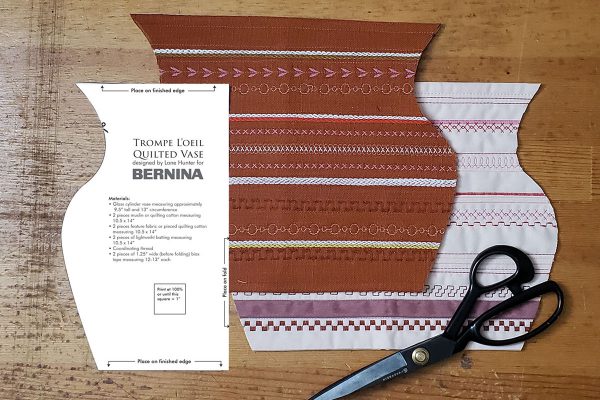 Step 7.
Place both trimmed sandwiches together with Linings facing. Open the bias tape and pin the raw edge along the trimmed curve of the sandwiches. You should have at least ½" of overhang at the top and bottom of the curve. Stitch along the open fold line of the bias tape through all the layers. GO SLOWLY to avoid puckering. I like to use my BERNINA Free Hand System to lift my presser foot and keep my hands on my project to adjust the bias tape as necessary.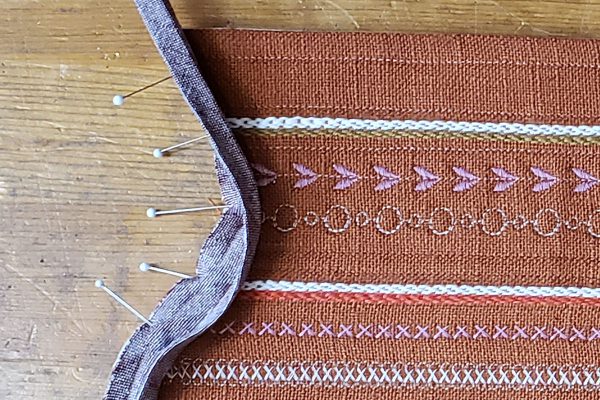 Step 8.
Wrap the bias tape around to the opposite side of the sandwiches. Trim the excess bias tape at the top and bottom to about ½" and fold towards the sandwich. Tuck the bias tape's second fold in and pin the fold along the stitches from the previous step. Using Wash-Away Wonder tape to stick this edge in place is very helpful. Edgestitch in place. I like to use the BERNINA Edgestitch Foot #10 and move my needle over one or two places to get a clean finish.
Step 9.
Repeat with the second piece of bias tape and the other raw edges.
Step 10.
Slip the fabric vase over a glass vase and display!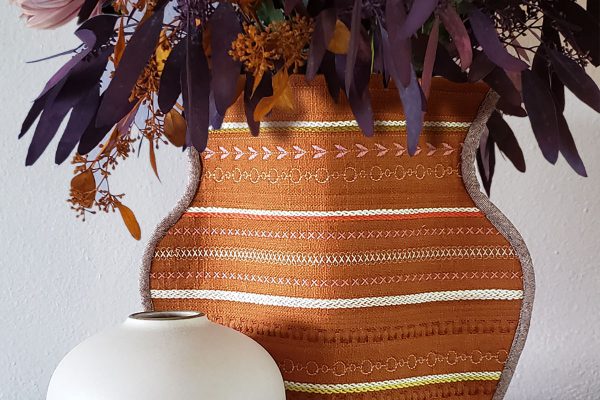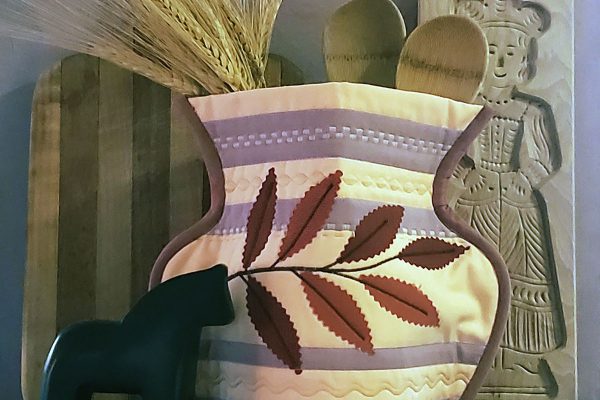 Difficulty level

all levels

Time to Complete

Evening

Used Material

basic sewing supplies, batting, binding, coordinating thread, embellishments, glass vase

Projects

art, fabric vase

Seasons

all seasons

Techniques

binding, decorative stitches, decorative stitching, differential feed settings, edgestitching, sewing with quilting cotton
What you might also like
60 comments on "How to Sew a Fabric Vase"